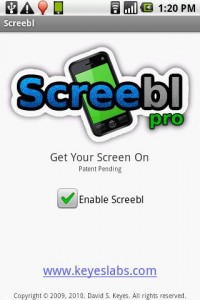 Description
Control your phone's screen based on orientation, and save battery too!Get your Screen on! Screebl is an application that controls power saving features based on orientation. Never have the screen turn off again while using your phone, and SAVE BATTERY too. It's possible with Screebl!
Pro-only Features:
– Locale 1.x Plug-ins
– Tasker integration
– Icon choice
– Better detection algorithms
– Screen timeout set from Screebl
Good app this I've been using it all day.
Screebl controls your screen timeout based on what orientation you have set and your display will never turn off when you're reading webpages, watching videos or whatever. No root permissions are required because it only uses the accelerometer. Pretty neat.
Two versions are available..
Pro £1.99
Lite Which is free with limited features and ad supported.
Full credits go to Randy Kelly from my Google Plus stream. Top bloke and has a great passion for Android, thanks man.