Aukey T20 Qi Wireless Charger – Review
This is a guest post by a friend on Google Plus called Gary Sproston. Gary wanted to share his thoughts on the Aukey T20 wireless charger that works with all devices that have the Qi standard. We offered Gary the chance to share amongst our readers who may be interested in purchasing this particular accessory a wider audience.
I knew since I bought my Nexus 4 18 months ago that my phone has wireless charging compatibility but never really felt the need to explore it. After all it's not exactly hard to plug a cable into the bottom of the phone twice a day. However anything that can save time and effort is invaluable these days. After extensive research trying to find the optimum balance between cost and quality I picked the Aukey T20. I'd never heard of the company before but the excellent reviews across Amazon on a range of different products was reassuring. It cost £10.99 and comparing it to the official play store nexus charger (£29.99) and to the amazingly cheap eBay listings (£4.00!) I was happy to settle somewhere in the middle.

The package arrived a couple of days later in a compact well presented box. Inside you get the charging pad, USB cable and instruction manual. The pad is light and sturdy with a rubber ring providing a decent grip for your phone. Once connected to your existing AC adapter, there is a constant red LED that changes to flashing green once a device is detected. It's output is rated at 1000mA and charges the phone to 100%. The LED then turns off to let you know you're fully charged. If you were to charge overnight the flashing LED would definitely be an annoyance but at least there's no audible sounds. Occasionally after long periods the phone is warm to the touch but not hot which I believe is normal for wireless charging.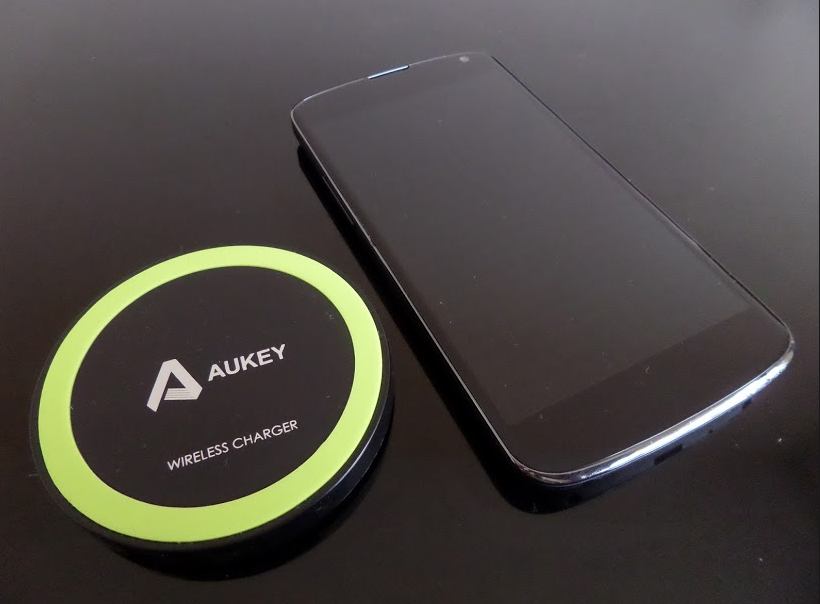 Overall I am very happy with this product given its quality and price. I don't think the more expensive QI chargers can offer anything extra so save your money. I can't believe it's taken me so long to take advantage of this amazing feature.
^^You can order the Aukey T20 Qi Wireless Charger from the widget above^^