Convert Everything – Review
Imagine having a very smart maths guy in your pocket, that you can pull him out at any time to convert meters to feet, or US shoe sizes to UK, or grams to kilos. Well unfortunately we are still waiting for that shrink-ray to be made, so for the time being we will use the next best thing Convert Everything. This app uses a huge list of options in an easy to use format, allowing you to convert almost everything there is to convert.
Convert Everything was made by XDA member plbelanger. Convert Everything's interface is nicely laid out. When you open the app, you select the general category of conversion you would wish to perform. This then opens a sub-menu, allowing you to input a unit and dimension, and it instantly spits out valid conversions. You can even save your conversions for later, and also share them with your friends and family.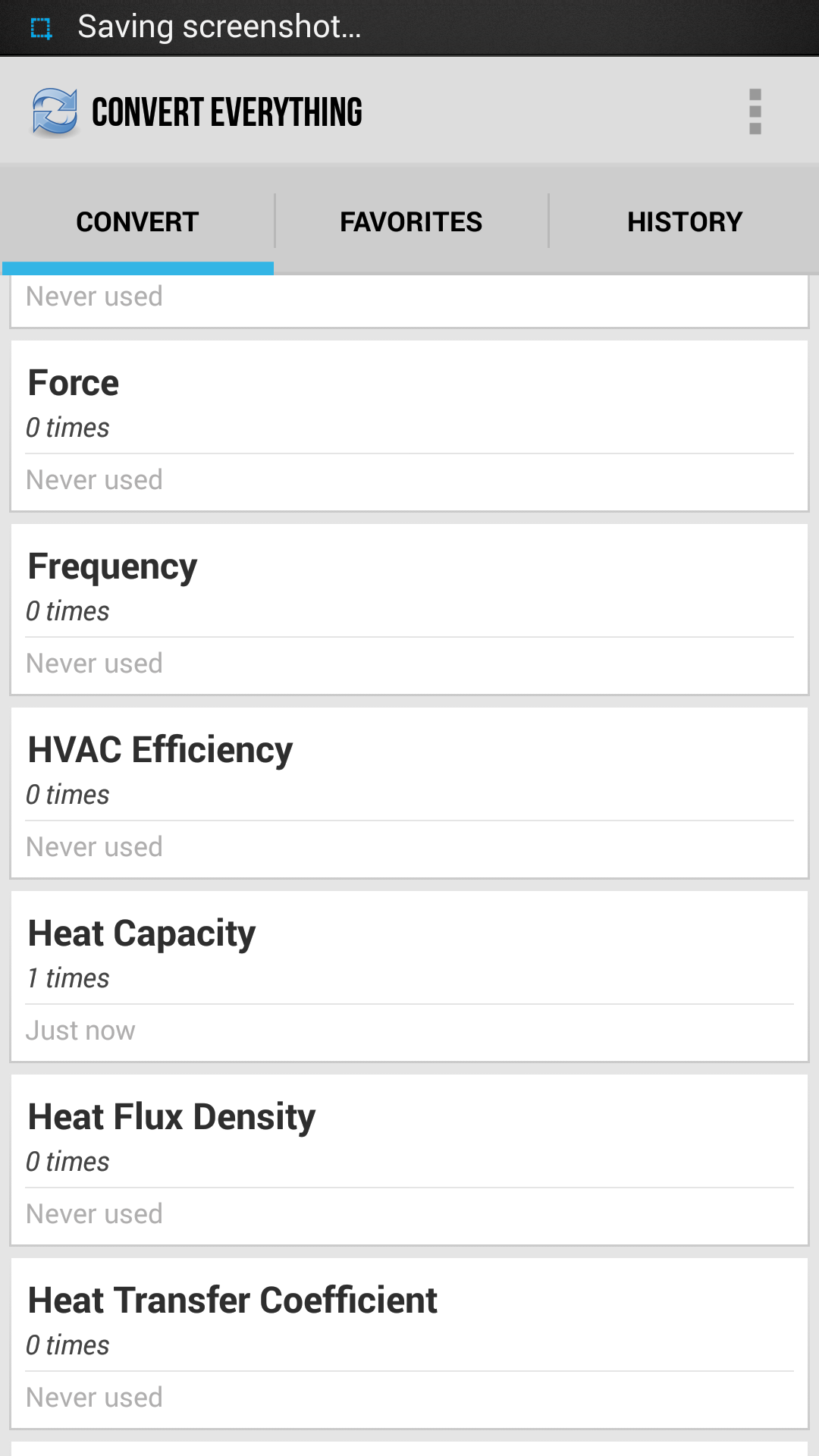 I can hear in the distance people shouting, "Surely it cant convert everything" and to you naysayers I attach the below ever growing list of things it can convert:
Acceleration – Angular
Acceleration – Linear
Angles
Brix and Baume
Oven Temperature
Large Numbers
Frequency
Electric Potential
Metric Unit
Ring size
Alphanumeric phone number to all numeric
Wire gauge
Sheet metal gauge
Colors – Hex to RGB, RGB to hex
Men's Pants
Men's Hats
Men's Underwear
Men's Socks
Men's Dress Shirts
Men's Shoes
Women's Shoes
Women's Clothing Size
Men's Suits and Coats
Men's T-shirts
Text conversions – ASCII, hexadecimal, binary, Morse code, Base64, UPPERCASE,lowercase,sWitch cASE, Title Case, First letter of sentence, URL encode, remove spaces, remove extras, rot13 cipher, reverse text, reverse words
Moment of Force
Specific Heat Capacity
Heat Capacity
Illumination
Illumination – Luminous Intensity
Digital Image Resolution
Temperature
Torque
Length/Distance
Planetary Weight
Planetary Age
Roman Numerals
Currency
Astronomical
Sound
Volume Charge Density
Typography
Temperature Interval
Latent Heat
HVAC Efficiency
Chemical – Henry"s Law
Calorific Value
Specific Volume
Resistivity
Resistance
Thermal Expansion
Magnetomotive Force
Permeability
Surface Charge Density
Surface Current Density
Conductivity
Mass/Weight
Magnetic Field Strength
Thermal Resistivity
Thermal Conductivity
Surface Tension
Area
Force
Viscosity – Dynamic
Viscosity – Kinematic
Volume
Concentration – Liquid Solution
Concentration – Molar
Data Storage
Capacitance
Charge
Conductance
Current
Data Transfer
Density
Electric Field
Energy
Entropy
Volume – Dry
Volume – Lumber
Velocity – Angular
Velocity
Radiation – Exposure
Time
Radiation – Radioactivity
Radiation – Dose Equivalent
Radiation – Absorbed Dose Rate
Radiation – Absorbed Dose
Flow
Flow – Mass
Flow – Molar
Heat Flux Density
Heat Transfer Coefficient
Inductance
Linear Charge Density
Linear Current Density
Luminance
Magnetic Flux
Magnetic Flux Density
Mass Flux Density
Moment of Inertia
Pressure
Power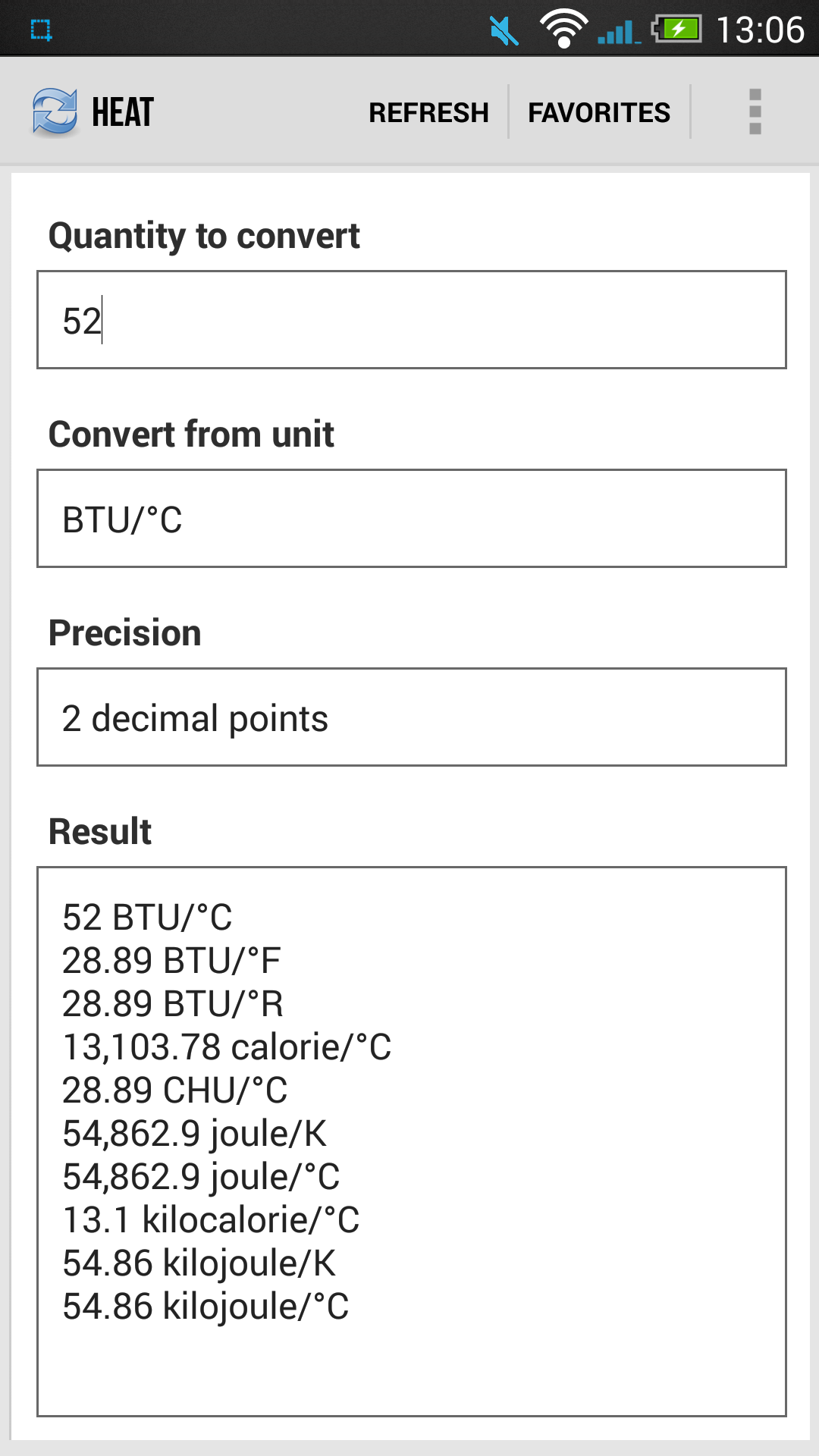 Installation is minimal, just over 1mb, and the overall app has a very low footprint on your phone. I suggest downloading this free app and be the envy of your friends while you convert Celsius to Fahrenheit.
Download the app below: