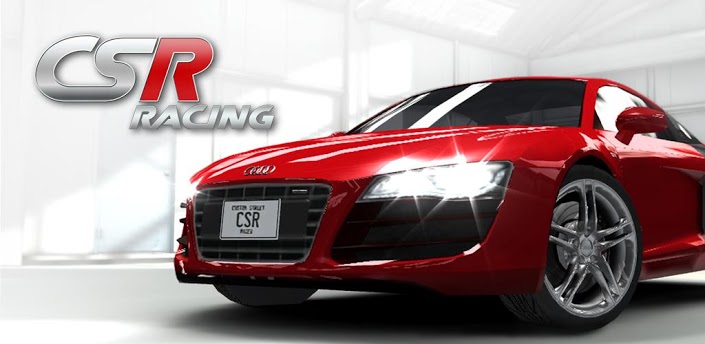 CSR Racing – Review
When you play this game for the first time you will learn very quickly that CSR Racing is not a traditional racing game. Instead of focusing on the driving aspect as so many game do, all CSR Racing requires of you is that you tap on the screen to shift at the correct moments as your car drives down a racetrack.
These simple controls do seem to work in the game's favour though, making the racing genre accessible to anybody who can tap a screen. Fans of games like Asphalt or Real Racing, however, may be put off by the lack of driving in this car-based game. What the game lacks in actual driving, it makes up for in customization. With seven areas of your car to upgrade (gearbox, engines, tires, etc.), you won't go wanting customisation options.
The racing itself looks great on the screen and i'm sure you'll have some nail biting moments. But this can become quite repetitive as you end up watching a race on your phone and only interacting 5 – 10 time per race.
You can customise your cars by spending either Cash or Gold – Cash is earned from winning races while the gold is earned (very slowly) by levelling up or spending real money through in-app purchases.
While all of the upgrade parts can be purchased for Cash, a few more top of the line upgrades require Gold, which is earned in-game pace at one piece per level. The higher-tier parts are almost all imports and take real-world time to arrive. By spending Gold however, you can make their delivery instant.
Another way for the developers to make money is to limit your fuel tank. It normally goes down by 1 unit per race and once it is all gone, you can either spend gold to replenish it or not use the game for a while. There is a social aspect where, you can fill up your petrol tanks by inviting friends via Facebook.
One point to make is the developers make no effort to hide the in-app purchases requirement, they mention it on the app page. Despite CSR Racing's integrated and ultimately unavoidable in-app purchases, it's a fun and enjoyable game, with great graphics. So if your after a free game to play on and off then this will be a good choice, if you want a free game you can play right to the end without spending a penny, you will be playing this for a very long time.
The link for this game is included below: