Sleep; we all do it wrong. Or at least, not as well as we could. I've always been one to settle for the cheapest pillows and bedding on the department store shelf. I've always thought, "That's good enough, I'm asleep anyway so what does it matter?" Well, it turns out it really does matter.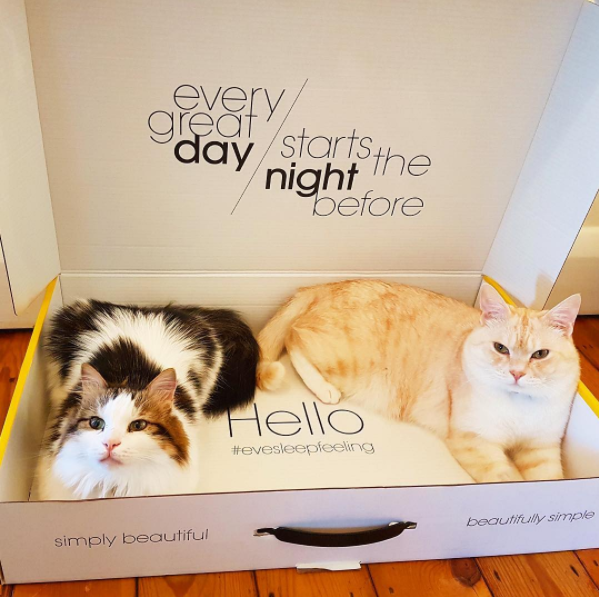 You've probably heard of eve. They're all about the boxed mattress, making it simple and quick to order and take delivery; they offer next-working-day shipping if you order before 1pm on a working day. Pretty awesome, right? But that's not what this review is about. eve also do bedding, and that's what we were sent to test out. Trust me, there was no disappointment; by the next working day I had my bedroom all set up with pillows, duvets and the covers for both. And so, eager to give this new set up a try, the husband and I hit the hay.
Let's start with the pillow. The eve pillow is memory foam, rather than fibre or feather, which moulds to your individual sleeping position. They promise added benefits for circulation and muscle alignment too. This pillow really delivers! After the first night, my husband and I both felt well-rested, and after a few nights I realised that my upper back pain had significantly decreased. To be honest, I love this pillow. The real test was always going to be how I found it – and I'm obsessed!
So that's my review. Here's the details. With the eve pillow – selling for £59 – you're getting a Visco-elastic memory foam pillow in a knitted jersey cover, with cooling 'vents' through the foam; as promised on the website, "'cool as the underside' feeling… on both sides." It's anti-microbial, fighting bacteria, mould and mildew for a 'fresh for longer' experience. It fits a 50×70 / 75 cm pillow case – standard size – but as we'll come onto, it is worth splashing a few extra quid on an eve pillow case to go with it. You get a 30-day refund policy, and beyond that they guarantee their pillow for 3 years.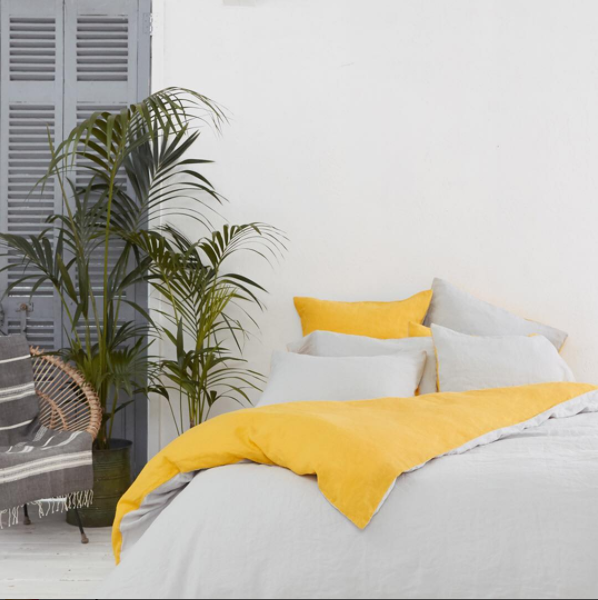 Onto the duvet, then. We took delivery of our eve duvet right in the middle of that late-June heatwave, when everyone was sweating through two t-shirts a day and sleeping in as little clothing as possible. This time, we're looking to my husband for this 'proof-in-the-pudding' review. He's the type who can't sleep if he's not covered, so summer months usually mean uncomfortable nights. We threw the 4.5 tog Spring/Summer duvet on, and settled in. It's fluffy and light-weight. It's the right kind of cosy, even when the thermometer refuses to drop below 25C of a night. As Luke said; this should really be marketed under the US-English name for a duvet – comforter.
This is a duck down and feather duvet. You're getting 90% down, and 10% feather; nature's very own thermo-regulating materials. And the materials are ethically sourced from European farms – eve promise that they "can trace our down to the exact farm and season it came from." One complaint I've always had with previous feather duvets is the little prickly bits that always seem to escape the cover and prod bare skin. The eve duvet is cased in 233-thread-count cotton that is tightly woven to ensure no bits of feather can escape; this also makes it anti-allegenic and anti-dust mite. As if all that wasn't enough, they've got a clever tog system that means that, in the dead of winter, you can toggle the spring and winter weights together for an extra-cosy night. That's a 13.5 tog duvet to snuggle under. Size-wise, they run from a single through to an emperor. The king-size 4.5 tog is £125, and the 9 tog autumn/winter is £175. You get their 30-day refund promise, plus a 2-year guarantee.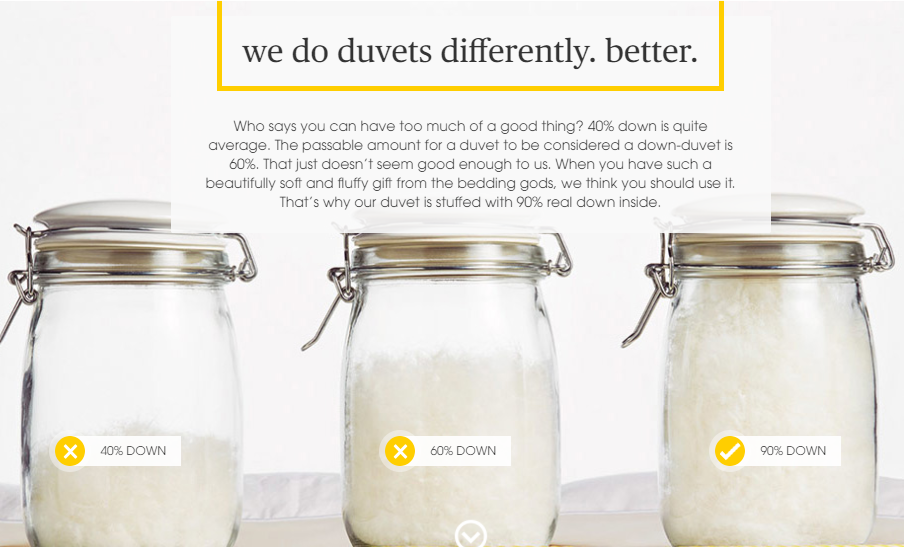 The sheets now. As you've guessed from the review so far, I have nothing bad to say about eve's products, and the sheets are no different. The only problem we've found is that I prefer the linen, whilst Luke loves the cotton. It's kind of like your preference for towels; I like a soft-but-substantial feel when drying off and he's all about the fluff. The linen has that luxurious summery-fresh coolness, and it honestly feels like they're fresh on the bed every night. The colours are beautiful – we have the Cloud Grey/eve Yellow colorway. The grey is cool and soothing, but the pop of yellow is a lovely accent. Both colours work wonderfully in our neutrally decorated bedroom. At the moment, Luke's winning in the war of the bedding, and we've been sleeping under 200-thread-count, percale weave cotton for a while. It's crisp and satisfying, and cool to the touch. eve say that "due to the tightness of the weave, the sheets retain a smooth feel while the simple over/under structure of the yarn results in an incredibly cool and breathable fabric." The pillow covers and fitted sheet are just as good!
A full-set of bedding (including two pillow cases, a fitted sheet and a duvet cover) is £90 for a king-size in the cotton, and £158 in linen. The linen is made from the flax plant (today I learned!) which is naturally kind to sensitive skin and those with allergies. As with all eve products, they're passionate about ethical materials, and source the cotton for their bedding from Portugal.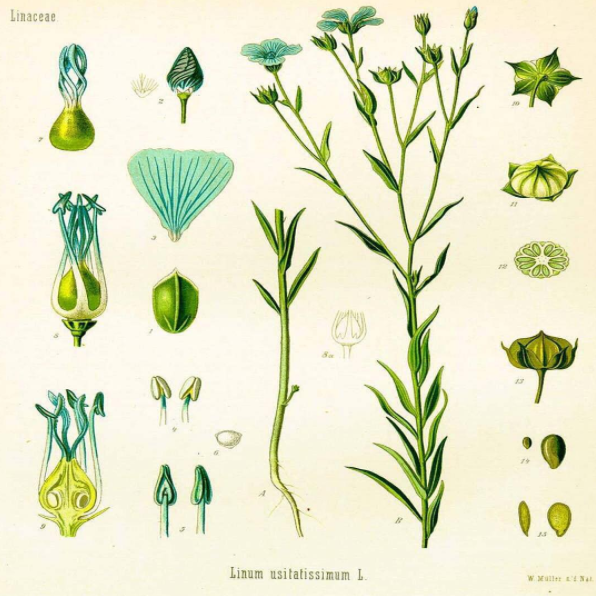 So, in summary – head to evemattress.co.uk and have a look around. They're UK-based, have a great customer service team (I tried out the chat option on the site anonymously and found Selma who answered to be knowledgeable and friendly), and they have an office dog.
Follow eve on instagram, Twitter or Facebook, and be sure to say we sent you. Happy sleeping!