When it comes to music players for Android we're pretty much spoiled for choice, just type "music players" into search on the Play Store and you'll see what I mean. We all have our favourites, and it's probably safe to say that many of us have had more than one installed at any given time. I know I've sometimes had up to 6 or 7 on my devices, looking for that perfect player, but never actually settling on one,  instead, having 2 or 3 that I keep returning to, one in particular….PowerAmp. It was always my favourite player, but then I found GMMP (GoneMAD Music Player). GMMP is a step closer to that perfect player, at least in my opinion. It gives you plenty of customization options, much like the ones you get in PowerAmp, plus a few nice extras. On first starting the app, it asks if you would like to customize the file paths it scans for media, an option all media players should have as far as I'm concerned, having random ringtones and game audio files popping up in my music player really annoys me, there's no excuse for it.
So, you have the option of adding the folders you prefer, or choosing to skip whichever folders you like. Obviously, choosing a couple of dedicated music folders is simpler and less time consuming than selecting folders to ignore, but having a choice is always a good thing.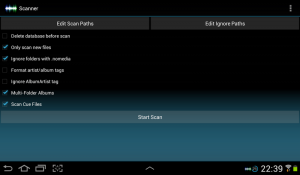 Having set the two folders I use on my external card, it's a simple case of hitting scan. Even though I'm using a 64GB MicroSDXC which is close to half full, the scan is pretty quick. Up until now, PowerAmp was the only player I'd found that correctly displayed all of the ID3 tags on my music, but not anymore, so far GMMP has performed perfectly in that respect.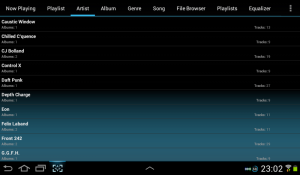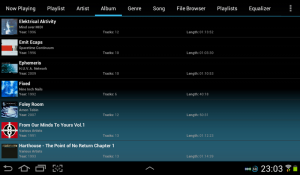 On a tablet this looks stunning, the default ICS Holo Dark skin just looks like it belongs. There are several free skins available to download, 7 of them colour variations of the Holo theme including a black & white one, plus 2 classic versions, reminiscent of the stock player of old. It looks equally good on a phone, though the lack of real estate doesn't do it quite the same justice as a larger display.
Pick something to play, hit the Now Playing tab and you are presented with a view like this: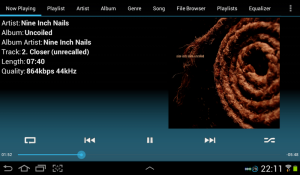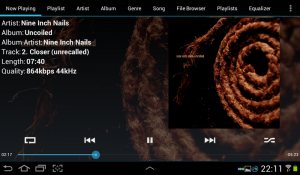 You have the choice of using a plain black background, the default background (visible in the pics above left), or you can use the actual album art as a background, which, while looking pretty cool, can make it difficult to discern the controls and information displayed in the upper right area depending on how garish the album art is. Tapping on a blank area of the screen zooms the album art on the right hand side of the screen and hides the player controls and seek bar.
The information displayed in the upper right is customizable to an impressive degree, with 20 possible choices for the 6 available slots, and is a very nice touch. You can select either text or icons for the slots themselves, which is handy on a smaller screen or in portrait mode.
You can also choose which tabs are displayed along the top, again, very handy for phones or just portrait mode. That's most of the cosmetic stuff out of the way. GMMP like most players has it's own EQ, though it allows you to use Androids own in-built EQ (2.3+) if you prefer. There are 17 presets in GMMP's arsenal, plus a 5 band manual EQ that can be expanded to 10 band in the settings. Enough then for most tweakers.
Sound quality is great, using .flac's with the default flat setting on the EQ it actually seems slightly louder and clearer than PowerAmp. GMMP supports gapless playback, which is a huge plus, and something the majority of players lack. You also have the option of removing the silence between tracks that have no gapless data. It's one of the things that drew me to try it out in the first place. Gestures, and headset controls are all supported too. Volume adjust mode allows you to set default volumes for the onboard speaker, wired headsets and bluetooth. The buffer size can be adjusted in case you experience skipping during use while you are active. The priority of the decoding and DSP processing threads can also be adjusted. You can choose to preload the next track in steps of 1, 5, 10 or 20 seconds before the end of the current one. The app can be set to kill itself if idle for more than 5 minutes, though on occasion I found it didn't actually kill the app, and you can also find a dedicated exit option in the menu.
If you like to use your device to listen to music as you fall asleep, you'll find the sleep timer handy too. There are a wealth of options. You get 6 widgets to choose from, when GMMP is inactive the widget will display the GMMP logo, tap it once and the last played track and controls appear.
There are lockscreen options, though unfortunately setting it to bypass Android's own swipe to unlock doesn't work, on my 3 devices at least. Hopefully this will be addressed in future updates.
GoneMAD Music Player is available on the Play Store here https://play.google.com/store/apps/details?id=gonemad.gmmp&feature=search_result or directly from the developer's blog here http://gonemadmusicplayer.blogspot.ie/. It's a full feature timed trial, lasting 14 days, so grab it and give it a test for yourself. The full version can be unlocked for a mere €3.04, I actually upgraded after only 2 days of the trial.
It's that good 😉