GreatShield Heavy Duty Hybrid Case – Review
With a phone like the M8, you need a case with a good look, nice to hold and with a strong brand name. With a name like GreatShield I couldn't go wrong, this two part case, offered the right protection and looked good on the phone, with the added bonus of a kickstand! From start to finish this case is a great accessory.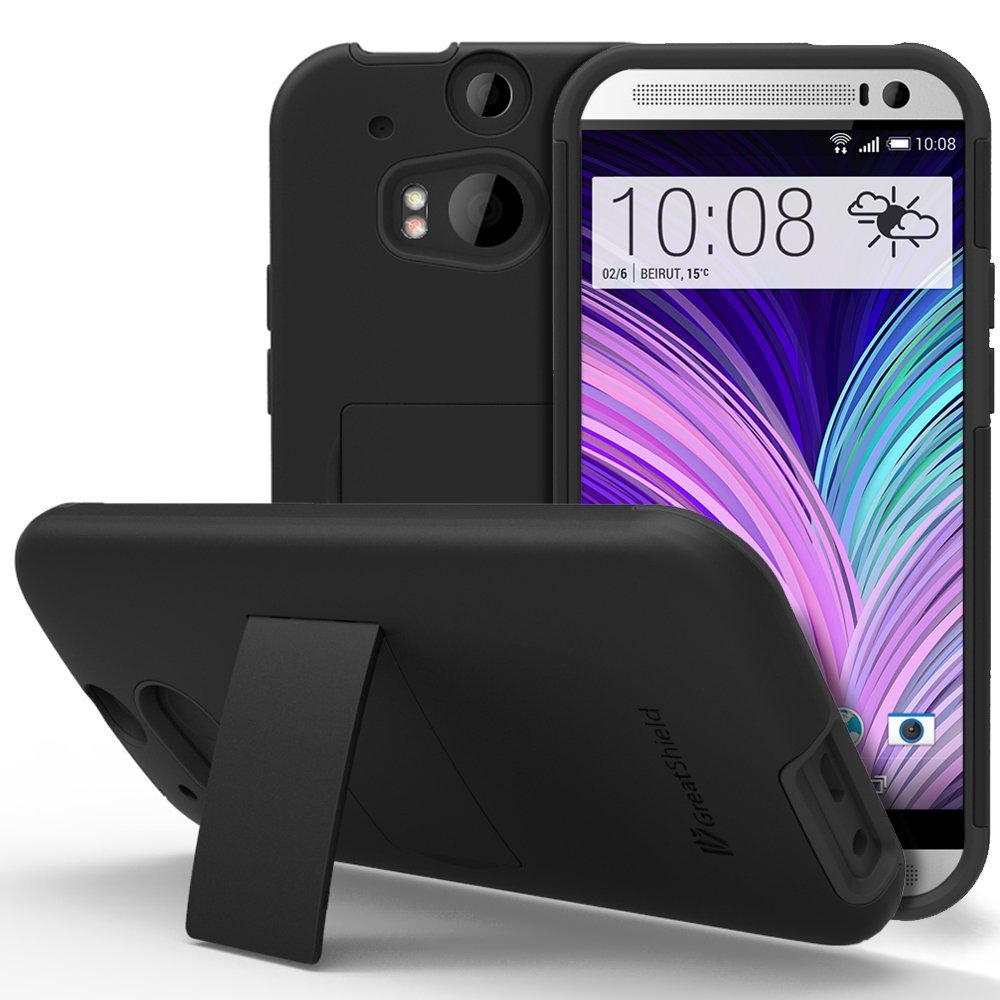 Lets start with the application, this case was easy to put on. It works with the increasingly common two part process. You first apply the rubber inner shell, Which has three holes in the back for the second camera, mic and then main camera and flash. The volume rocker is split into two separate buttons with a plus and minus symbol on. The hole at the top is for the power button, and offers enough space for the IR blaster to still work. There is also one large hole at the bottom for the usb and headphone slot.
After applying the inner case, the harder plastic case can then be clipped on. This has all the matching holes, and also includes the kickstand. This was my main beef with the case, as a nail biter, the kickstand was very difficult to open. This is no fault to the engineering, as you don't want it opening in your pocket at all. Its just I needed to use a card, or keys in the end to open the thing.
The M8 is a slim phone, and this case will add a bit of bulk. The phone will still fit in your hand, but it will feel a bit chunkier, sort of like after going to a pizza buffet. But I have always felt, more bulk, means more stuff between the ground and your phone.
This case is engineered with polycarbonate (PC) hard plastic and TPU, so both parts together offer dual layer protection to withstand shock and impact from everyday use. When both shells are applied the ports are still easy to access, as in the past I have had issues with other cases. This case did come with a screen protector, which 3 years ago would've made sense. But with the M8 having Gorilla Glass 3.0 a screen protector doesn't really offer much to me as a consumer.
Features:
Dual layer protection against shock and impact
Hybrid combination of polycarbonate (PC) and TPU
Built in kickstand
Slim and stylish profile protects HTC One M8 with minimal bulk
Effortless access design give easy access to all ports, buttons, and features
Comes with an ultra-clear screen protector
All in all this is a great case. There are some minus points, the size added, and the kickstand, but these are my personal opinion, so might not be felt but everyone. This case is pretty simple in design, and the kickstand is the main selling point I feel.