Kitchenaid Artisan Power Plus Blender Review
Advertised as the "most powerful blender available", I was expecting a lot from the Artisan Power Plus Blender from Kitchenaid, and I after a month of use I am hooked! Looking like something out of Tony Starks living room this blender is made up of a, hot red metal base, and a dual walled jug.
Packing a 3.5 HP motor, and 3mm-thick blades, this thing can chew through anything in seconds. It has 11 different speed, 3 programed settings and a cleaning function. The 3 programmable buttons allow you to click it on an wait for the process to finish, and the cleaning function means you can just fill it with water and soap and it'll clean itself.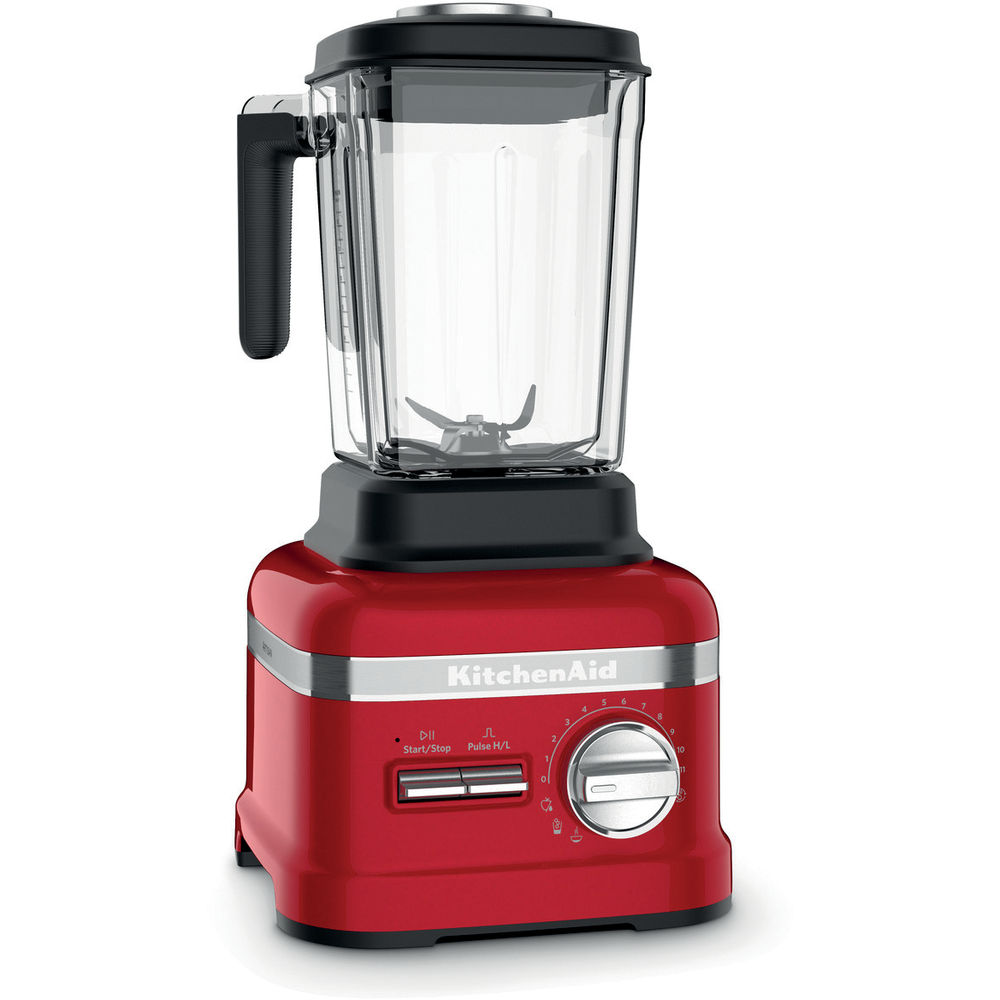 I love the look of this blender, the metallic red looks amazing, and Kitchenaid have given it a real retro look and I think it works really well. All the controls are very well placed, and are big and clunky. This is a good thing, as when I turn a dial or flick a switch I want to know I have done.
The controls on the front are a silver colour, and are easily identifiable on the red. There is an off and on switch, next to a pulse switch. These have  great click associated to them, and are fun to use. The dial is then used to switch to a programmable mode, one of 11 speeds or to the self clean function. There is a black rubber seal on the top, which holds the dual walled jug.
The jug uses a non-slip black handle, making it easy to life on and off the blender. There is no twisting and clicking into place, you can need to place the jug on top and turn the blender on. there are also hints that there has been a lot of thought put into the making of this. The blender base has carry handles on the side to make it easy to carry. There is a switch onto back to urn off the power completely and a detachable power cable.
As a smoothie fan, i was excited to see a smoothie/juice settings. So I decided to put in some frozen fruit, spinach and kale, with some orange juice and water. I set the dial to the juice and flicked the start switch. It then ran through a couple of modes, this main involved  ramping up the speed, then back down to a low speed, to allow heavy fragments to sink down to the blades. The it will increase again to blend everything, with a finale at the highest speed it can go. All this is under 30 seconds and gives me a smooth smoothie, with no large bits.
The soup section worked the same way, except thanks to the dual wall, you can put in hot liquids and vegetables, and then select soup. This was a lot noisier than the smoothie setting, but it is a big engine.
Now to my favorite section, the cleaning setting. After every use, all you have to do is fill the jug with warm water and some dish soap, then select the clean setting. Under a minute later, the sudsy water is thrown around the jug and everything is cleaned away. Then a quick rinse is needed and can be left on the draining rack.
So the price for all the is around £650, which is a lot. But with most things, you get what you pay for. You buy cheap, you will be buying again, you spend the money and get a great product like this, it will outlive us all. The blender is now center stage in my kitchen and I am using it maybe twice a day.
lakeland.co.uk/31624/KitchenAid%C2%AE-Artisan%C2%AE-Power-Plus-Blender-Candy-Apple-Red-%E2%80%93-5KSB8270BCA-