One of the big advantages of Android devices is that most have the ubiquitous micro USB connector, allowing the use of the same charging cable for a wide range of gadgets. However, unless you've somehow managed to stick to that same charger that came with your device you'll probably have noticed that not all chargers are created equal. Your phone or tablet will charge, but maybe not as quickly as with the original charging cable.
Confounding the problem is that while your USB wall adapter or power bank might be supplying the maximum charge your device can handle, the USB cable might be letting you down – unable to carry all that charge to your phone or tablet. A lot depends on the quality, thickness and length of the cable. Those cheap cables you find on eBay or Pound/Dollar stores may not be quite the bargain they seem, especially as they often don't advertise how many amps they can carry.
Luckily UK based company Portapow have a lot of experience in this area and provide a number of cable solutions that will allow you to maximize your charging speed…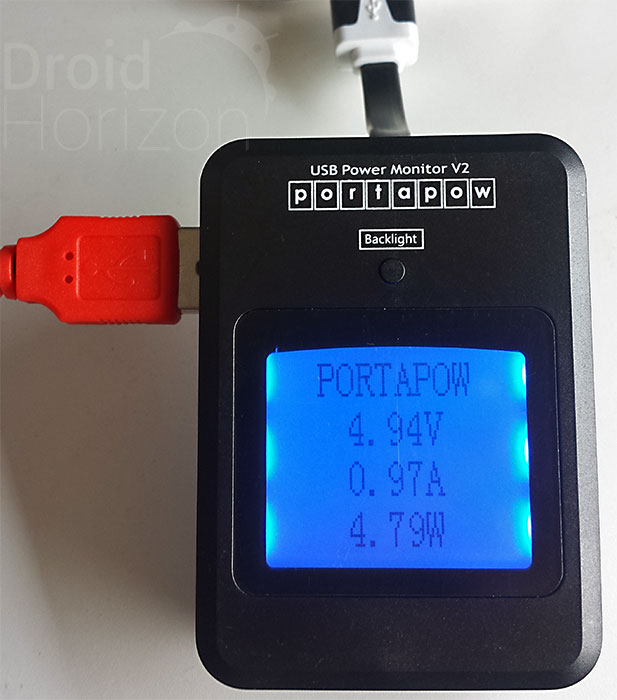 Part of the problem as a user, is we're often left blind as to how much charge our devices are getting.  Some apps such as Ampere will give you a good indication, but if your device isn't supported then you're out of luck. The tool of choice for electronics experts is the multimeter, and Portapow supply one especially designed to plug straight into any USB port.
Simply plug this power monitor into your USB power source, plug your charging cable into it and you'll get a real-time indication of the Current (A), Voltage (V) and Wattage (W) going from the socket into the device.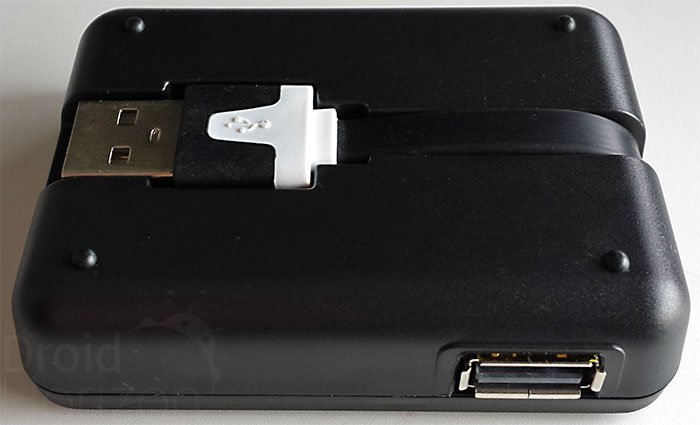 The monitor is good for up to 2.5A in the 3V to 7V range so will work with most Android chargers. It is accurate to 0.01A / 0.01V and impressively only uses less than 2mA (10mW) of power itself.
The screen has a LED backlight which illuminates for a few seconds when it's small button is pressed. This really helps the visibility of the LCD screen, but the short timeout did mean needing to repeatedly press the button which gets annoying. I'd have preferred to have the button toggle the LED on and off.
The Power Monitor V2 is primarily intended to help you optimize the positioning of a solar panel to maximize output, but is also really useful when trying to figure out charging bottlenecks such as poor cables. If you're having charging woes then it will help you get to the bottom of them, and as it's currently priced at £8.99/$13.37 it could be well worth the investment. It was used to help evaluate Portapow's charging adapter and cables below.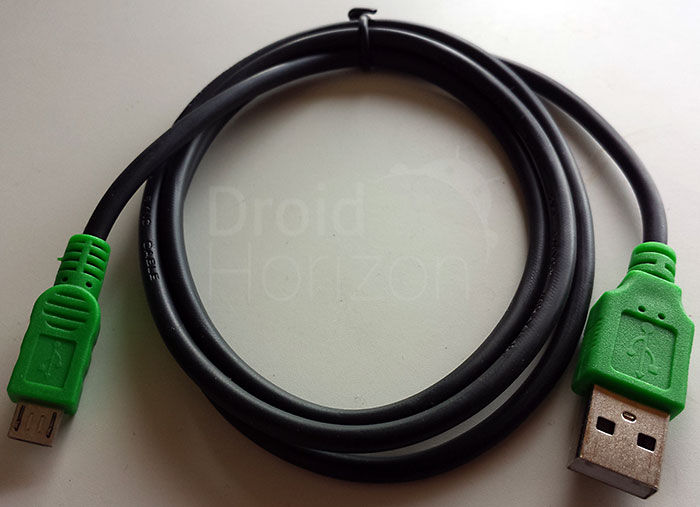 Available in a choice of 1m or 2m lengths, in terms of performance this cable will likely be the equivalent of the supplier's micro USB cable that came with your device. It allows data transfer when your device is connected to a PC and will carry the maximum charge to your device when connected to a charger. Using top quality materials this cable provides the lowest resistance currently available.
The cable itself is coated with TPE rather than the usual PVC which keeps the overall thickness down and gives the cable a grippy rubberised feeling. The end connectors are made from sturdy moulded plastic which gives the impression that they will stand up to lots of abuse.
Both lengths of cable had no problem carrying the maximum 2A charge my phone can handle, and they also allowed data transfer when connected to a PC.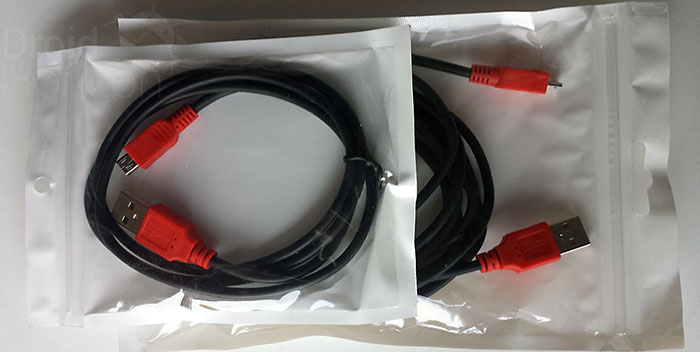 The standard sync / charge cable is great when connected to a wall adapter or when you need to transfer data to a PC. Sometimes however you just want to use a computer's spare USB port to charge your phone.
The problem with this is that the sync functionality gets activated whether you want it or not. You may not for instance want a public PC to have access to your phone's data. Even worse, sync mode also reduces the current supplied to your device to a cripplingly slow ~0.5A.
Portapow provides a choice of two solutions to this problem, both of which block the data connection and allow the maximum charge from the USB port to reach your device. If you never need sync then their data block cable is all you'll need, made in a choice of 5 lengths from the same high quality material as their standard fast charge cable but with sync disabled.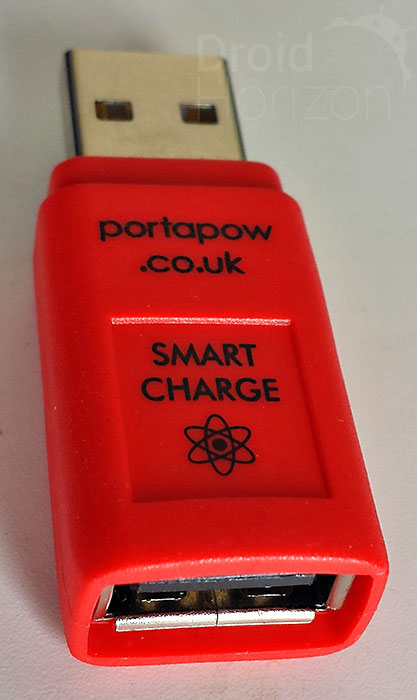 Alternatively if you like the best of both worlds they provide an adapter that disables the data connection on a standard sync cable. You can buy an adapter tailored for charging Apple devices, a universal (non-Apple) version or pay a little extra for the SmartCharge version which will detect what type of device you're using and switch automatically.
Using the Power Monitor to test a standard sync. cable from the computer's USB port provided only 460mA of charge, while using Portapow's data block cable or adding the Smart Charge adapter disabled the data connection and bumped this up to 780mA – about a 70% increase.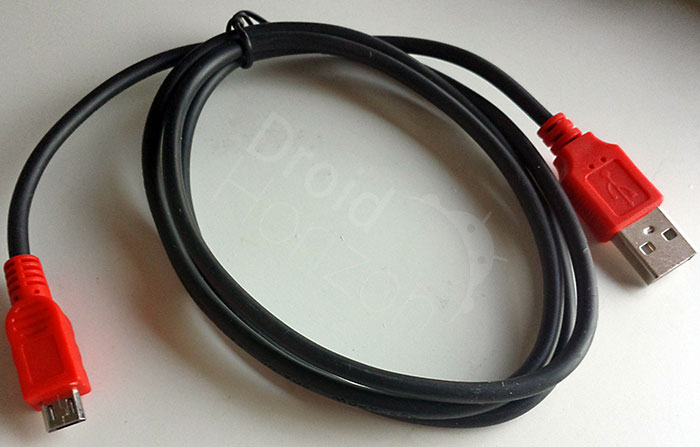 Overall
If you're looking for a quality replacement charging cable for your device, you won't go far wrong with Portapow's cables – especially if you've been having charging woes with other cables. In addition their data block solutions add security and will give you a faster charge from PC USB ports than normal cables.
They are reasonably priced in the £5 to £6 / $6 to $9 range with free UK delivery or worldwide delivery for just £1. I recommend checking them out along with Portapow's other charging accessories by following the links below…