Reolink Argus: Truly Wire-Free Security Camera
Reolink Argus is a truly 100% wire-free and battery operated WiFi security camera with the smartest PIR sensor. Traditional wireless security cameras provide video surveillance even when there's no network cables. But for monitoring an area without a power outlet, a battery-powered wireless security camera like Reolink Argus is definitely the top choice. It defines and shows the way "100% wire-free" should be!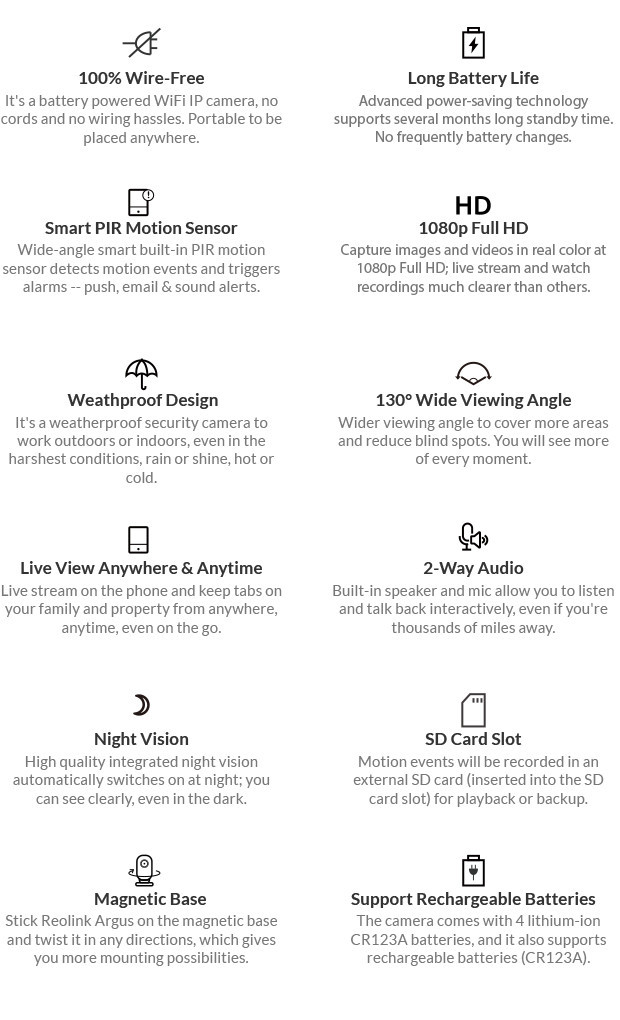 There's no installation, no cords, no wiring, and no drilling! You can set Reolink Argus on a shelf, a table, a tree, or other flat surfaces, mount the camera to the wall, put it under the ceiling, or place it anywhere you want, like in the monitoring place that has no network cables and no power outlets. You can move it from room to room, and use it for watching a home, keeping an eye on the elderly, babies, kids, nannies, checking on pets, etc.
Reolink Argus is a standalone product and also an all-in-one security solution with Full HD camera, smart sensor, and alarm. It is battery-operated and features WiFi support. Generally, the camera will go into a standby mode and it will wake up immediately via motion detection and live view from a phone.
Weatherproof design makes it work in a wide variety of harsh weather conditions, including rain, snow, intense cold and heat. The IP-65 certified weatherproof camera braves it all, and has no limited placements. you can put it outside or inside.
Reolink Argus' main features include:
100% Wire-Free
Smartest PIR Motion Sensor
1080p Full HD
120° Wide Viewing Angle
Weatherproof
High Quality Night Vision
2-Way Audio
indiegogo.com/projects/reolink-argus-truly-wire-free-security-camera-technology–2#/