Allreli is a company that offers a variety of mobile solutions. They recently offered me the opportunity to try out a wireless charging pad that they offer, so I've spend the last several days using this with my stock Nexus 6. Needless to say, I really enjoyed using this thing.
The look of the charging pad is different compared to others that I've seen. The ones that I've reviewed in the past, as well as a handful that I've seen online, are usually square or rectangular in shape. This one is different in tow major ways. First, it's circular, so that alone sets it apart from the other pads I've come across. Second, I found its design to be much easier on the eye (as subjective as that metric can be), as it's a disc with two differing segments. The inner portion is a simple black disc with Allreli's name emblazoned across it in white lettering; slightly garish, but obviously one doesn't see the logo when the charger is in use. The black disc is then encircled by a ring of clear plastic. Frankly, I find that visual appealing.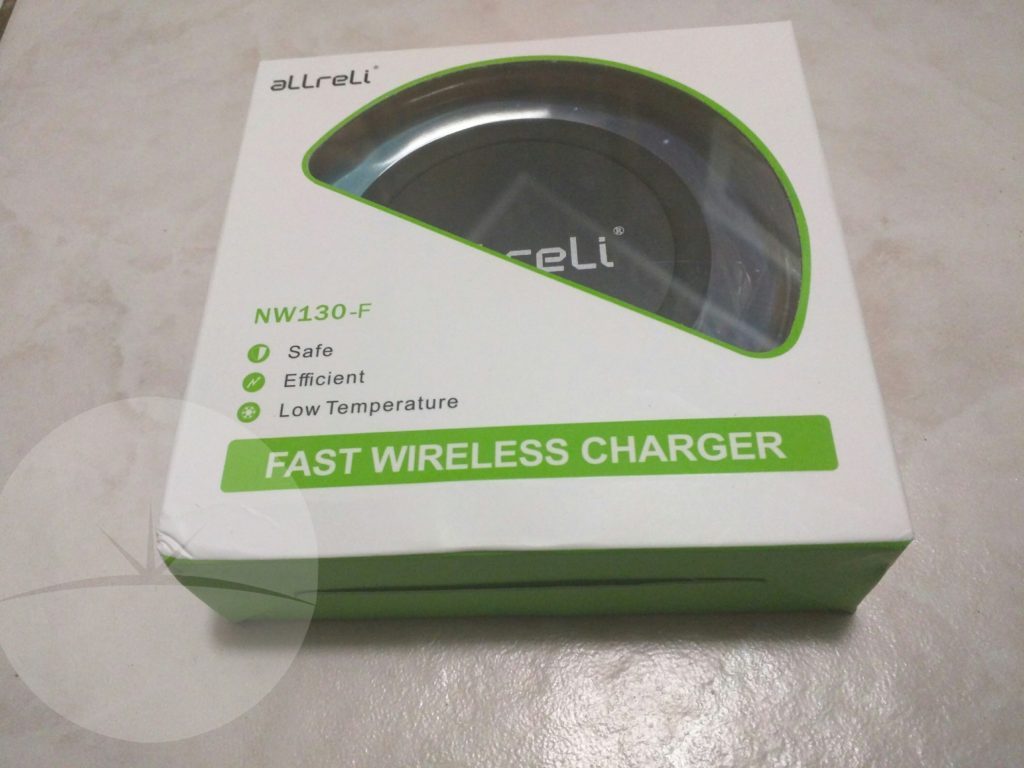 As a bonus, this outer ring of plastic serves a functional purpuse. When I placed my phone onto the charger, I noticed that it "took" to the charger with very little fussing. I can't say that I know why, but I didn't need to worry about how close to the "sweet spot" i was; I just eyeballed the position, set the phone down, and could walk away once the LED kicked in. Speaking of which, the clear plastic ring lights up from an LED, and the color indicates how the pad is charging: green for standard charging and white for Quick Charging. Since the charging pad is circular (and my phone oblong), there are whichever portion of that clear ring that is unobstructed by the phone will reflect the appropriate color. Furthermore, and this might be my favorite feature about this charging pad, the LED turns completely off after several seconds. Now, I've mentioned this in previous reviews for wireless charging pads, with the bright blue light being one of the few qualms I had with these, and they were good chargers. Allreli's is clearly a step above these, both in its appearance, as well as the fact that the light turns off. Why other OEMs don't build this idea into their units is beyond me, as not once has this unit light up the bedroom, once the LED has turned off. Needless to say, I like that about this charger. A lot.
As for how it performed, I was able to test out the standard charging mode. I started out with a 44% charge on my phone, which has a 3,220 mAH battery, and I gave it a thirty minute charge (as I do in my other reviews). After the 30 minutes expired, the phone had increased to 56%, so the standard format wasn't charging all that quickly. That being said, I'm confident that the performance would be faster had I other Quick Charging accessories to pair with it. With the LED disabling itself as a selling point for overnight charging, which the pad really lent itself to in my case, I don't see that being much of a problem at all.
In short, this is the easiest charging pad for me recommend yet. I'm giving this a solid nine. I think it looks quite nice, is functional in a way that takes advantage of the appearance, and what could be most important, it stays dark while charging overnight. Really, my only complaint is the size/location of their branding, and it's rare that I review a product where that's the ONLY complaint I have about it. Clearly, a lot of thought went into something as simple as this.