Last year Ste gave a very positive review for the first generation Power Castle. Intocircuit now have a second gen. version available so I decided to see if it still stacks up.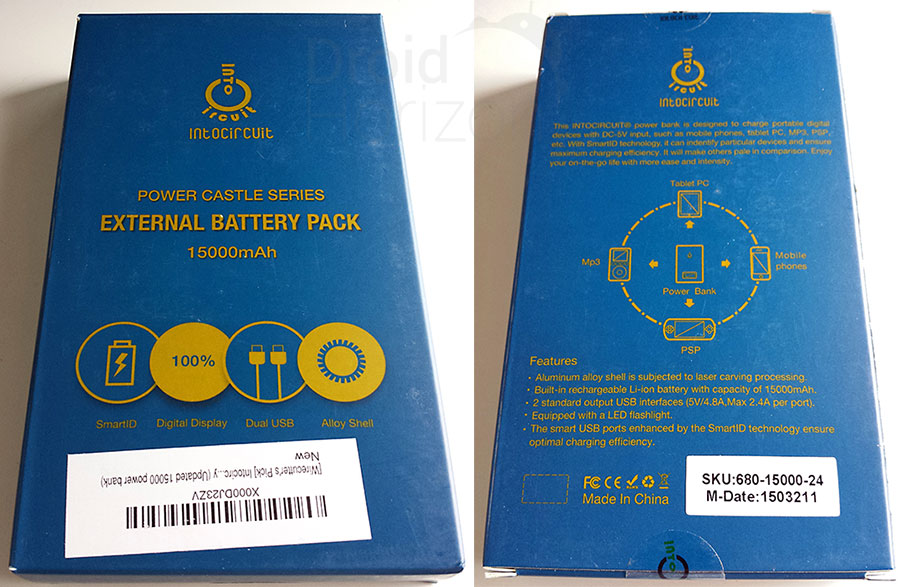 Build Quality & Design
Happily Intocircuit have retained the same design and build quality. Again the laser-carved brushed aluminium alloy shell sets this device apart from the competition in terms of build materials. On one end it has a micro USB input port, two full-sized USB output ports and a white LED flashlight. Another major differentiator from other power banks is that on top is a small backlit LCD screen that reports remaining battery percentage and output status.
At 128mm x 71mm x 22mm and 326 grams this version is slightly longer and heavier than the original (which is certainly understandable considering the increase in capacity). While it's a little too big to be considered pocketable, it's easy to slip into your bag and won't weigh you down. A nice soft tie-top carry bag is included to stop your Power Castle getting scratched up.
The selection of power cable connectors has been replaced with a micro USB cable since this has pretty much taken over as the standard for charging your gadgets. Of course you'll still be able to plug in any of your other gadgets as long as they can charge via USB.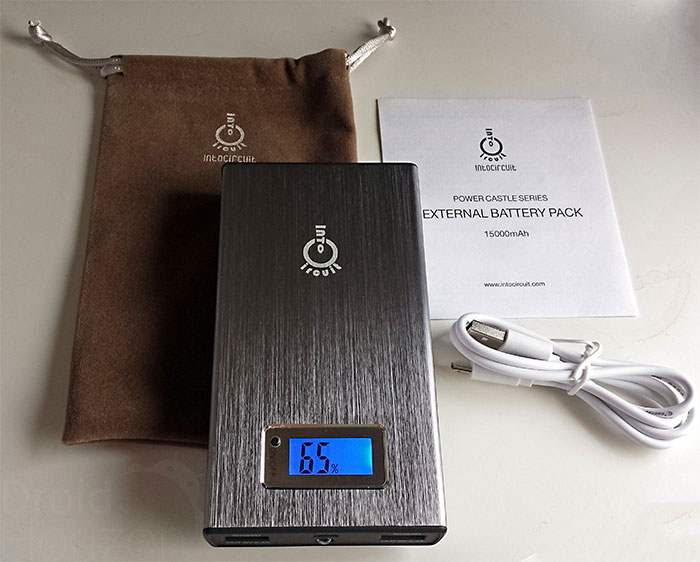 Performance
Capacity has increased by an additional 33% from 11200mAh to a whopping 15000mAh. The previous version provided plenty of charge to power your devices, but the new model is quite simply a beast. I received my new phone on a Friday with a 32% charge and I was able to power it that first weekend using only the Power Castle with capacity to spare. This is particularly impressive since the phone was in very heavy use with lots of extra syncing, downloading and new-toy activity. With normal usage you should also have no problem powering your phone for 4 or 5 days and you could even charge a tablet 3 or 4 times using this battery.
The Power Castle now accepts a 2A input which means it charges twice as quickly. This makes a big difference when it comes to a high capacity battery like this as you'll always be waking up to a nice full battery after an overnight charge.
Output amperage has also been given a bump with the new model now capable of firing out a maximum of 2.4A simultaneously from both of it's output ports. Therefore devices do charge quickly but unfortunately it is not Quick Charge 2.0 compatible.
SmartID technology is included which automatically checks and supplies the maximum load your device can handle, so you'll never have to experience that panic-inducing burning smell from your lower powered devices.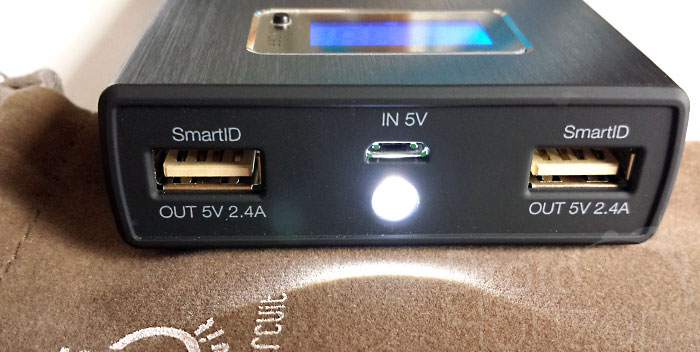 Features
Most power banks I've tried use 4 small LEDs to indicate battery life so are only accurate to the nearest 25% and you're never really sure how you stand. One feature I love on the Power Castle is the LCD panel which gives an accurate percentage reading and thus removes all this mystery. It constantly gives a non-illuminated percentage while charging, and will also light up with a blue backlit status every time it's button is pressed.
Double-pressing on the button activates or deactivates the white LED flashlight. While it's no floodlight, it will last just about indefinitely and allow you to get around in the dark which can come in handy when you're travelling.
When nothing is drawing power the Power Castle automatically shuts down to save battery. Happily it didn't have the issue I've seen with many such power banks where it fails to detect when low draw devices like Bluetooth earphones are connected and shuts off prematurely.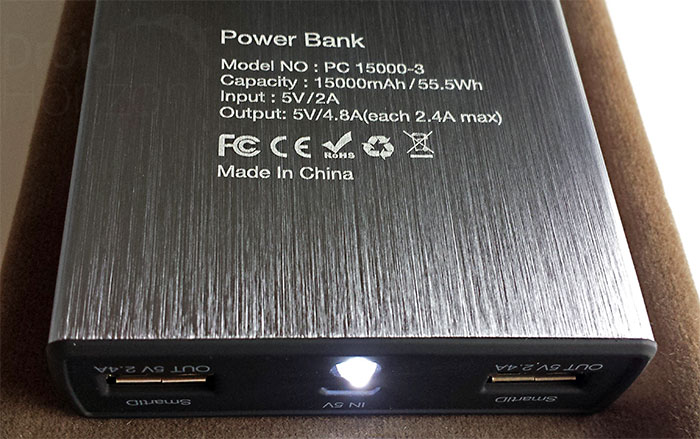 Price
The Power Castle is currently priced at £28.99 on Amazon UK and $39.99 on Amazon US which isn't cheap in the world of power banks. For the price you might even be able to get a couple of lower capacity batteries that would add up to a greater capacity overall.
However in my book I wouldn't consider it to be over-priced once you take into account the top notch build quality, performance and LCD screen combined with the large capacity.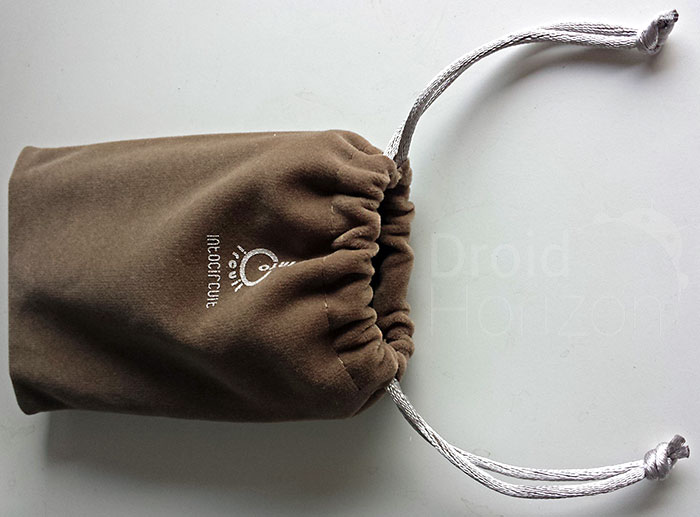 Overall
Overall for the second generation Intocircuit Power Castle I'm forced to echo the verdict Ste gave to the first gen. model last year. There are a huge choice of alternative power banks available but few that pack the same capacity and performance into a portable form-factor with a LCD display and such a premium build.
For owners of the first generation model there may not be enough new here to warrant upgrading, but for anyone else who needs power on the go then Intocircuit have stayed ahead of the game and I can totally recommend the Power Castle.  Check it out from the Amazon links below…