Review: Livescribe 3 Smartpen
The Livescribe 3 was released about 18 months ago. So I would understand some questions about the late review. The smartpen finally has software support for Android! I first caught wind of the Android app being released back in March, the preview was released just a couple weeks ago, and now I am allowed to explain how the hardware and app work. After only a couple of weeks using the pen and the new app, I can honestly say I am very impressed. But I know there will be a couple of points that people will need to know before thinking about picking one up. The Livescribe 3 Smartpen Specs:
Pen type Ballpoint
Ink color Black
Ink cartridge Replaceable, blue ink available
Connectivity Bluetooth 4.0 LE
Software support Android (4.4.2+), iOS (8+)
Multi-device Up to 4 paired devices
Dimensions 162mm (l) x 14.9mm (d)
Weight 34g (1.2 oz.)
Battery Rechargeable Li-ion
Charging MicroUSB port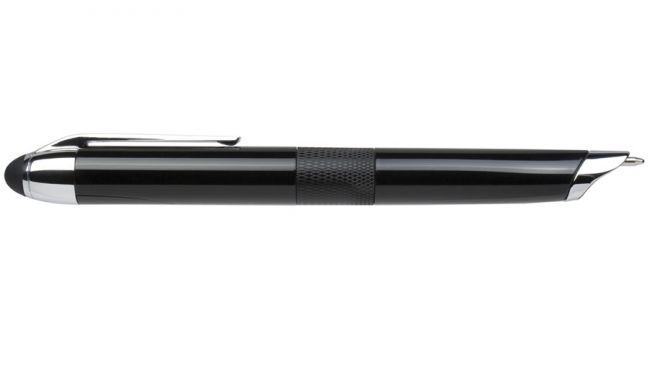 The Livescribe 3 is quite a chunky pen. I am reminded of a multi-pen, the kind with different colors of ink in the same shaft. This size is due to the hardware that is contained inside. At the tip of the pen, next to the ballpoint cartridge, there's an infrared camera. This is where the magic happens, as this is the part that allows the pen to know whether you are writing and if so, what, and where you have written. Also included is an ARM processor to process that information, a Bluetooth radio to communicate it, flash memory to store it, and a lithium-ion battery to power the whole unit. So I wasn't that surprised by the big size.
Now I have big hands, so this pen was no problem for me. I could grip it, and write notes down easily. The issue may be for people with smaller hands, as my wife tried it and she had a bit more difficulty using the pen. I wouldn't consider this a dealbreaker myself and I think there will be a lot of people who actually prefer its size. At just under 35g it's a little heftier than other pens out there. The weight of the Livescribe 3 is again not a big issue in my view, as it's not much different from premium pens you can get at Rymans.
On the opposite end of the pen, I found the integrated stylus tip. Which I though was a smart use of space, as it doubles as a cover for the MicroUSB charging port. The controls and interface on the Livescribe 3 are brilliantly minimal, as most of the features are offloaded onto the app. To turn the pen on and off, you twist the textured band in the middle of the shaft. Its a tough twist, which is good as it stops the pen being turned off by accident.
Apart from that, there is an LED on the pocket clip which displays a variety of information at a glance:
On with no Bluetooth connection – Blue
On and connected to a device – Green
Recording audio – Red
A problem with the app, or low battery – Yellow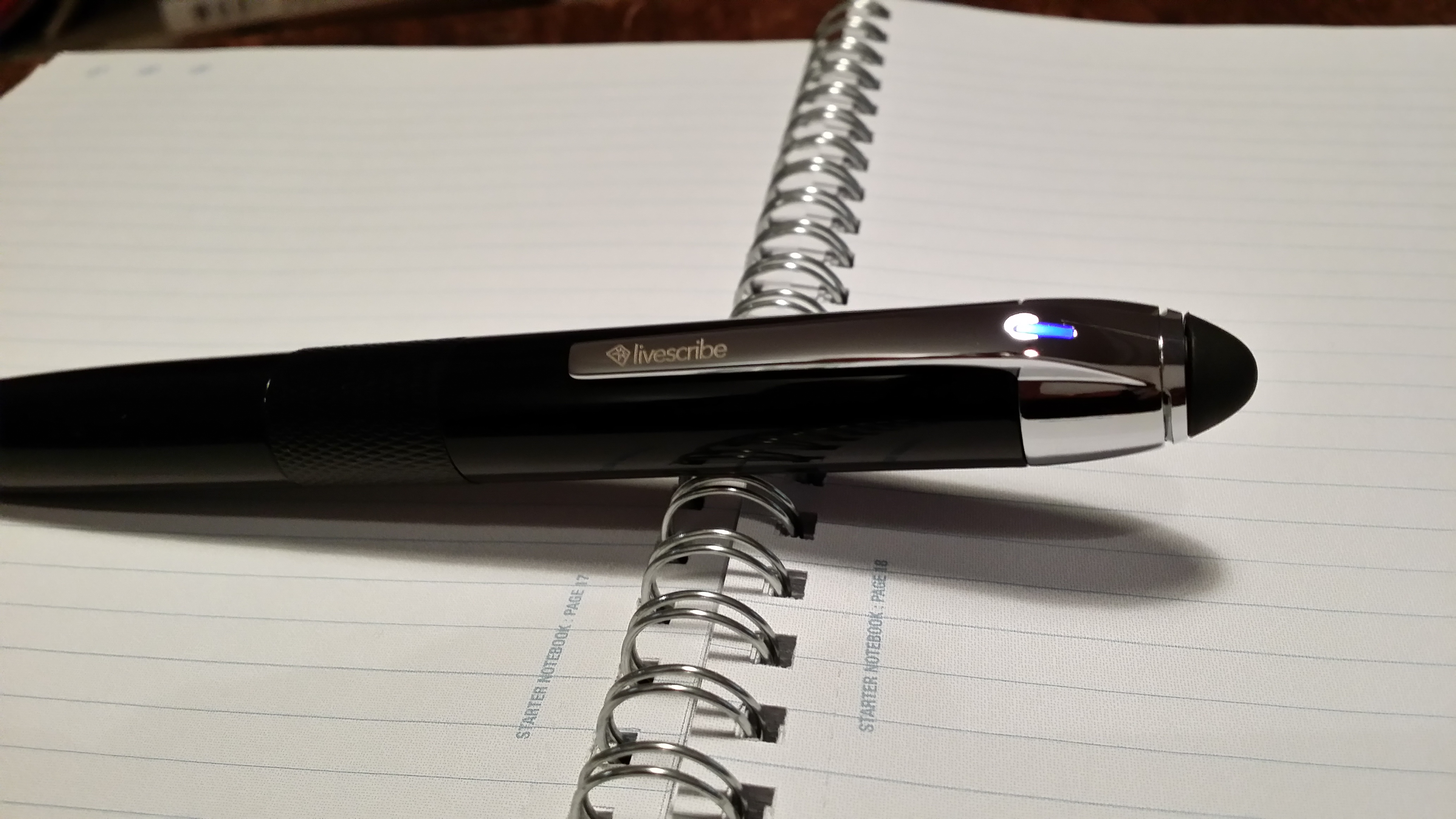 If there was a negative for the Livescribe 3 then it's this, the smartpen features only work with their proprietary "Dot Paper". If i'm honest this is a big limitation. For all my notebooks, rims of paper and scraps, the Livescribe 3 is an expensive ballpoint pen. I would have to have Livescribes paper with me at any point I may want to use the pen, and as you guessed it isn't free. I predict this is the factor that will put a lot of people off. The sole competitor to Livescribe, the previously reviewed Equil, allows any paper but requires you to clip a receiver onto the page and press a button when you flip to a new one.
The Dot Paper is used because it has very tiny dots all over it (Hence the name). When writing stuff down, I wasn't even able to see the dots. The paper just feels like a premium paper grade. Ignoring the downside of acquiring this paper, I was really impressed by it.
By just turning on the pen, anything I had written will be instantly synced and in the correct order. Let me make sure you understand, I could write a novel in various Dot Paper notebooks while away from my phone and the moment I sync it to Livescribe+, everything will be organized according to the notebook and page it was written in. This is all thanks to that flash memory and ARm processor, all I have to do is write and Livescribe's backend will do the tedious task of figuring out which notes go where.
The starter package for buying the Livescribe 3 includes a 50-page "starter notebook". The "pro edition" is bundled with a 100-page journal, a leather portfolio with pen holder, and a year's subscription to Evernote Premium (this costs £45 by itself) which is a lot for the money you pay. Livescribe's store is packed with different paper options in various sizes and form factors.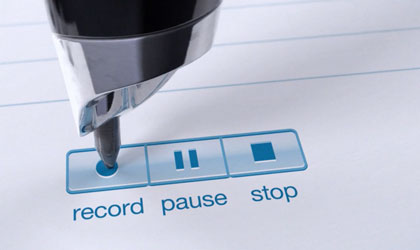 Setup was surprisingly easy. Download the Livescribe Link app on your device, power up the pen, and then Link should detect the pen. You will be asked to name it and provide a name and email address to help store your items in the cloud. New pens may require firmware updates, which I found to be quite slow over Bluetooth. This can be fixed by using your computer and the MIcroUSB port.
A great feature I found useful was pencasts. Using my mobile's microphone, this feature records the sounds around you as you write. What makes it good is the audio and digital writing output are synced. So during a work meeting, if I wrote "is annoying" in my notes and I may want to know who was talking when I wrote that. I can then replay the meeting starting at the very moment I wrote that. When viewing in the Livescribe app, you can see the pen strokes as the audio plays, it was pretty cool. In testing it worked really well, but not when the TV is on and people are talking, but I didn't expect it to work well with that situation.
The first thing you will notice about the app is the look, in all its Material goodness. So often brilliant hardware falls short at the rushed software, but this isn't the case at all. The app knows instantly the page number and notebook all of my notes were written in. This even works if I skip a page, and must be in some way related to the dots on the pages allowing the app to know which page number i'm on. A nice little addition was the handwriting recognition, so it knew when I was writing and when my wife did.
I can use the app to search my notes if I forgot where I wrote something down. It can also convert handwritten notes to text, but I found this a little off balance and don't tend to use it. But a nice point is that you can go in and correct the apps errors. The feed view breaks notes into chunks, and is good for shopping lists, or anything list related.
Sharing is a big feature of this app, notes can be shared top other people and apps as either PDF or image files. Pencast PDFs can also be created and shared, but the audio content only works with Livescribe's web app or mobile apps. I found out that only notes are stored on the cloud, as pencasts are stored on your mobile device, I don't know if this will change in the future.
At the moment there is no automatic sync to Evernote and OneNote. I don't tend to use those services, but I am aware this feature is available in the iOS app, so I would guess it will be added in the future.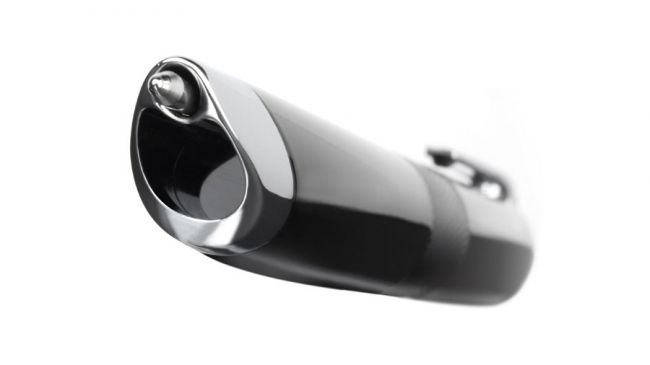 Though it has a thicker body than I would prefer, the Livescribe 3 writes like a pen. There is no training involved and can literally be picked up by anyone. I think its a great idea for offices, and taking notes of meetings.
The paper is the only obvious drawback, as it has to be bought, it can be expensive and the smart features won't work without it. Though I completely understand the thinking behind it as a smartpen would need smart paper. Livescribe offer lots of varieties as well. To reduce the cost, you can print Livescribe dot paper documents on sheets of regular printer paper, you will need a color laser printer that is Adobe® PostScript® compatible and can print at 600dpi or higher. The pages you print will work with your Livescribe smartpen in exactly the same way as any other sheet of Livescribe dot paper.
The digital version of my written notes is exactly how I wrote them, though maybe a bit clearer. Any breaks in the writing from the physical ink aren't present in the digital copy, making it cleaner and nicer to look at.
The Livescribe 3 Pro Edition bundle is £149.99 and the standard pen is £129.99. It can be purchased at Livescribe's site or via Amazon.
http://www.livescribe.com/en-us/smartpen/ls3/