For the last few weeks, I've had the privelage of getting to enjoy using wireless, Bluetooth speakers. The prior one that I did was a nice looking one that would fit in just about anywhere. The focus of this one, from Omaker, is more about rugged durability. It has a solid feel to it, and looks the part as well.
The appearance of the device that I reviewed was green and gray. The top and bottom of the speaker was gray, with the speaker facing upwards, and the bottom side having an NFC chip for easier pairing. Both of these sides are screwed into place, at each of their corners. There's a strip of green banding them together, which is made of soft plastic, under which are the ports (covered by a removable flap) and the volume, play/pause, and power buttons; a slot in one of the corners for a lanyard rounds out the exterior. Other color combinations are available, but just looking at this one, it has a "military" feel to its aesthetics. In its own way, I liked that, and it would seem fitting for use outdoors.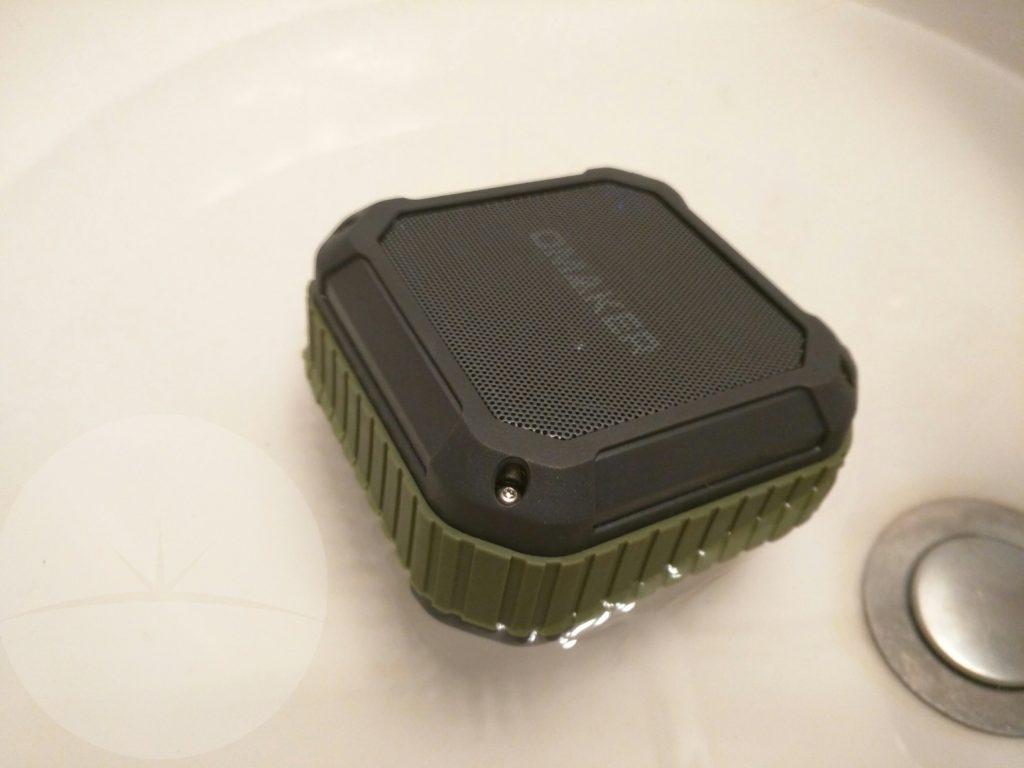 The unit is water resistant, so it'll continue to work in the rain or in the shower. I was able to test it out in the latter, and it performed admirably. I was able to set it directly under the stream of water, and aside from the weight of the water weighing down on the speaker (word to the wise, stand it on its side when its wet to maintain a decent sound), it didn't have any problems. And while I'm not sure that it was meant to be tested this far, I even left it floating in water, and it still performed well.
The functionality of the device also worked well. With my phone in discovery mode, I lined it up with the back of my phone, and it paired with little trouble. It can (and was) also paired in the conventional format, by having my phone discover it and pair with it remotely, but as one might expect, that took longer. Having NFC imbedded definitely sped things along. Being water resistant, the buttons are located beneath the soft and green, plastic banding. The power button, call button, and volume/seek buttons all needed deeper and longer presses to activate, than I would've expected at first blush. I don't know if that's by design or just a side effect of placing them under the plastic. And while it took more effort, it didn't feel prohibitive. Call quality seemed fine, as I had no complaints from other callers, and no difficulty in hearing them. The sound of this unit was loud too. As with the other, it's difficult to describe, but I can assure you that the sound can EASILY "fill the room". The unit's battery is up to the task as well. Through a variety of sessions, I got over five hours of use, and it is still going, without any indication of needing a recharge, so I have little doubt that it could hit the twelve hour mark (at 80% volume) that they're advertising.
On the whole, this is another well made product that's easy to recommend, especially if you're going to be travelling with it. With it's shock/water/dust resistance, angular design, and use of softer, rubbery materials, it's the kind of thing one can take on trips without fear of it easily breaking. To make matters even better Omaker has also decided to give us a discount code, which is PMTN2ETB, and that can be applied when clicking on the Amaon link.