Bluetooth headphones come in all shapes and sizes and to suit most budgets, but when I see a pair costing £17 / $28 then I start to hear warning bells. However Solememo have managed to bring a pair of sports headphones in at this price point which turns out to be a pleasant surprise.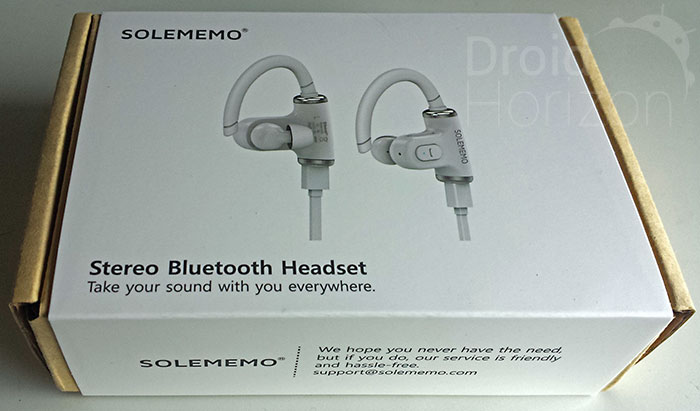 Build Quality & Design
Available in black, red or white with chrome accents the S530s have a glossy plastic shell with detachable, bendable ear-hooks coated in a rubberized plastic. Small and large ear-tips are included if you prefer them over the fitted medium ear-tips,
Most of the functionality is contained within the right ear-piece (it can even be used on its own) which houses the on/off/pair button and volume/skip track controls.
At the bottom of each ear-piece is a micro-USB port which connects the two via a short cable during use, and is also used for charging via the included double micro-USB cable (or individually by using any other micro-USB cable you have lying around).
Solememo make no waterproofing claims whatsoever and the exposed micro-USB ports would make me wary of getting these guys wet. Judging from the design they should be okay with a little sweat, but anything more could cause problems.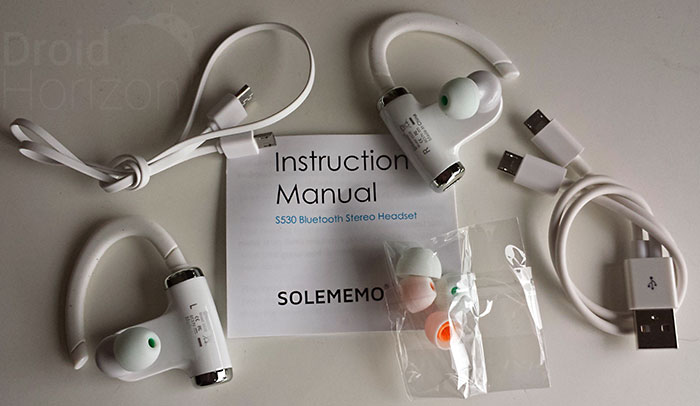 Performance
When evaluating Bluetooth headphones in the past I've found some relatively expensive sets that were prone to drop-outs, so I had low expectations for the S530s. However the Bluetooth 4.0 signal remained strong during use with rarely a blip.
Audio quality was crisp with surprisingly good mids and highs, but did lack bass. You do get a little bass by pushing the tips well into your ears, but not enough to satisfy most bass-heads. Voice is particularly clear so these will be really good if you're into listening to podcasts or audio-books. Volume was okay but this headset doesn't get excessively loud if you intend using them to block out a noisy environment.
For making calls unfortunately the microphone quality left a lot to be desired. While I could hear the person on the other end clearly, I sounded muffled to them.
The 120mAh battery charges in a couple of hours and is rated to last 6 hours which I found to be fairly accurate. To Solememo's credit I've seen quite a few headsets costing many times the price of the S530s with comparable battery life. For my usage this was plenty, but if you intend listening all day then this may be a problem. iOS users get a power meter, but there is no indication of battery level for Android users.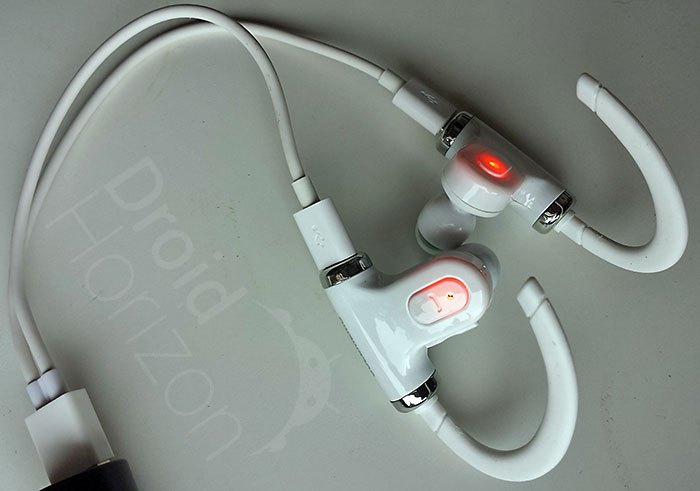 In Use
Subtle voice prompts that let you know what's going on, which made pairing very straightforward and confirm when the device is connected or turning off.
Fitting the S530s on your ears takes a little practice at first, but the bendable ear-hooks gave a surprisingly comfortable fit. I could easily wear them for hours without any discomfort. The play/pause and volume keys were responsive and very accessible. The linking cable can run under your chin or behind your head, and doesn't get in the way during use. You can wear the S530s during most activities without having to worry about any snags or tangles.
While it makes sense to double up the use of the micro-USB ports for both connection and charging, even with the double-ended charging cable it is a little inconvenient having to plug in each earpiece individually and then reconnect the link cable after charging.
Keeping the headphones in my pocket did highlight some issues. Besides the occasional incident where the on/off button accidentally turned them on, the detachable ear-hooks liked to detach regularly. In fact after about one weeks use, one became really loose and would frequently detach while on the ear. Although the ear-pieces can be used without hooks they do tend to fall out occasionally and would be unlikely to stay in place during any kind of sport. I'd have preferred that the ear-hooks were permanently fixed rather than detachable – in fact I ended up having to glue them in place.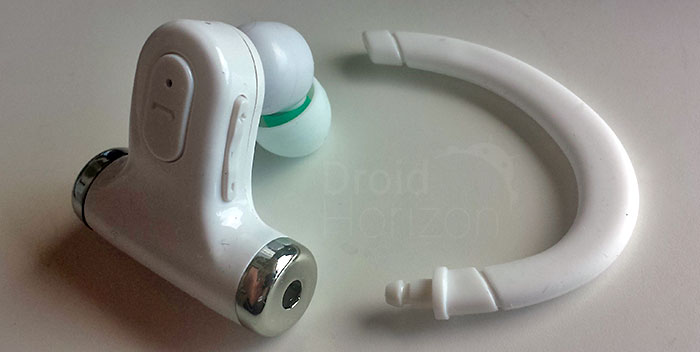 Price
I mentioned the price at the beginning of this review, as it really is the highlight of these headphones. At £16.99-£17.99 on Amazon UK or $27.99 on Amazon US, you won't get a usable pair of Bluetooth headphones much cheaper than this.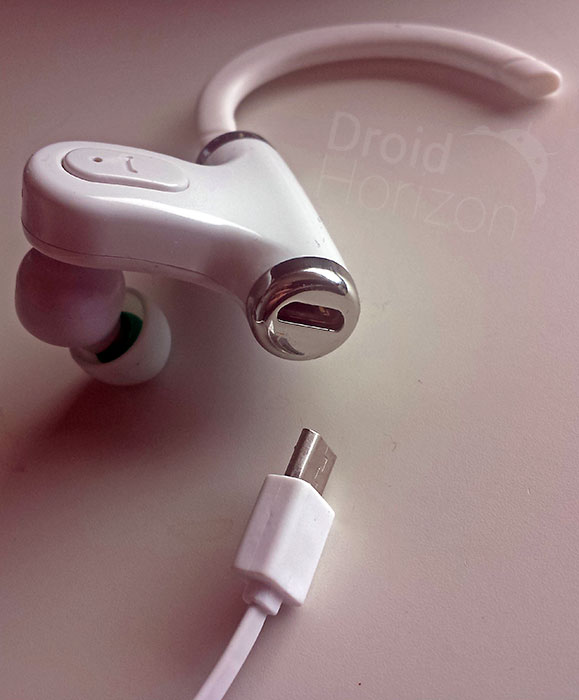 Overall
The Solememo S530 headset surpassed my expectations for a Bluetooth headset at this price point. It's mightn't be for audiophiles, bass-lovers or frequent voice callers and the build quality is understandably a little lacking. The ear-hooks were also a little too detachable for my liking. However they do provide a comfortable and decent listening experience at a bargain price.
If you have a limited budget or just want a cheap pair of Bluetooth headphones that won't cause any tears when they get lost at the gym then you couldn't go far wrong with these.
You can find more details by following the link to the Solememo website or the Amazon links below…