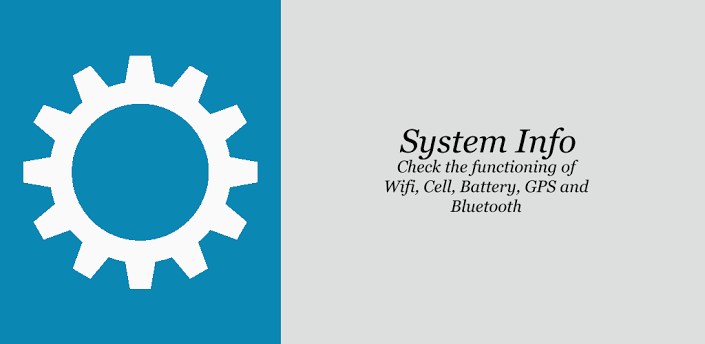 Check the functioning of your GPS, Battery, Phone, Wifi and Bluetooth facility. This app will display data like WiFi frequency, Signal Strength, No of Satellites, Bluetooth devices and numerous other system parameters which will enable you to check the functioning and know more about your device.
From the developer's notes we quoted above. You get the gist of what this application is about. If you want system data displayed in a clear, easy to understand and Holo styling, this could be the app you were looking for. It was for me.
 The detailed pages include information on…
WIFI,

    Signal, Access Point, Link Speed, MAC Address, IP Address, Gateway, Data Downloaded, Data Uploaded……..




CELL,

  Operator, Phone Type (GSM/CDMA), Network Type, Cell Type, Other Info, (Maybe this should have it's own page or added to the last under System??)

BATTERY,

  Health, Level, Source, Max Level, etc etc  all very basic and nothing too fancy here.

GPS,

     Availability, Status, Location, Satellites, Fix (Have you a GPS fix? Not fix your GPS)

BTOOTH,

 Name, Address, Signal….

SYSTEM,

Same information here which is already available in your settings anyway. Device, CPU, Host, ID
A few issues I have are.. No pro version to remove the advert, from what I can tell. Also, no in-app settings. Maybe I'd prefer a dark version of the app? (If anyone here knows me, they'll know I likely wouldn't prefer a dark version but giving the option to other users would be a pretty basic request because some folks like to paint everything black) How about changing the order of the pages? Like the Arcus Weather application, we recently reviewed. The settings icon (top right in all screen shots) leads to your standard system settings and the 3 dot icon to the developer's other apps on Google Play.
Still, I'm very happy to use this application on a daily basis to find whatever system information I'm looking for and I'd recommend others to use it also.
As always we have provided a link for download.
(Free with ads)