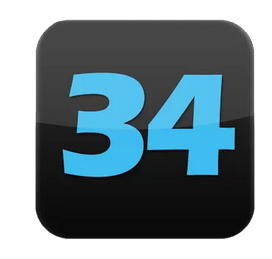 34 is the ultimate hand-eye coordination game. Its fun and easy, simply just tap the color that corresponds with the next colour in the grid above as fast as you can. 34 is a game were concentration is key.
Compete against family, friends and the whole world!
The faster you go, the more confusing it gets!
This game will have you in a jumble very quickly. It should, in theory, be simple to play, it is but…. trying to beat your own score never mind the great leaderboards included may cause some frustration. Plenty of Grrrrr moments, I can assure you.
The game provides a sequence of colour tiles that you have to press, 34 in all, and you share your quickest time on social networks and automatically in the game's leaderboards which are grouped….
"Simple and bloody addictive" most of the team have said. A little bit or rivalry then starts to beat each other's score, all in jest I may add. Kind of.
You'll see some familiar names in the last screenshot. I shared the game on my Google Plus stream and a few friends grabbed it and submitted their scores, this ads even more fun. I really really want to beat everyone now, probably not the highest global scores but just people I know.
While this title is addictive and fun in short blasts, I can't help but think a little more polish would go a long way. The menus are a bit dated looking, not much settings, I'd love to change the colour theme (black tiles are hard to see on a black background,) Google Play Game Services anyone?? Still, these things don't spoil the fun and the want to keep trying and trying and trying and trying……..
You can download from below, free and without ads.