a-JAYS Five for Android Earphones Review
Those of us who've been using Android for a few years are very familiar with seeing accessory makers concentrate on Apple products. With Android now on over 80% of smartphones the tide is definitely changing, but for 3 button in-line control wired earbuds Android has very few options available.
Jays are one of the few manufacturers to wake up to this injustice, offering 3 different versions of their latest in-ear earphones (in black or white) for Apple, Android and Windows phone.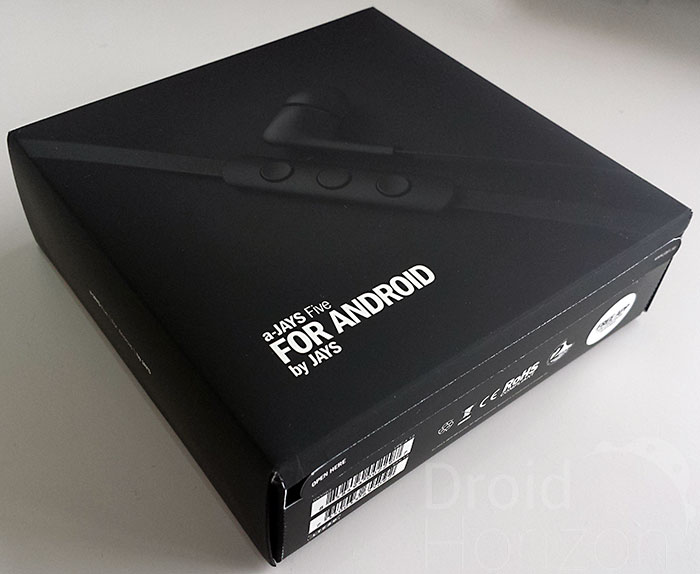 Jays are a Swedish company, but don't expect any IKEA flat-pack packaging from them. Top-notch style, quality and presentation is the name of their game, including a nice case much like a make-up compact with a screw lid. Also included are a selection of 5 different sized silicone sleeves and a cable clip.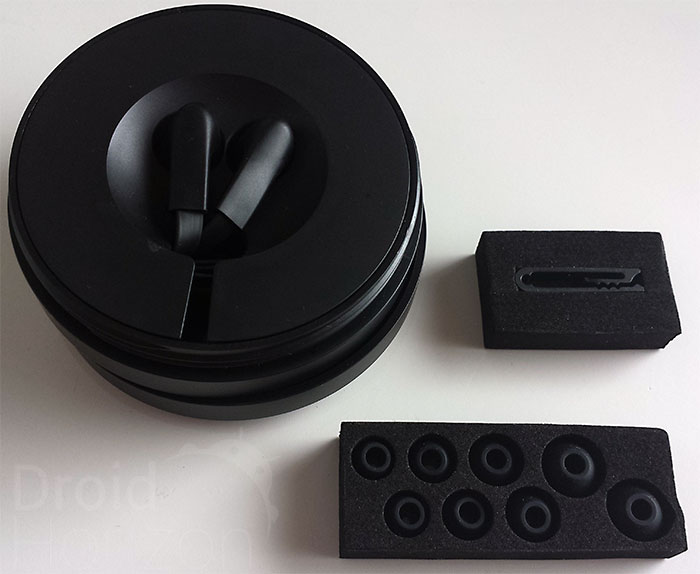 The earphones themselves are made from high-quality aluminium, coated with a nice matte soft-touch plastic. The rubberized flat cable also feels durable and high quality all the way down to the L-shaped 3.5mm connector, and can be thrown into a pocket or bag without getting all tangled up. Half-way up the cable for the right ear is the 3-button control and remote mic. The buttons are well made and have a nice clickiness.
Audio performance is generally good, with emphasis on the treble and bass over the mid-range. There is a punch to the bass with no muddiness and treble clarity is also pretty good, but dynamics can feel a little flat. When making phone calls the microphone provided loud, clear speech.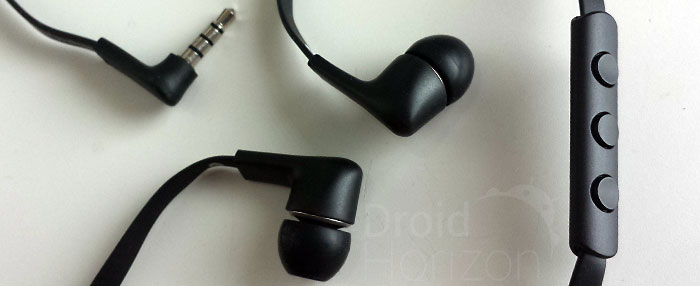 Despite trying the different sleeve sizes I found the earphones had quite a shallow fit and tended to slip out of the ears easily. To add to the problem the cable is quite heavy and I really needed to use the clip on my clothes (which is a little fiddly) to stand any chance of keeping them in. Thinking this was just me, I let my wife try them for a few days without telling her my opinion and she found the same thing.
The buttons worked straight away when I plugged the earphones into my S4, making audio adjustment and pause/resume of the current media easy. However they had no effect on my older 1st gen Nexus 7 tablet as it doesn't have the required 4-pole CTIA / AHJ jack. Therefore I'd recommend checking the a-Jays Five compatibility list before purchasing. This leads me to believe that the lack of 3 button earphones on Android is likely due to different implementations from the different handset manufacturers. Google – how about standardising this in Lemon Meringue Pie please?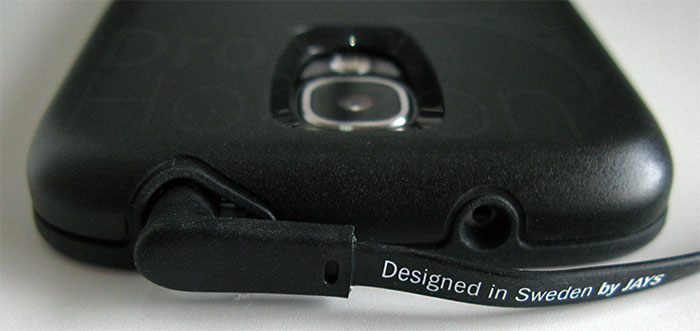 Handling of multiple presses (for example double-clicking for track skipping) requires installation of the Jays headset control app.  This allows configuration of the buttons to your liking, but tended to make the phone confused over which app to pause/resume. If you always use just the one music app then this can be configured in the settings, after which you can just plug your headphones in and press the middle button to open the app and start playing. If like me you tend to switch between apps then I found the headset control better left disabled, as this eliminated the switching of apps when you pause/resume.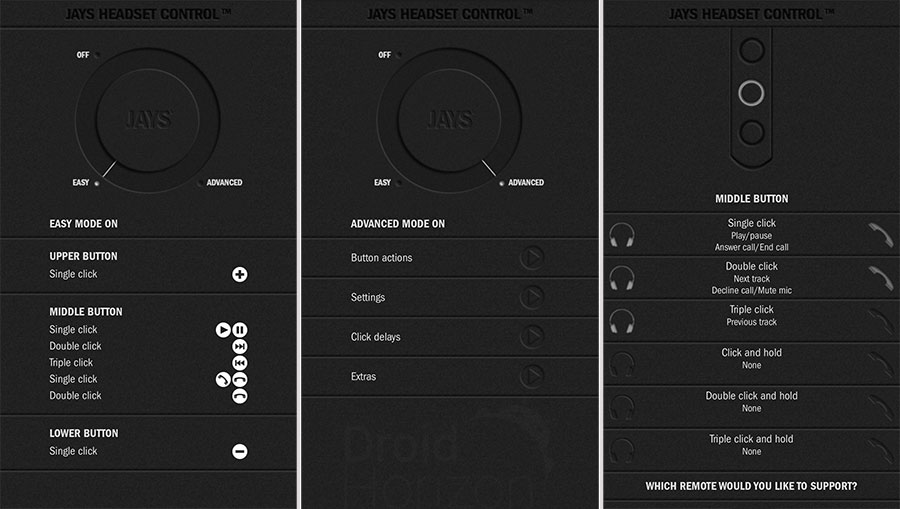 Jays certainly deserve kudos for being one of the first manufacturers to tackle 3 button earphones especially for Android. However currently priced at £79.95 / $99.99, for my money you can find better fitting (and sounding) earphones for the price. Having said that, we have limited choice available on Android, so if you really want 3 button earbuds and the a-Jays Five are compatible with your phone, then I'd definitely recommend trying them on for size.
Pros
Tangle-free cable

Durable and high quality
Stylish look
App allows button configuration.
Cons
Shallow fit
Heavy cable
Compatibility issues with some devices
Multi-app confusion when using the headset control app