Alpha Drone Review
My first Drone review! I haven't really had a chance to play with any drones before, as none of my friends think they're cool. But I do, and after playing with the Alpha Drone from kaiserbaas.com, I am now firmly in the Drones are cool camp.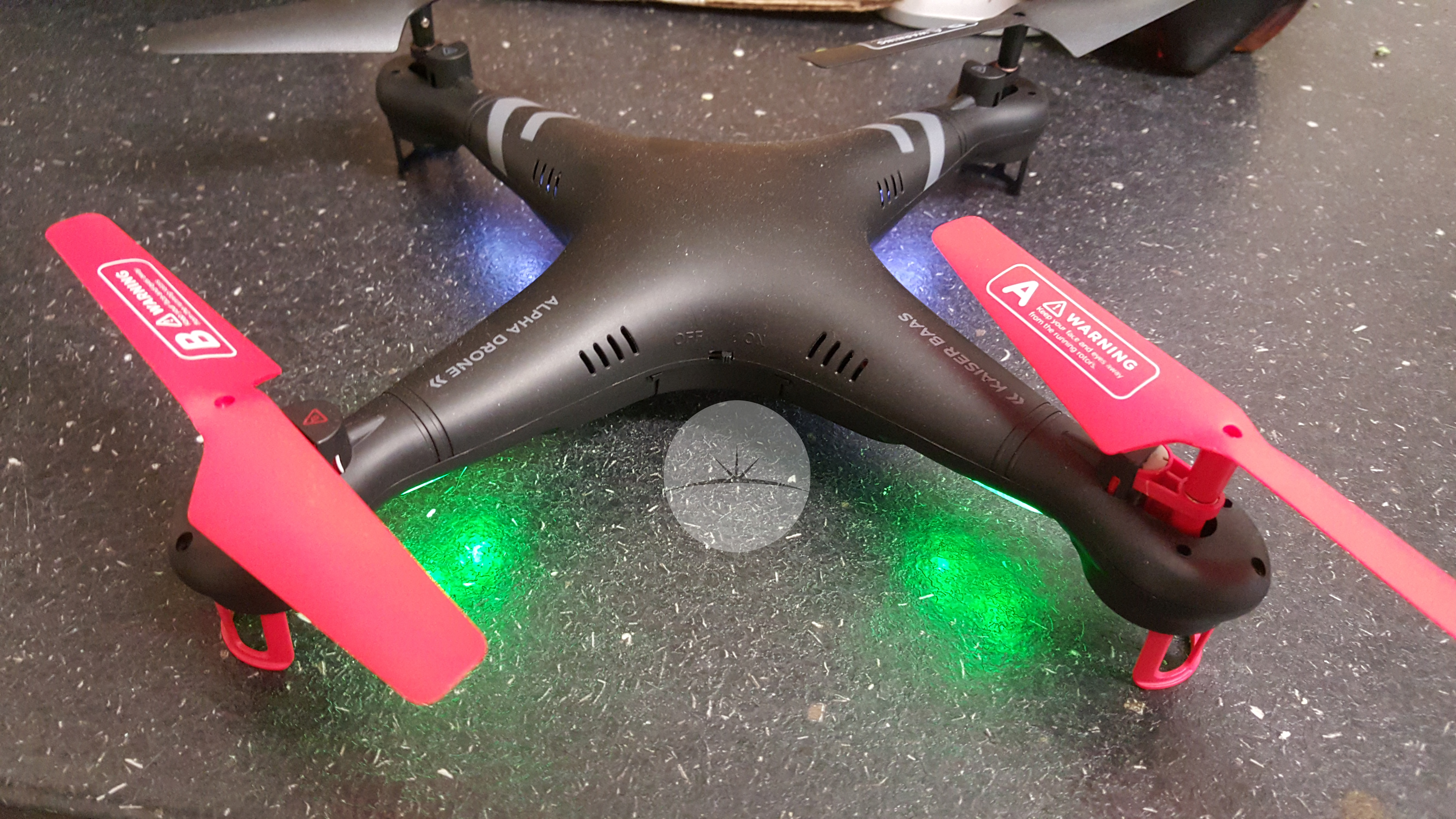 I will admit first unboxing experience wasn't great, to keep the cost and weight low the drone is made of a flimsy feeling plastic, and the control could be mistaken for something from a kid's toy. So it's not got that luxurious high end feel to it. Though I say the plastic is flimsy feeling, my lack of drone skills meant it has taken a bump or 5 and it still is yet to show any signs of breaking.
I even managed to drop it from around 5 feet and it still keeps going, which is shows a lot for the manufacturing of the drone and my lack of driving skills.
The Alpha Drone is powered by a 600mAh lithium battery, which can be charged via USB, which after a full charge (1 hour) will get you around 15 mins of flight time. The control pad is powered by 6 AA batteries, which aren't included, again I would assume to keep costs down, though I did have to stick my hand down a couple of sofas to find enough. I found when out in the park the best idea is to carry a portable battery with you, so you can charge on the go.
The Alpha Drone comes equipped with a 720p camera that records and takes photos. These are saved into the microSD card, included in the packaging. Photos and videos are controlled from the controller.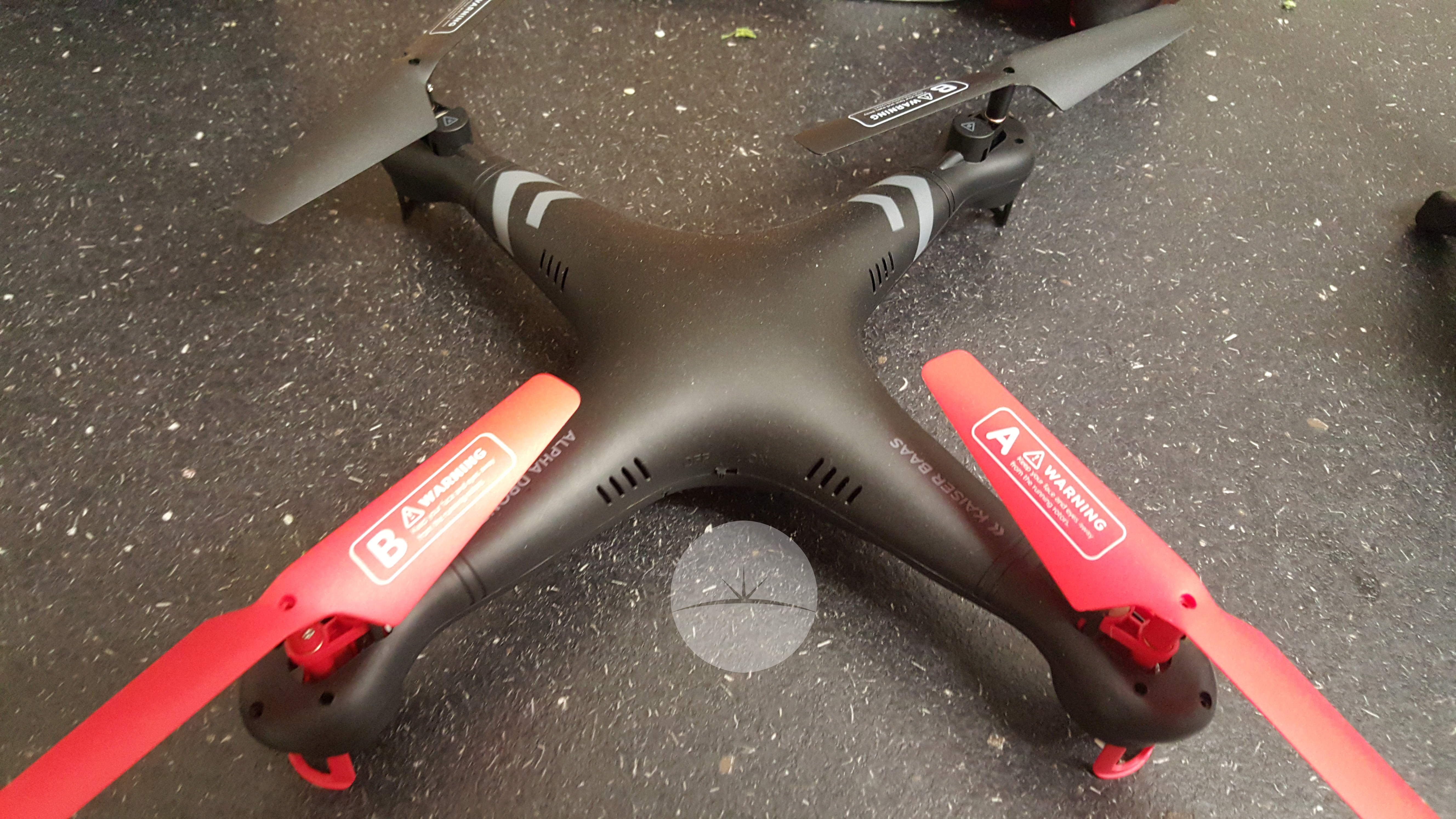 I did want to include some video with the review, though I am still learning and found the video a little too shaky to appreciate. I spent a good 2 – 3 weeks learning to fly the drone in my back garden, as I did tend to panic too quickly and shut the whole thing off. Which in the drone world isn't the best idea.
Specifications
Range 60m
Camera HD 720p 30fps
Flight Time Approximately 7mins
Stabilisation 6-Axis Gyro control
Controller 2.4Ghz 4 Channel; 6 x AA batteries (224g)
Storage 2gb MicroSD Card (SDHC Class 10 recommended)
Playback USB Micro SD card reader
Dimensions 33.1mm x 33.1mm (109g)
The price for the Alpha Drone is only £135! Overall, the Alpha Drone from Kaiser Baas is a really fun Quadcopter drone to fly, and brilliant for first timers who want to sink their teeth in bigger and better drones. The built-in camera is a great added benefit, and one I didn't expect to find. It's fun to record and when I have some better video I will make sure I upload it. The price is a massive attraction for me, as it gives me a great drone experience for a fraction of the cost.
You can grab one from:
casehut.com/kaiser-baas-alpha-drone-with-hd-720p-camera-black.html?gclid=CIrBreHag8sCFSoCwwodwuMDlw