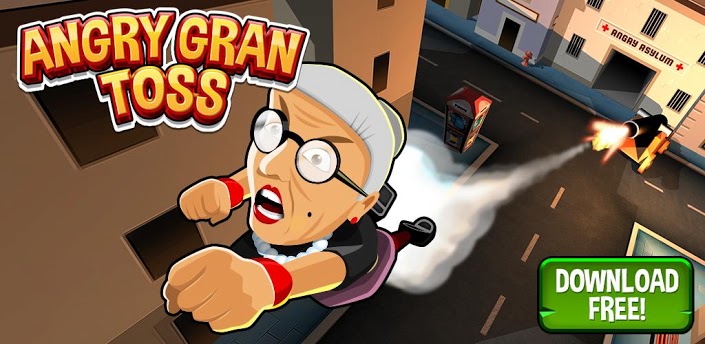 Angry Gran Toss – Review
The idea of tossing a granny, angry or otherwise had never appealed to me in the past. This was until I saw this game, and i dare anyone to say they don't like the idea of placing an angry old lady into a cannon and firing her over a wall.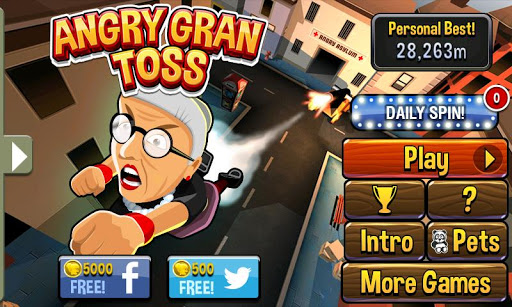 Angry Gran Toss is essentially a firing game, where you load up on any extras you may have won or bought and fire an old lady into the sky. You then start to descend through birds, balloons, pedestrians and bus stops. You can use guns and chilli sauce to keep you up in the air for longer. Angry Gran Toss is simple: stay alive for as long a distance as possible. One strike and you're out.
To achieve the distance you'll need to have some patients. In the beginning a lot of it is trial and error, finding the right angle and speed. But once you get going you'll be firing across the screen with no issues.  Extra points and money can be scattered around various portions of the screen and, while easy enough to get when you start to slow down, it's the game's increased launching speed that makes it tricky to keep going for more than a few hundred or thousand metres. It's easy to slip up, but that's part of the fun.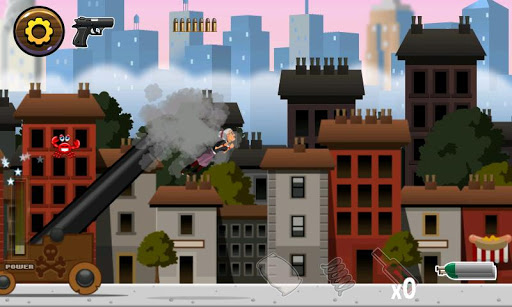 Angry Gran Toss is built around only one level. Which may sound absurd, or even boring, but as it sticks to classic arcade stylings and adds in a variety of powerups and upgrades it keeps you interested for longer. Coins scattered throughout the level can be gathered and used to buy upgrades that range from mere aesthetics to far more useful ones, such as a more powerful launcher which gives you a more powerful launch. Other items – such as gun upgrades – are essential to keep going for longer.
You also get the opportunity to use a wheel of fortune which allows you to win upgrades, weapons or even money. There are also social integrations which when used allow you to line your pockets with virtual credit. There is the in app-purchase option, but this is not something which is rammed down your throat, and thats a breath of fresh air to me.
Some features for the game are:
– Train unique pets to help you escape.
– Continue to bash punks.
– Collect money and bullets.
– Compete against your friends with Facebook.
– Avoid the police and air mines during your escape.
– Use explosives, springs, pillows, chili and many more items to aid you.
This is another game based around IAP (In App-Purchases) but I feel you can get buy without spending a penny. OK you may be better of by sharing a link on Facebook, but thats a small price to pay. This game is a good free download, yet I will admit you will probably get bored quickly.
Link for the game in included below: