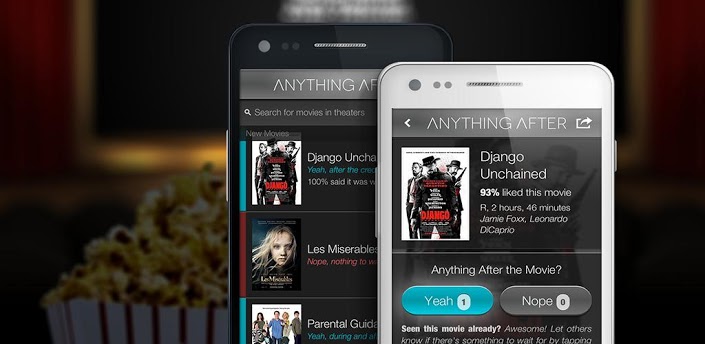 Anything After – Review
Your watching a movie and the credits start rolling, you get up and notice a group of people still waiting, do they know something I don't  You ask. Thanks to the great developers of Anything After, we can now find out if any movie, even those in cinema, have footage in or after the credits. A pal of mine mentioned the app, created by Damien Dalli, that addresses the question of, "Is there anything after the credits?"
The app itself is 100% crowd-sourced, with a yes or no interface confirming if there is footage at the end of the credits. A quick test search for Django Unchained and I found out there was a scene hidden at the end, which I didn't know about.
From their Google Play description: "Ever gone to the movies and wondered, "Is there anything after the credits?" Well, there's an app for that! Save yourself from missing a bonus scene, waiting for no reason + more by downloading Anything After." It's actually a pretty cool app, helpful for these exact kind of situations.
I was more curious if it'll work at the first midnight screening of The Avengers 2. Will we know that quickly if there is or isn't something? It's smart this is a crowd-sourced app but I hope it doesn't get cheated just for the sake of making people stay.
App is current on a 50% off sale and available for 61p, click the link: