Appkettle – The World's Smartest Kettle Review
I am a man of very few vices, though one is having a coffee in the morning when I get up. A couple of weeks ago I was waking up, checking if the kettle needed to be filled, turning on the kettle,  waiting for it to boil and then having a coffee. Now since using the Appkettle for the last week, my morning routine has changed to now, just waking up and pouring the water of the kettle.
Using the Appkettles companion app, I can track water left in the kettle, set routines and schedules, and keep track of the boiling process from wherever I am.
First some specs:
Power: 2 – 2.4kW (UK / EU) 220 – 240v 50-60Hz
Construction: Brushed Stainless Steel, Chrome, Gloss PP, Glass.
Capacity: 1.7L / 57.5 US oz
Water Windows: Glass
Wide Spout: Yes
Water Level Gauge: Yes
Boil Dry Protection: Yes
Limescale Filter: Yes, removable – Stainless steel
Cord set-up: Cordless
Base: 360 Degree
Element: Concealed
Volume sensor: Yes – In App
Temperature selection: Yes – On Base and In App 60ºC to 100ºC
Cord Storage: Yes
Control unit: A11M5 Otter
Connector: CS75 Otter
Keep Warm: Up to 30mins
LED display: Yes
Temperature Units: ºC and ºF – On Base and In App.
Volume Units: ml and fl oz – In App.
WiFi / Communication: 2.4Ghz – 802.11 b/g/n
WPA/WPA2 security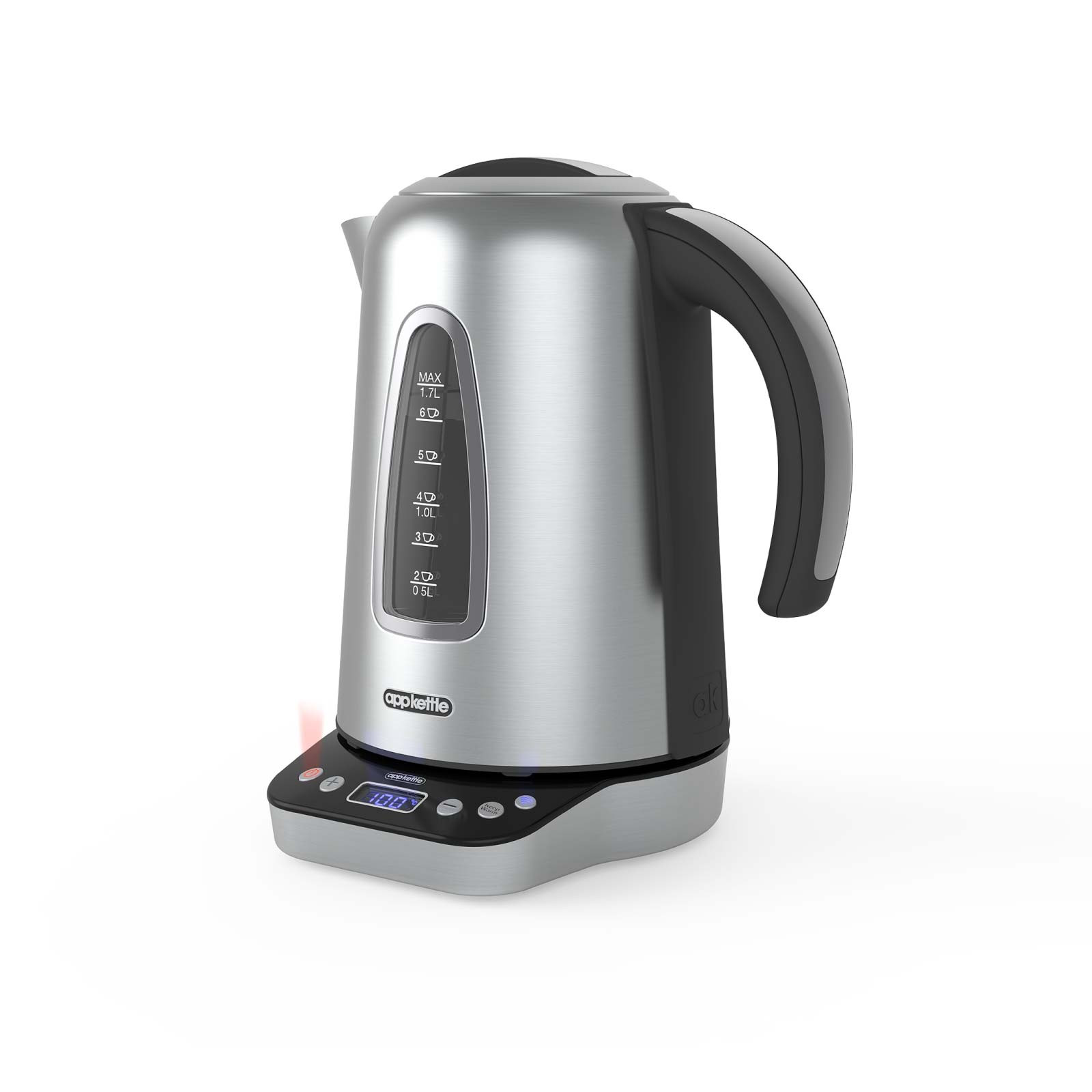 Monday
Unpacking the kettle was pretty straightforward, and all I had to do was plug it in and install the app on my phone. I then had to connect the kettle to my wifi and link the app to the kettle. This process was completely painless and was rather quick.
One good feature for me, was the fact the kettle can keep track of the amount of water it holds. This is done through a scale in the base, so when I turned it all on and connected, the next step is to put it on a flat surface and weighing the kettle without any water in it. When I start placing water into the kettle the app allows me to see and monitor the water inside.
This was good, as I can see how much water is left before going to bed, so I could fill it up and when I wake up I knew to just turn it on.
Tuesday
This morning was better for me, as I knew the kettle was full just by checking the app. I was also able to click the kettle onto boil directly through the app, so that allowed me a little lie in. The app then notifies you when it's boiled, so I knew exactly when I could get up.
Already my week was getting better, as I learn to use the app more and more, I am able to create the perfect scenarios for my day. When making my coffee, I realised I needed to pop out to get milk, normally this would involve having to re-boil again when I get back, but not with the Appkettle. Using the "Keep Warm" button, the kettle will monitor the temp of the water and keep it at 100 degrees, by re-boiling when the temp drops. So when I got back home, the kettle was still hot.
I wouldn't recommend using this feature for long periods of time, but is great for when you need it hot for a bit longer.
A nice little design feature which I missed, was that the glass measure is on both sides. So when my left handed brother comes round, he can use the kettle as normal without having to turn the kettle around to view how full it is.
Wednesday
I was worried that I would need to install the app onto anyone's phone who wanted to use the kettle, but there are controls in the base. So when my brother was house sitting on Wednesday, he can boil the kettle and even adjust the temperature, as he prefers a cool 80 degrees for his green teas.
This was when I discovered the schedules and favourites you can assign to the app. So with favourites, I can set "Luke's Tea" which will boil to 100 degrees, and then I can set "Sams Green Tea" for 80 degrees. These are then saved as favourites onto the app, they can then be used with the schedules.
I can set a schedule for 5:30 am Monday to Friday, using the favorite "Luke's Tea". This will then boil the kettle to my settings every day at 5:30.
Thursday
I almost had the perfect setup, I was now waking up at 5:30 to a notification to say the kettle was boiled. I could tell it to keep warm, if I wanted to lie in, or just pour a coffee when I get up. I was also starting to be more adventurous with my settings, telling it to boil while on the train, so it was ready when I got home from work.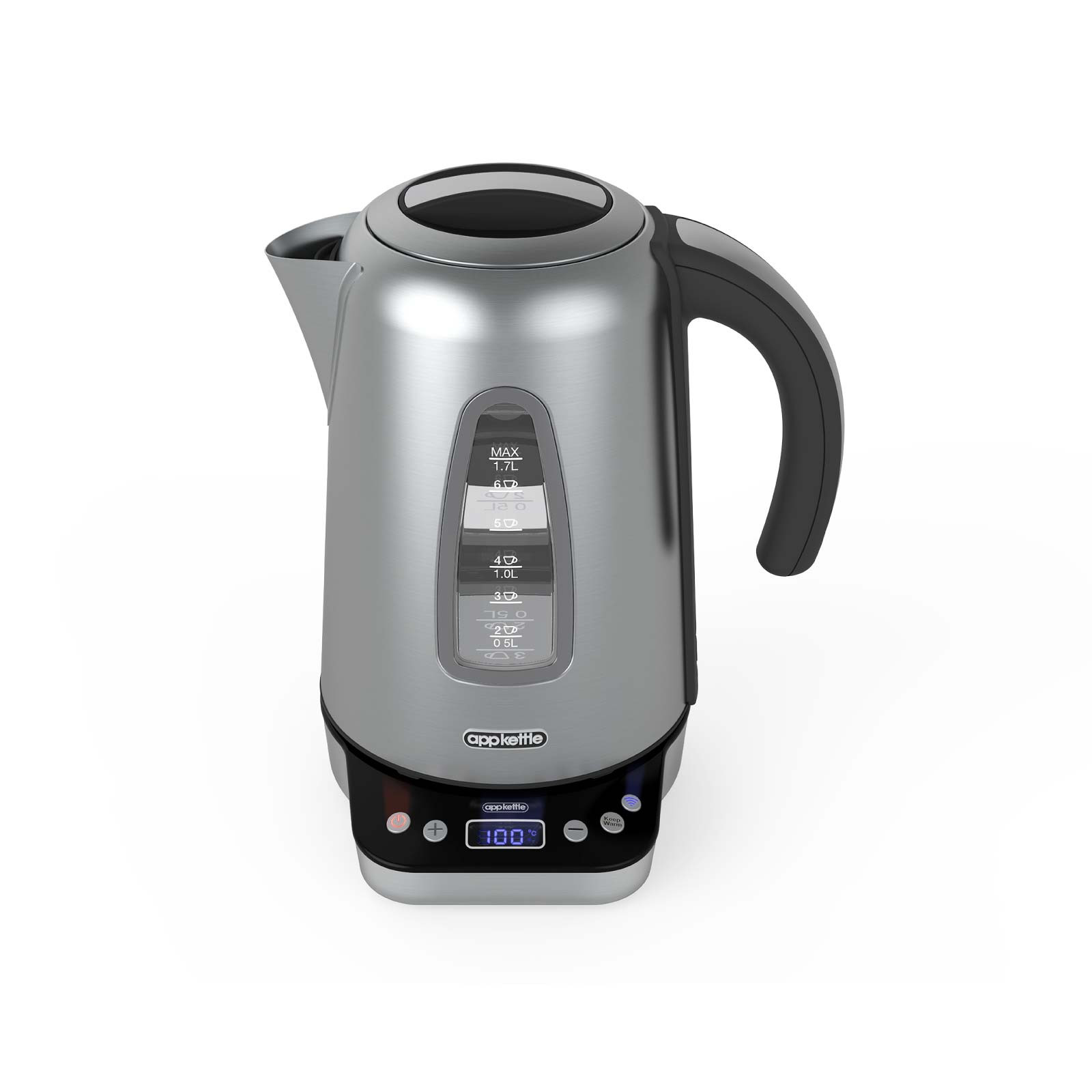 Friday
I am actually so reliant now on the Appkettle I was suprised how I managed to get by without it. I am now checking the app for how much water is left, settings schedules and building up a big list of favourites.
The price for the kettle itself is £129 which is a high price tag. I can see this working for an office, imagining everyone has the app, all their own favourites, tea rounds would be a lot easier.