Appsi is your new way of working with your android device. It will save you time and provide you immediate access to anything you may need, like your apps, your call log or your favorite contacts.  
Appsi is a sidebar for android that runs as an overlay on top of everything else on your screen, Sidebars and app bars have been hugely popular recently, we reviewed some before along with 'floating' apps. Appsi does differ from most though. You can use Dashclock extensions, UCCW and Zooper Widgets to really customise as much as possible. Even all your stock widgets can be added, say you want your favourite music widget or even Gmail. All can be placed in Appsi so everything is one slide away… (See what I did there?)
You can edit the 'HotSpot' to be any size, any position, left or right, colour, transparency.. etc etc A plethora of options and settings but possibly a little daunting at the start.
The developer has included a fantastic tutorial, in-app, so things aren't too tough to grasp, from first installing. Plugin packs can also be purchased from Google Play to really add to the experience… If you're like me you may prefer your own style but maybe later contribute for the developer's hard work. Appsi is well presented and a joy to use (Once you get the hang of it) I'll show a demo of my first set-up below all made with custom Zooper Widgets. It isn't  just for fancy showing off though. Set your favourite apps so they can be accessed quickly or create a usable and informative 'Home' where everything is where you need it, quickly.
Still under active development, with a popular beta community on Google Plus here.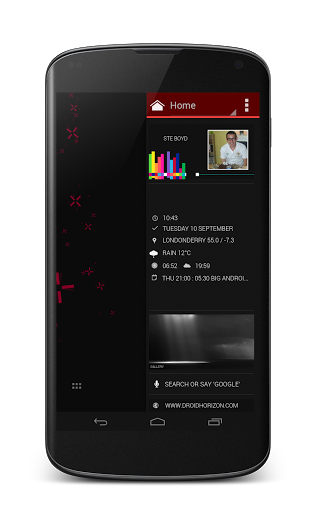 All custom Zooper widgets except in the middle which is
AppsiCentre from BlackBearBlanc. Grab this as a good
starting point. His designs are of the highest quality.

Appsi sidebar. (Free)