Archos is a French company who made their name making portable hard disk based media players before the smartphone and tablet revolution made them somewhat obsolete.  Rolling with the punches they are now attempting to break into the home automation market with a relatively inexpensive (£199.99) tablet based solution.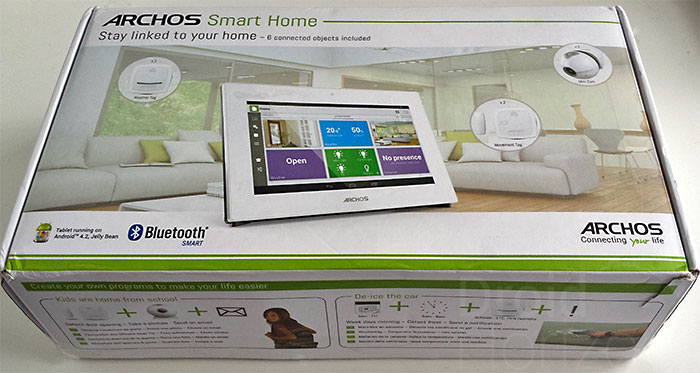 Their starter package consists of a complete 7″ Android tablet, two Mini Cameras, two Movement Tags and two Weather tags.  Motion Balls, Sirens and Smart Plugs (european mains socket only) are also available to be purchased separately.  The accessories are waterproof (apart from the smart plug) and powered by CR2430 batteries which Archos reckon should keep them powered for up to a year.  A "Smart Home" application allows you to set up and monitor the various external sensors on the tablet and you can also connect to the app from a remote device using the downloadable Android or iOS app.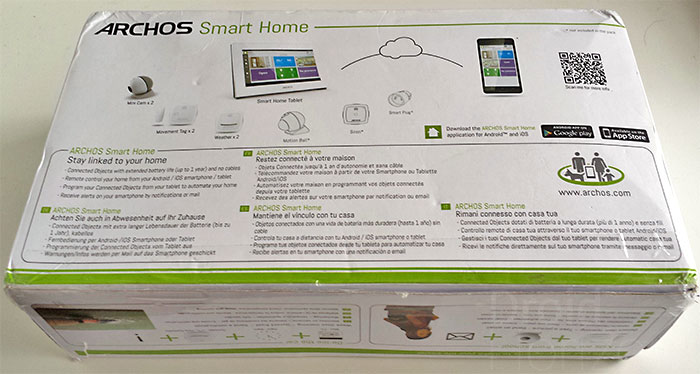 The tablet sports a Rockchip RK3168 dual-core 1.2GHz processor with 1GB of RAM and 4GB of internal storage which can be expanded up to an additional 64GB via a micro SD slot at the back.  Also at the back is a (fairly decent for a tablet) mono speaker, a proprietary charging port, a standard 3.5mm headphone socket and a micro USB port.  Around the front we find a 5MP front-facing camera, a mic and the 7″ 1024×600 screen which is bright and clear but does have somewhat limited viewing angles.   The front is covered in glass with plastic around the back and sides – the tablet appears sturdy and well made.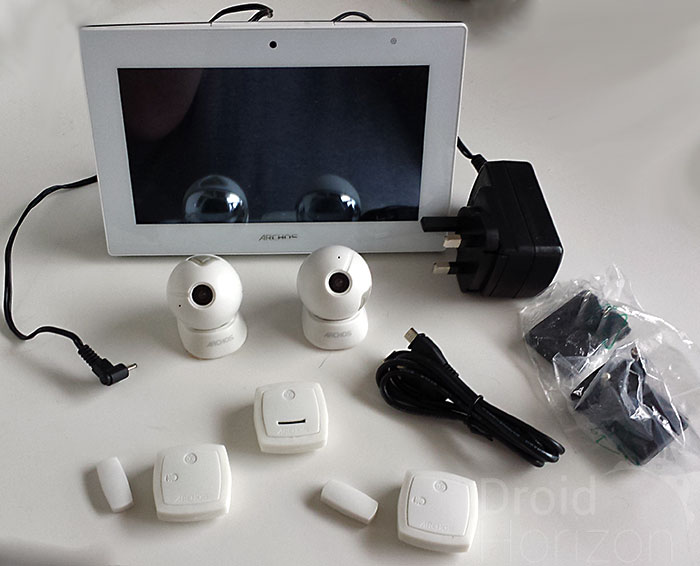 You can probably tell from the photos that this tablet has a little junk in it's trunk.  The back extends out in a curve to form a stand, and it's really only practical to use the device in a horizontal upright position.  This makes sense as a desktop portal to access your home automation, but is less convenient for other purposes such as gaming.  The power button runs along the top edge of the tablet giving a form factor ideal for having it sit on a bedside table and be used as an always-on media consumption device / server / home automation hub.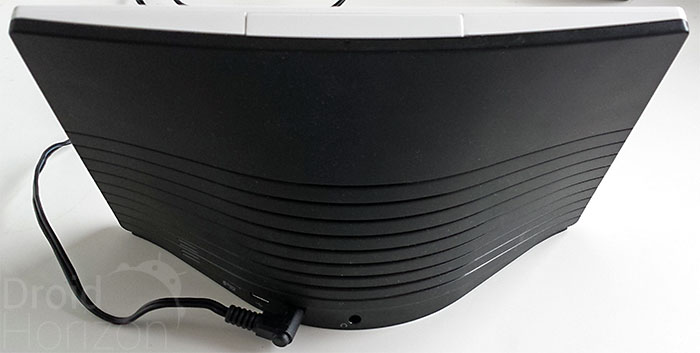 Software-wise the tablet runs a close-to-stock version of Android 4.2.2 (Jelly Bean).  Along with the Smart Home app a number of other Archos apps come preinstalled.  Showing off Archos' media player background, this includes Music and Video player apps plus a Media Server app along with an app to allow remote control from another device.  Apart from these apps the tablet comes bloat free.
I noticed the standby battery-life of the tablet was very poor, and there seems to be a permanent "Tablet idle" wake-lock preventing it from entering sleep mode.  As with all previously used review units I performed a factory reset to begin with to ensure the software was back to original settings.  Therefore I can only assume this must be how the tablet ships.  Just be aware that if you leave it unplugged for 6 or 7 hours then you'll likely come back to a flat battery – I'd recommend that you keep it plugged in.  Hopefully Archos will provide a software update to fix this issue.  Archos have also tweaked the Bluetooth to allow connection to more than 3 accessories and it can't be disabled outside of aeroplane mode – presumably to prevent people dropping the connection to the sensors.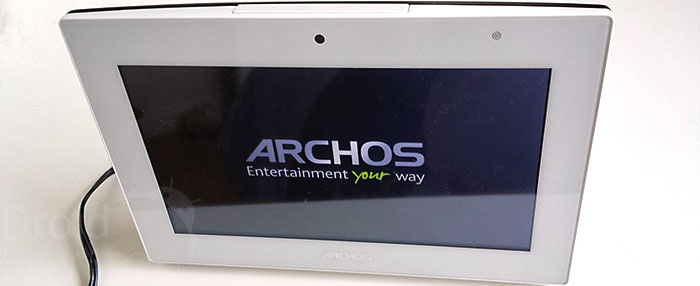 I downloaded the Smart Home app from the Play Store onto my phone and it automatically connected to the tablet app over WiFi.  Connection from outside the WiFi network required some port forwarding to be configured on the router.  The app worked really well and completely mirrored the functionality of the tablet app, essentially allowing you to monitor and control your home from anywhere.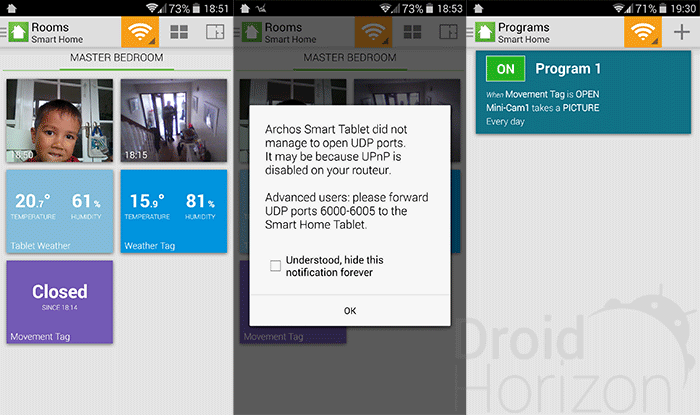 The accessories were also easy to get paired with the tablet and I had no issues maintaining a connection throughout my house.  Some of them complained of low battery and I have seen some complaints about their battery life on-line.  Again these were review units so it's difficult to know how much use they'd seen previously.
The spherical mini cams attach magnetically to a small stand which can be stuck anywhere within a 20m indoor range of the tablet.  They capture VGA resolution (640×480) pics which then take up to 20 seconds to transfer to the tablet – don't expect to capture full motion video or high-res pics.  In fact if you take a look at the sample image below you'll see that the quality is really quite poor and you probably won't capture enough detail to identify a stranger unless the camera is positioned right in their face.  Therefore the mini cams can only really be used to give you a glimpse of what is going on when triggered rather than as a proper security camera.  I understand the desire to have a wireless camera with long battery life and also that Archos are trying to make this package affordable.  However the capture quality and transfer delay make this technology feel dated, and a higher spec. rechargeable cam. would have been much more useful.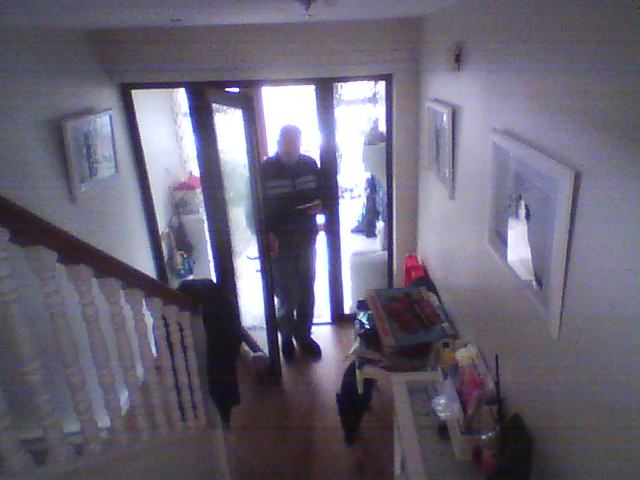 Movement tags allow you to track when a door is open or shut.  You stick the tag on a door and a magnet beside it on the frame.  When they are separated this sends a door open signal to the app, with the closed signal going once they are reunited.   The app records all open and close events in a chart.
The weather tags report temperature and humidity allowing you to stick them somewhere outside and get a heads-up of whether you need a jacket.  Again the app also charts the temperature and humidity over time.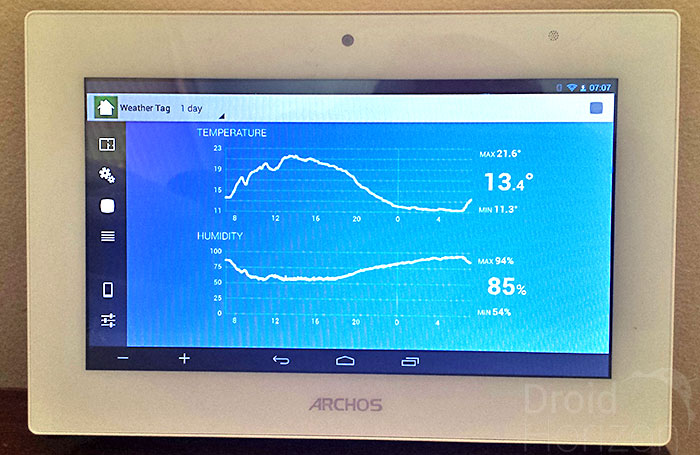 Where the true home automation comes in and where this all comes together is with the use of Programs within the Smart Home app.  You can set an action such as take a photo or video from one of the cameras, send a notification or email, or even execute a Tasker task.  These can be set to trigger based on a certain temperature or humidity, when a door is opened, at sunrise/sunset and/or at specific times of the day.  The first example Archos gives is a "Kids home from school" program which detects a door opening, takes a picture and sends an email.  The other is a "De-ice the car" program which sends a notification Mon – Fri, 5am – 8am when outside is less than -1°C with 75% humidity.  I was able to set a camera up to take a picture of anyone coming in or out of my front door every time it was opened, and this worked flawlessly.
Whether Smart Home is for you will really depend on your use case.  If you want a tablet and consider the home automation accessories a bonus then the tablet hardware and O/S are a little dated and you'll find much better tablets available for less.  Likewise if you are heavily into home automation then this solution probably wouldn't be powerful enough to meet your needs and you might want to wait to see what Google, Samsung or Apple come up with (all three are investing heavily in home automation).  However if you have a specific automation itch which Smart Home can scratch then this is an easy and inexpensive solution and in addition you do get an Android tablet which always comes in useful.
A big shout out goes to Clove Technology who were kind enough to lend us a review unit.  You can check Archos Smart Home out on their website from the link below…