Hit the speed of heat in the newest, fastest edition of the famed Asphalt series
Hit the speed of heat in the newest, fastest, most visually stunning edition of the famed Asphalt series.
A FIRST-CLASS LINEUP
Drive 60 different cars from the world's most prestigious manufacturers, like Ferrari, Lamborghini and Aston Martin, including the legendary DeLorean.
RACE ACROSS THE GLOBE
Gear up to race on 15 tracks set in real cities around the world, including brand new tracks in Hawaii, Paris, London, Miami and Rio.
CHALLENGE THE WORLD
The completely revamped multiplayer lets you take on up to 5 of your friends locally or online. Keep track of who's the best with the new Asphalt Tracker that lets you compare stats, show off achievements and challenge rivals. You can also find new online opponents with the matchmaking system. Practice hard, because there are special events that will pit you against the best in the world!
YOUR WAY OR THE HIGHWAY
Play however you please with 6 different game modes packed with 15 leagues and 150 different races.
CUTTING EDGE GRAPHICS
Every car and track is more beautiful than ever thanks to graphics that push the limits of your device.
A RECORD OF SUCCESS
Acclaimed by both media and players, the Asphalt franchise has already attracted several million players worldwide… Come and join the ride!
For fans of racing, driving simulation and multiplayer Android games.
I'll be honest here.. The game doesn't look as great as the video trailer. Shadows on buildings are pretty bad, Loads of jagged edges on the cut scenes to name a few that's very obvious. Hey but it's fun to play!! Iv'e seen far worse graphics on an XBox360 😛
 Seems to be alot of different tracks, cars, paints, decals for customising which may offer an added extra to still be playing in a months time. Happy with that, I like options. 
Two things I don't like are..
The constant share via Facebook prompt after every event, I don't have a FB account and wouldn't really want to spam any of my social networks like this. Great for Gameloft tho because it's great advertising for them…
And this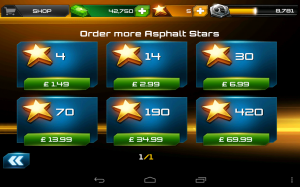 No way!! I'm not going to purchase 420 Stars for £70 WoW
Still a fun game, grab it from The Play Store Priced at £0.69 and a 1.4GB download.