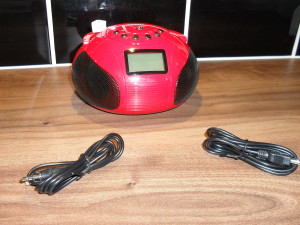 Welcome back guys i have the August SE20 Bluetooth fm radio for you today, i was both surprised and disappointed with this product as it seemed very promising.
its amazing retro and by retro i mean late 90's early naughties body work gave it the look of belonging, it came out of the box and just belonged on my kitchen side it because of its styling it blended in with the everyday and didnt stand out like many others do.
its very very light weight but it isnt really styled to just take around with you although it does have a carry handle, it also sports a telescopic ariel for the fm signals thus completeing the retro look.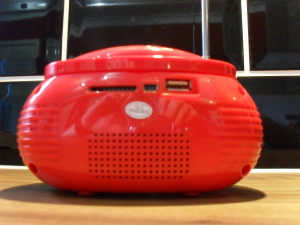 what it has over the original FM CD player a few things.
1. Bluetooth – this is pretty much a standard in today's music devices which includes car stereos
2. usb port – again with the huge jump in portable storage which uses usb ports you can carry thousands of tracks in your pocket as apposed to a handful of Cd's in your back pack ( 30+ adults will understand that )
3. SD card slot (up to 16gb)- similar to usb the SD card is a storage device which depending on the amount of memory can possibly store your entire music collection ( if you don't stream it like i do )
4. Rechargeable Li-ion 3.7v 800mAh which boasts a working time of 7+ hours and charges in just under 3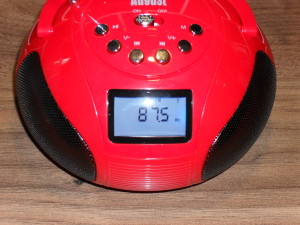 as i mentioned it also has a FM receiver which will pick up the radio stations you would usually fond in your car or home stereo.
Now down to the sound.
this is the part of a reviewer which can be hard sometimes, as i have used many different variants of the Bluetooth speaker before some have set the standard high for me and, well if i was honest and lets face it that's why you read these reviews, it fell quite short there was a bit of bass but only just enough.
if i was buying this for myself at home, well i personally wouldn't however it is great for places such as the workplace or as a great gift for your younger relatives or students who just want a bit of music in their dorm rooms.
but as always this is just my opinion and you guys should always check these devices out as the technology is always evolving and getting slimmer, smaller and smarter.
you can find this retro looking Bluetooth speaker using the link below, so leave your comments below follow us on social media follow me on g+ for great news on android and get the latest updates of our reviews.
For the August SE20 Bluetooth FM speaker click here