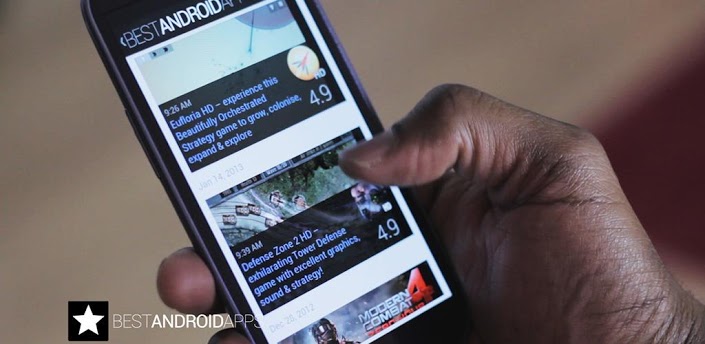 Stop sifting through all those apps, get the best apps and games sent to you with a beautiful and curated app guide. Apps are conveniently sent to you for quick access. There is a lot of information provided with each such as pros and cons, an in-depth review and advice on whether you should download or buy an app. It's easy to build your own list of favorite apps and you can share with friends & family on social media or even by text message. There's just one click to Google Play to install the app… no fuss! If you have a tablet, it takes advantage of the extra real estate such as watching our HD video channel.
This application certainly has the looks and I'll be honest backed up with great content on show. If you aren't familiar with who AndroidTapp are, take a look here. A great resource for Android apps and games, in my opinion. In writing this review I couldn't help thinking in the back of my mind… "They really did have to release an awesome app themselves because that's what they do. Take apart other peoples and they brought out their own to be reviewed/ tested / slated / applauded."   I applaud!
If DroidHorizon released an app, I'd want it to be as good as this!
Everything loads fast, fluid in movements side swiping, HD videos are present, although not many. I have one gripe and that's.. I don't see any reference to AndroidTapp Google Plus Page. Not sure why that is.
As always we have provided a link for you to download and enjoy, below.