Our friends at mytrendyphone.co.uk recently sent us a Betasphere Audio Beacon HR-120 Bluetooth Link to review. It arrived yesterday, in understated cardboard packaging, with just a few pictures and the bare minimum of information on the box, and the CSR®/aptX® logo on the back, so I hopped online and did a little searching and found very little info on it. Similar results when searching for Betasphere Audio a very basic site with only one product listed. Odd, because the HR-120 is a fantastic little device.
In the box you get the HR-120 itself, a European (2 pin) power supply, a short male RCA to female 3.5mm cable, a longer male 3.5mm to male 3.5mm cable, and a basic multi-lingual user manual.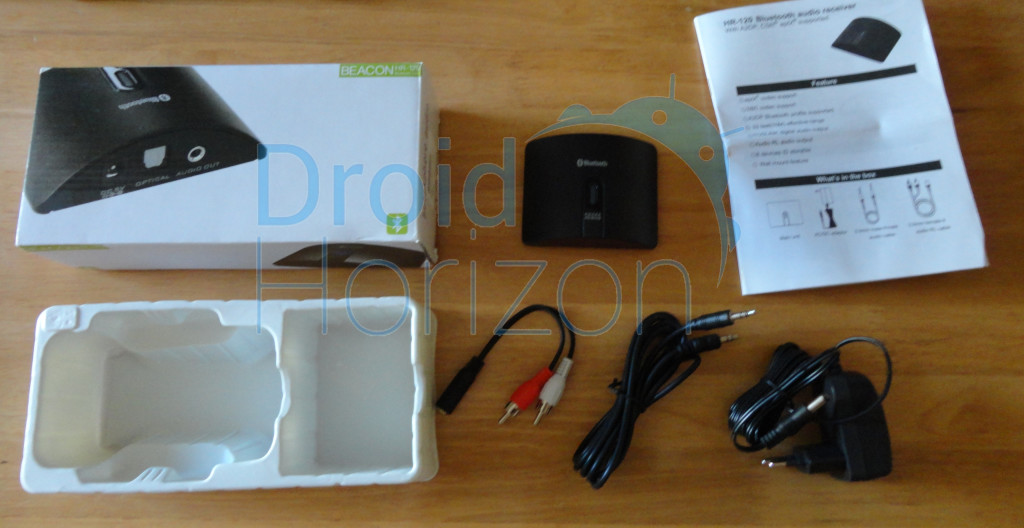 Not so long ago I reviewed the Logitech Wireless Speaker Adapter For Bluetooth® Audio Devices which is a decent and fairly inexpensive way to stream from your phone or tablet to your stereo. That had both RCA and 3.5mm ouputs, but was best suited to low end amps and mini systems. The Betasphere Audio Beacon HR-120 has both a 3.5mm analog output and a Toslink optical output, a little unusual at this price point, but a welcome addition, and a promising sign. It's also around 60% of the size of the Logitech, and even includes twin slots at the back of the unit for wall mounting, though if you do wall mount it, the logo's on the front end up upside down. Having said that, the HR-120 is light enough to use Blu Tack to wall mount it, as I ended up doing.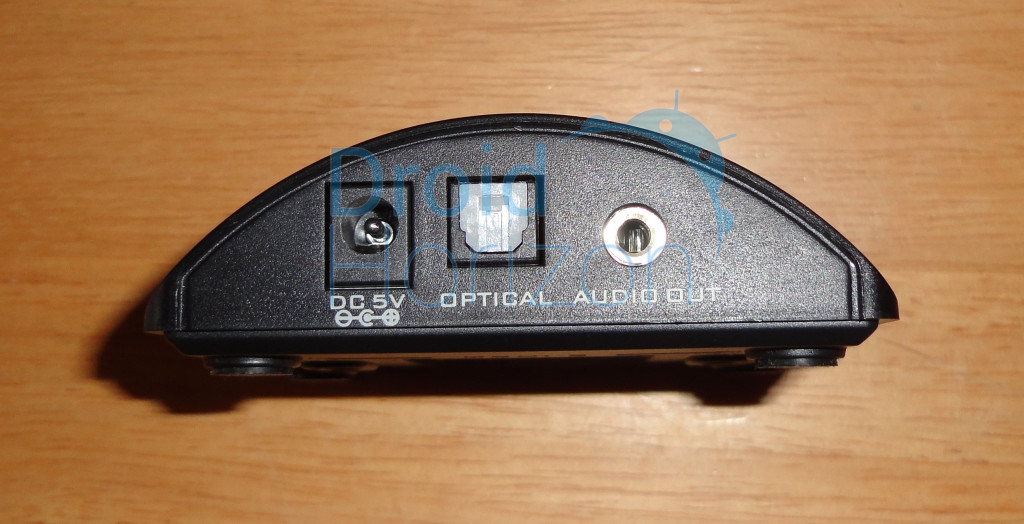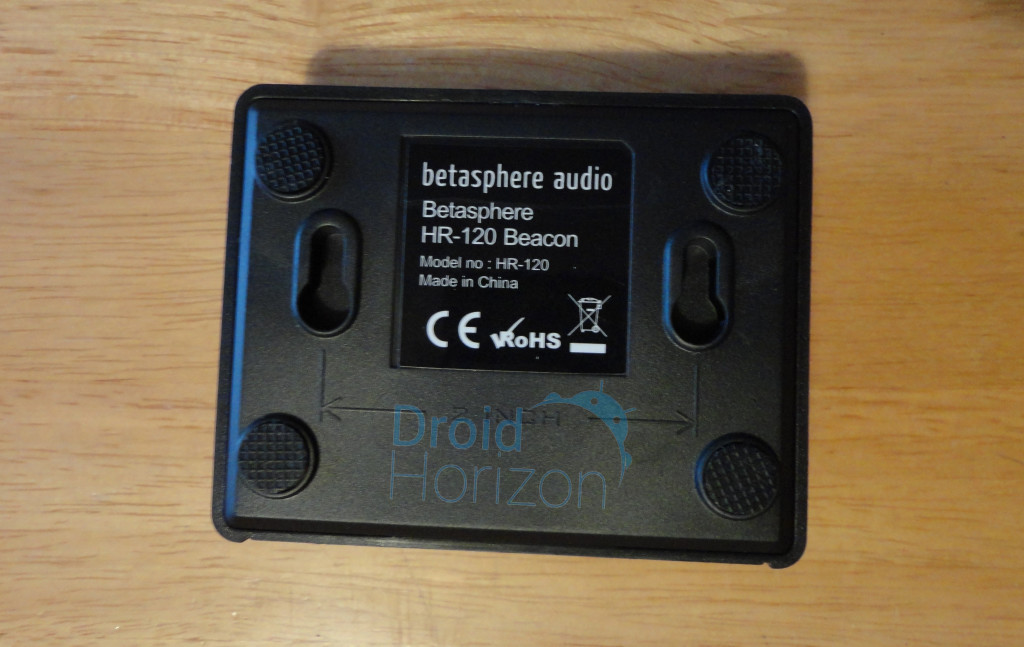 First thing I did was connect it up to my mini receiver via RCA and stream a few .flac's to it using GMMP from my S2. Straight away I noticed an improvement in sound quality over the Logitech, which I wasn't really expecting so I decided to try it out on my main amp using the Toslink out. Now when I tried using the Logitech on my main amp, it sounded terrible, which is why I'd only recommend it for lower end systems.
The HR-120 however, is a different story altogether. Unlike the Logitech, there was no loss in volume, and there was a huge (in my opinion) leap in quality. Granted I was using the optical out this time but I reckon I was grinning like an idiot because the HR-120 sounded pretty amazing. A friend of mine dropped in and we got to chatting about it and decided to do a side by side comparison of the HR-120 and the Logitech using analog (RCA) only, so I hooked both up to the amp, and used my Tab 2 to stream to the Logitech, and my S2 to stream to the HR-120, both using the same .flac played through GMMP. The volume drop using the Logitech was pretty severe, so we used the bluetooth audio volume settings in GMMP to adjust their volumes in order to eliminate the difference. We staggered the start times on both devices by a few seconds, to allow for the lag switching between inputs on the amp, so switching from the leading device to the second gave us the exact same segment of track, back to back.
No question about it, the HR-120 sounded drastically superior to the Logitech, with a better soundstage and more natural sound and tight, clean bass. In comparison, the Logitech sounded bright, harsh, over processed with vague inferior bass. Not to mention that drop in volume, which is much more pronounced on a good amp. I still recommend the Logitech, but only if you are on a tight budget, and will be connecting it to low end hardware.
mytrendyphone.co.uk also sell the Logitech, though it's currently out of stock, the difference in price between it and the HR-120 is around £12. If you can afford the difference, I cannot recommend the HR-120 strongly enough. In fact, I'm not recommending the HR-120, I'm telling you to just go and order one. Now.
I'm seriously considering ordering another one, at the very least, and my friend, who was a sound engineer in Abbey Road Studios, and is extremely fussy about sound quality, left my house with the intention of ordering one too. As far as I'm concerned, that says a helluva lot.
Also, bear in mind that the devices we used to stream to the HR-120 were not CSR aptX®  supported devices, and it still sounded amazing…using analog RCA out…
Get the Betasphere Audio Beacon HR-120 from mytrendyphone.co.uk here now.
Inquire about stock of the Logitech here
Just a few pics to give you an impression of the size of the HR-120
UPDATE 23/07/13:
On a whim I decided to take the HR-120 apart in order to find out what kind of DAC was inside, given that there was no info available online whatsoever. Turns out it has a Wolfson WM8524 ,  as you can see in the pics below (click on the image for full size).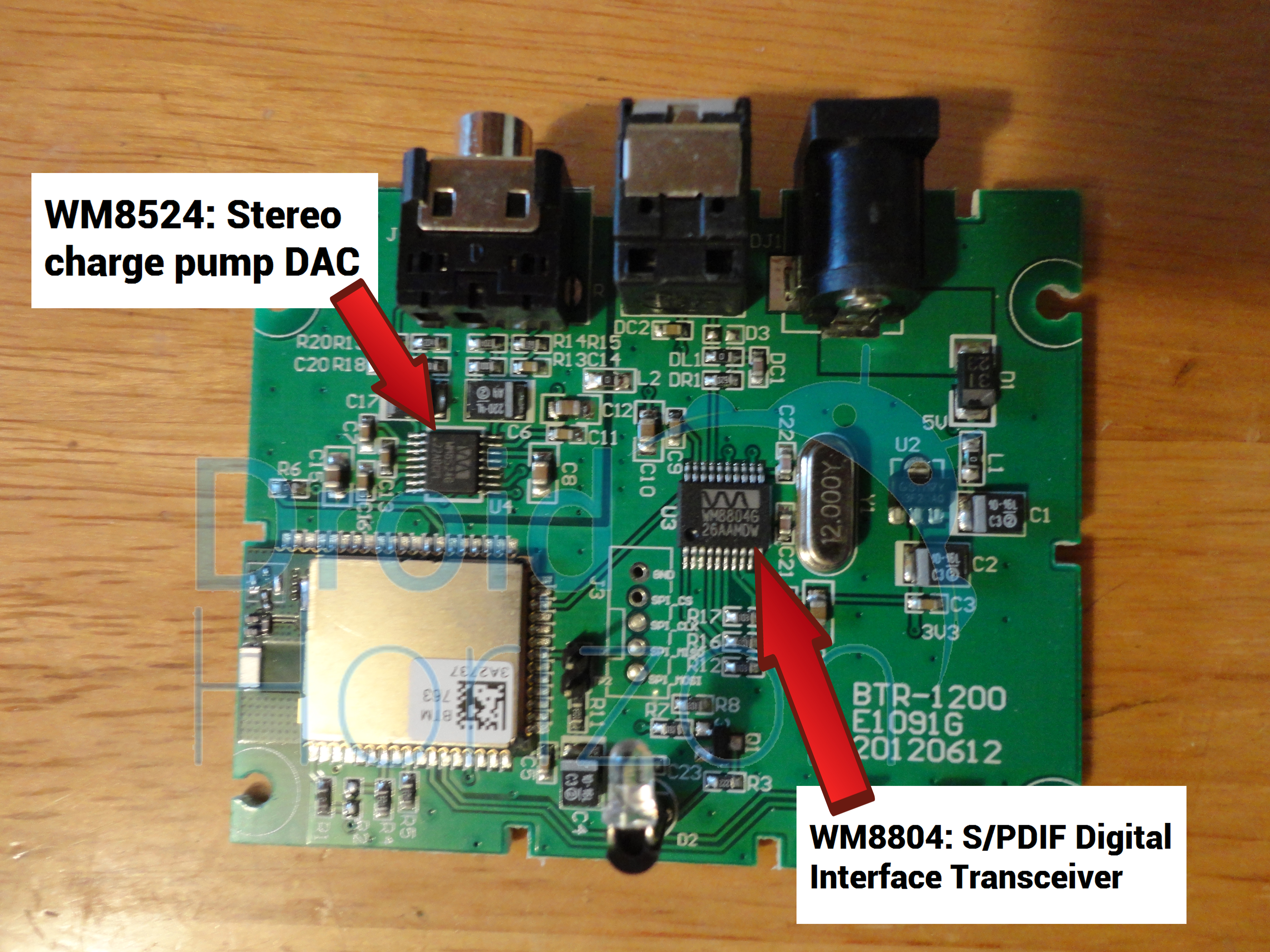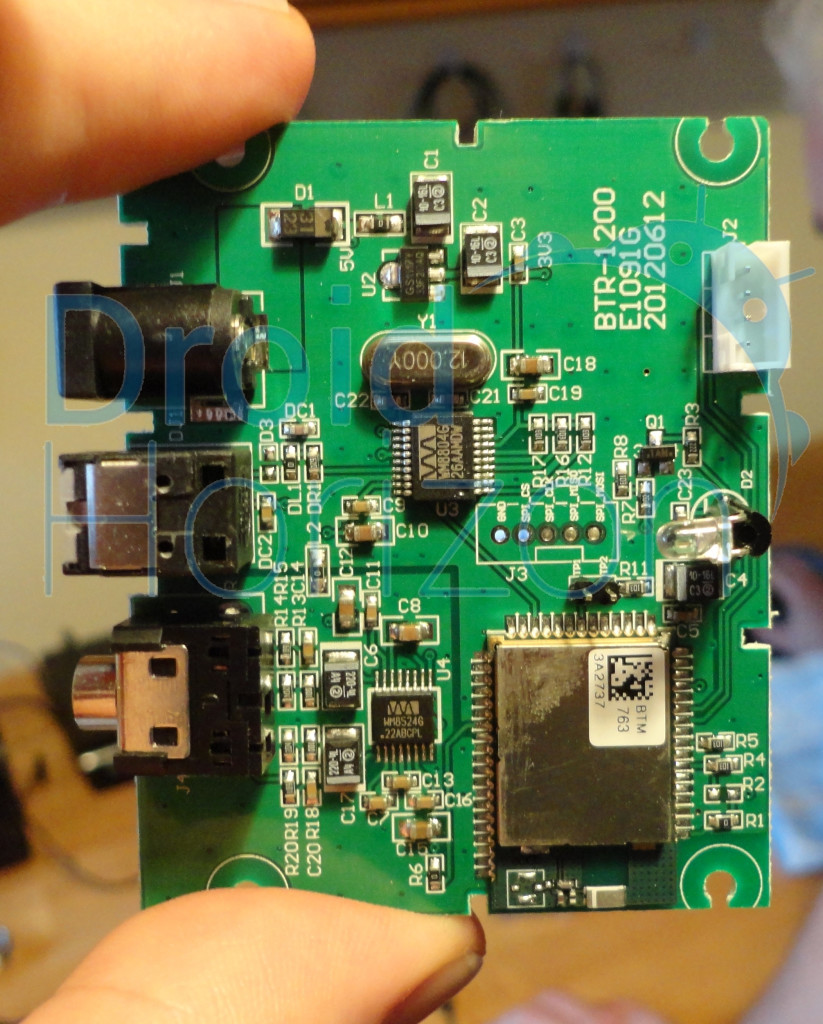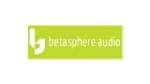 DroidHorizon Bluetooth® DAC reviews:
Betasphere Audio Beacon HR-120
Logitech Wireless Speaker Adapter