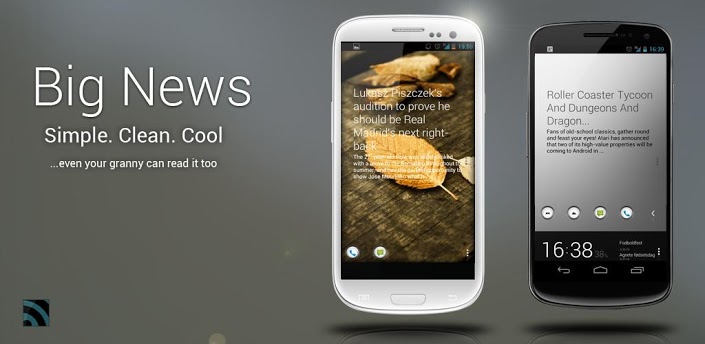 A simple, clean and cool unofficial Google Reader client, Big News.
With a beautiful widget, fast synchronization, Big News provides a happy reading experience to you.
Features:
– Beautiful transparent widget
– Customizations of widget
– Fast sync
Even your Granny can read it? That makes me Laugh Out Load. That's like a tagline I'd use. This is basically a widget that pulls stories from your Google Reader account. You can select which feeds to show on your home screen after you apply the widget first. Some customisations are also available like,
Widget text colour (Title and Snippets)
Widget background
Sync on Start
Auto sync frequency
Refresh rate
Max line on title
Etc, etc, etc….
This very clean widget can also be added to the lock screen,  in the new Jelly Bean features and looks just as nice there as well as on a home screen. The developer seems to answer questions very quickly and is pretty well known around social circles. Keen to offer help and advice if need be. He also has a few other apps that we'll link to below the Google Play widget. We have shared the free version, that has zero adds or any undesirable nonsense. Big News is an application built in the proper manner for displaying your Google Reader account on your screen, via a widget and it does it very very well.
 As always we have provided a link for you to download and enjoy below.
 Reindeer Crafts