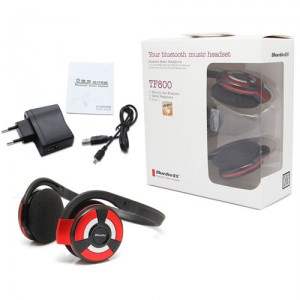 Bluetooth headsets are pretty common these days, there's something extremely convenient about not having to deal with wires or worry about wear and tear on 3.5mm ports. Sound quality takes a hit but for many the trade-off is worth it. Do a search for BT Headphones and you'll find plenty of budget one's to choose from.
Enter Bluedio , with their Bluedio TF800 Bluetooth Stereo Headphone. A Chinese company (Guangzhou Liwei Electronics Co. Ltd) who have a whole range of Bluetooth products to compliment our smartphones and tablets.

 kindly sent us a pair of the TF800's to review.
Some specs:
– Bluetooth Version: V2.1 with EDR
– Bluetooth head set with buzzer
– Operating Distance: 15m
– Battery: Built-in rechargeable li-on polymer battery
– Charging Plug: A/C charger
– Dimensions: 150 mm x 120 mm x 60 mm
– Headset Weight: around 105 g
– VOIP: Support
– Multipoint Technology: No
– Music Streaming: Yes
– Multi-function Button On/Off: Yes
– Standard Bluetooth Features: Yes
– Standby Time (hrs): 260
– Talk Time (hrs): 12
In the box, you get a 2 pin USB Mains Adapter, and a USB to some proprietory connector cable for charging the headphones. I don't really understand why they didn't go with Micro USB, would make a lot more sense to be able to use your smartphone's charger with these. You also get a fairly basic instruction manual, which I found myself referring to now and again, guess I'm showing my age lol.
Out of the box these things are quite small and light, by twisting the stems of the earpieces you can fold them down into a handy pocketable size when not in use.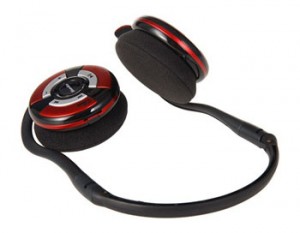 They charged to full capacity quite quickly, which was a pleasant surprise, and pairing them to my phone was simply a case of holding down the main button until the headset enters pairing mode, and setting your phone to scan for them. Instantly TF800 popped up, tap once to pair and your done. No need to input the usual 1234 or 0000, even though it's mentioned in the manual.
Now I'm not a fan of neckband headphones in general, but I felt the neckband on these was a bit on the small side, and I'm by no means a giant, so that might be an issue for some. The earpieces themselves were comfortable enough, with ample padding, but I'm not sure how well they would stay on your ears for running.
Pressing the main (central) button once brought up the Vlingo service on my Galaxy S2, saying "Call" and the name of the contact worked pretty flawlessly (speak clearly, obviously), and call quality was pretty decent, not exceptional, but decent. The same opinion was expressed by the person listening to my voice, which is fair enough, given that the mic is in the earpiece and not as close to your mouth as a wired mic would be. So as a handsfree headset, I'd say it will be perfectly fine for most. I wouldn't recommend using it outside on a blustery day though lol.
Of course it's a Stereo headset, so it's a given that it's going to be used for music primarily, and here you have two options. Streaming your music via bluetooth, or MP3 playback via the MicroSD slot.
Unfortunately, I found both had their problems. The headset is Bluetooth 2.1, with EDR, so I wasn't expecting miracles, but on default (Flat) EQ settings with GoneMad Music Player, the sound was just wrong. After playing around with the EQ presets I found the "Bass & Treble" preset seemed to improve the sound enough to suit most people. The drivers in the earpieces actually seemed to vibrate my ears at times, but the actually sound reproduction left a lot to be desired in my opinion. Now you have to bear in mind that I'm fussy about sound quality, and also that these are realistically a budget pair of BT headphones. What disappointed or annoyed me, may seem perfectly acceptable to you.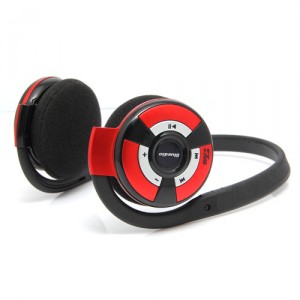 The inclusion of a MicroSD slot was a nice touch, I've no idea what capacity card it's limited to, I couldn't find out, but it's a handy option to have. The controls are pretty straightforward once you get used to them. I had actually thought that the sound quality wouldn't be identical playing from the MicroSD as opposed to streaming via BT but couldn't detect any real difference. As I mentioned earlier, playback via MicroSD has it's own problems, namely that it seems to take precedence whenever you stop using the headset for anything else.
When connected via BT, all sound from your phone is streamed to the TF800, games video, calls, apps. But….I found that the moment you stop using the headset for any of the above it automatically resumes playback from the MicroSD, whether you want it to or not. I guess it's like the resume function on many of the Android music players, but at least there you have the option to turn it off if you want to.
The real problem with having a MicroSD inserted though, is when you want to power off the headset. Sans MicroSD you simply hold down the main button, but while the MicroSD was in I found holding the main button down merely resulted in pausing/unpausing the track that was playing, even though there are separate dedicated play/pause buttons on the right hand earpiece.
As I mentioned earlier, these are what I'd class as a budget set of Bluetooth headphones, they don't excel, but for many they will probably do the job they were bought for. They are fairly loud, and leak quite a lot of sound, so spare a thought for others if you're on public transport, or queuing anywhere 😀
Oddly, they don't actually show up on Bluedio's website though…
If you are interested in purchasing a pair you can do so from the good people at MyTrendyPhone.co.uk here Bluedio TF800 Bluetooth Stereo Headset