Braun iCheck 7 Blood Pressure Monitor Review
The iCheck 7 is a small portable device, that allows you to track and sync your blood pressure. It's a wrist-based device, so its incredibly easy to use on a variety of wrist sizes. the max width is 21cm.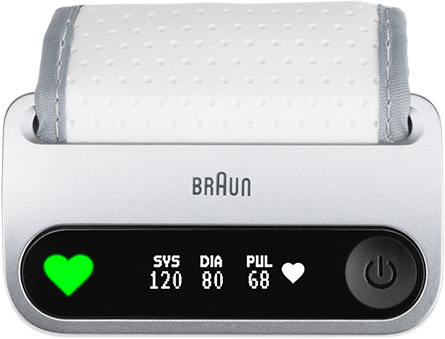 Once attached to your wrist, you can press the power button. There are then two dots that need to line up, you do this by moving your arm. This is because your wrist needs to align with your heart. I was also happy to see this could be paired with the Braun app, which allows me to keep track of my previous readings. It also allows Braun to push firmware updates easily to the iCheck 7, which is what I had to do on my first pairing.
The app interface and features are awesome, it's intuitive and really easy to pick up and use. You can view previous measurements in a variety of different views, track sleep, mood and even medication. I have found its best to take 2 – 3 readings each time, as you can find they can be a bit low on first reading. This allows me to find the medium of the results.
Model: BPW4500
Measurement method: Oscillometric
Display: OLED display
Blood pressure measurement range: 40 ~ 255mmHg
Pulse measurement range: 40 ~ 199 beats/minute
Calibration accuracy: Blood pressure: +/- 3 mmHg
Pulse rate: +/- 4% of reading
Inflation/Deflation: Automatic
Sets of memory: Up to 100 readings
Cuff size: Fits wrist circumference: 12.5 – 21 cm (4.9 – 8.3 inch) min/max
Operating temperature: +10 °C ~ + 40 °C, less than 85 % R.H. non-condensing
Storage temperature: -20 °C ~ +55 °C, less than 85 % R.H. non-condensing
Unit weight: Approximately 125g (excluding batteries)
Power source: Alkaline battery: 2 x AAA (LR3) 1.5V
Auto power off: Approx. 60 seconds
Service life: 5 years
Wireless communication: Bluetooth® Smart
Frequency Range: 2.4GHz ISM Band (2400 – 2483.5 MHz)
Modulation: GFSK
Effective radiated power: <20dBm
The Braun iCheck 7 readings appear to be consistently accurate, its a great price, and I found the portability to be a really big plus.
braunbloodpressuremonitors.co.uk/braun-icheck-7-wrist/