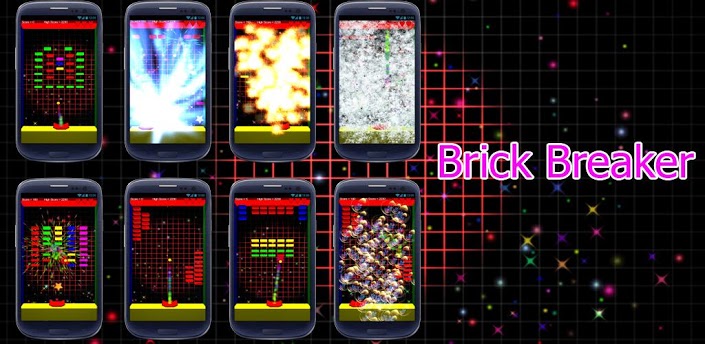 This game designed with impressive effects and stage design for gamer to spend fun moments. Sound effects chosen meticulously to be suitable for the purpose and theme of the game. The game developed with bonuses that can to ensure continuity of the game and to excite gamers. Other feature is that you never know that which bonus will occur at the moment of the game. The bonuses determined randomly to make the game more exciting. Another feature is sections that different from each other bring variety.
Looks and presentation.
Full of bright colours with a retro feel, everything is sharp easy to see and aim for. No problem in that regard, have a look at those screen shots above. You aren't going to miss anything on that board.
Gameplay
A simple game of Breaking Bricks. Get your angles right to smash the bricks, hit ever changing bonus balls to gain a high score. Everything plays well, zero lags, menus load fast. The grid in the background helps to line-up what you are aiming at.  One word of advice…. Find a comfortable area below the bouncing mat, for a want of a better description, where you can glide your finger left and right easily and also see the full screen, so you can predict when and where the ball bounces back. It'll make sense when you play it. 
Audio and Sound
Once again a retro feel and suits what this game offers. Nice and loud and a bit like games of my youth. (Funny I always go for games like this eh?)
Replayability
This is aimed at the quick 10 minute blast gamer. Waiting on a bus, on the loo… etc etc. No crazy waiting for things to download, everything is aimed at a grab and go style of game and does that very well.
Conclusion
For any age and any gamer level, this title can be picked up, played, passed on to someone else, grab another go later in the day. We'd recommend a download and test for yourself. No ads or In App Purchases, everything looks good, plays well and has a certain fun factor to play again and again.
As always we have provided a link for you to download, below.