Bugdroid Circuit Intelligent Wallet – Review
The Bugdroid Circuit Intelligent Wallet from Cruzerlite provides great protection, ( in a wallet style case), that looks great and has the added bonus of letting you carry your credit cards and some cash. It's intelligent, which means the case unlocks when you open it and locks when you close it again. I'm not sure of it's Mensa IQ score but this Bugdroid Circuit wallet offers convenience and style at a good price.
The product we reviewed is black and white. (The same colours of my favourite football team, NUFC). Made of synthetic leather on the outside and TPU inside, the intelligent wallet case certainly looks very stylish and very contemporary. The woven/ fibreglass look is very trendy right now and will certainly have people remarking how nice it is. This actually happened to me when visiting friends recently. People will ask "where did you get that?" and "do they make one for my phone?" I tell them to have a look on Cruzerlite's site 
Having used the Bugdroid Circuit Intelligent Wallet exclusively for over a month, I can honestly say this case is built to the highest possible standard. I didn't want to be caught out with the stitching starting to fray or the glue that holds the inner and out parts together to come unstuck. This was the area I was paying the closest attention to when using and upon writing this review everything has held together extremely well with no stretching or flaps coming loose. Cruzerlite are well known now for premier covers and cases, the product we have here is no exception in terms of build quality.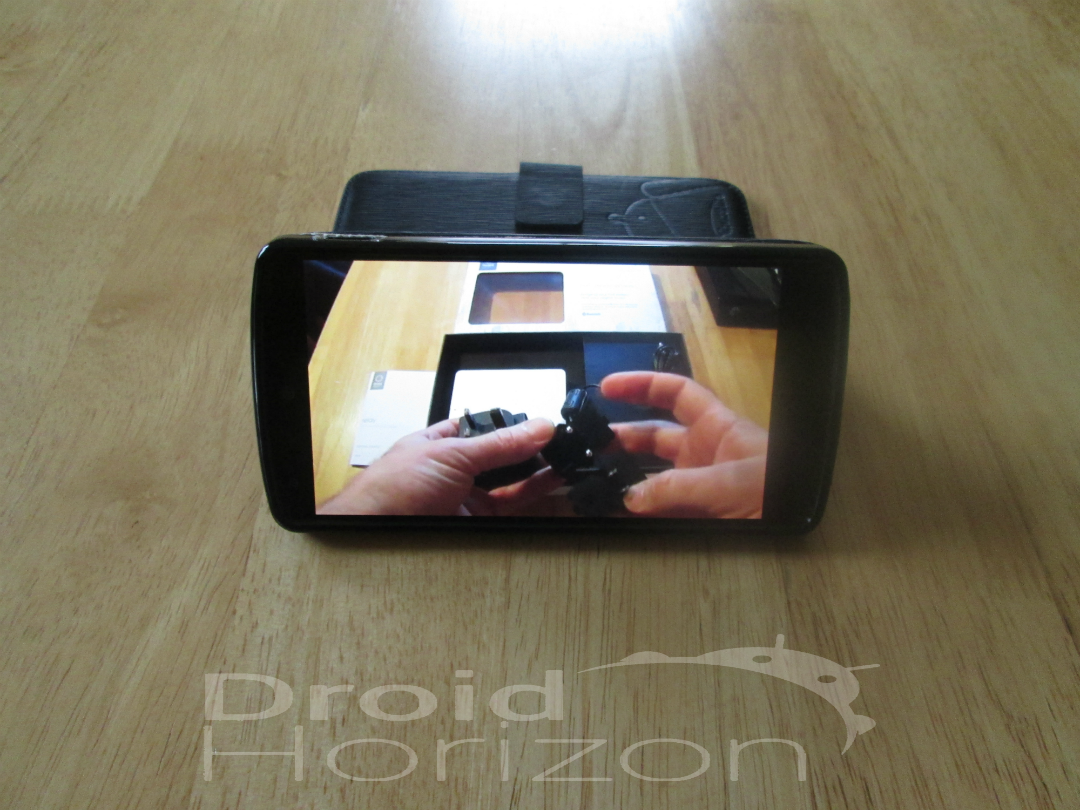 In every day usage this intelligent case really comes into it's own. Shown above, the wallet opens up so you can use it as a stand to watch YouTube videos. This is something I do every single day. Usually I'd set my phone up against something but not any more. One could call this case a great all-rounder, perfect for carrying your bank card and credit card, opens out and sticks on it's self for making and receiving calls and can be used as a stand. Once I started using this particular wallet I was sort of worried that when trying to phone someone, one half of it would be kind of… Flap around? I'm sure our readers will understand what I mean by this, but, the magnets inside stick to each other so answering the phone on the rare accurence that happens, you need not worry about flappy sides.  Moving on….
With that being said I have found a few niggly points after a period of heavy usage. The cut out for the camera soon turns into a great big orifice full of pocket stuff and blue fluff. I wouldn't say my pockets are more dusty than the next man's, but the intelligent case certainly will collect stuff in the cut out. Maybe once a week give this area a good cleaning with a cloth and you'll be fine. I may be a tad harsh on this next issue but I also find the volume keys and power button to be a little too recessed into it's cut out as well. I couldn't find the key when trying to turn up or down the volume and had to fiddle around for a few seconds and sometimes even look where to press. This would in no way put me off from recommending this case to potential customers but it's something I felt I had to share.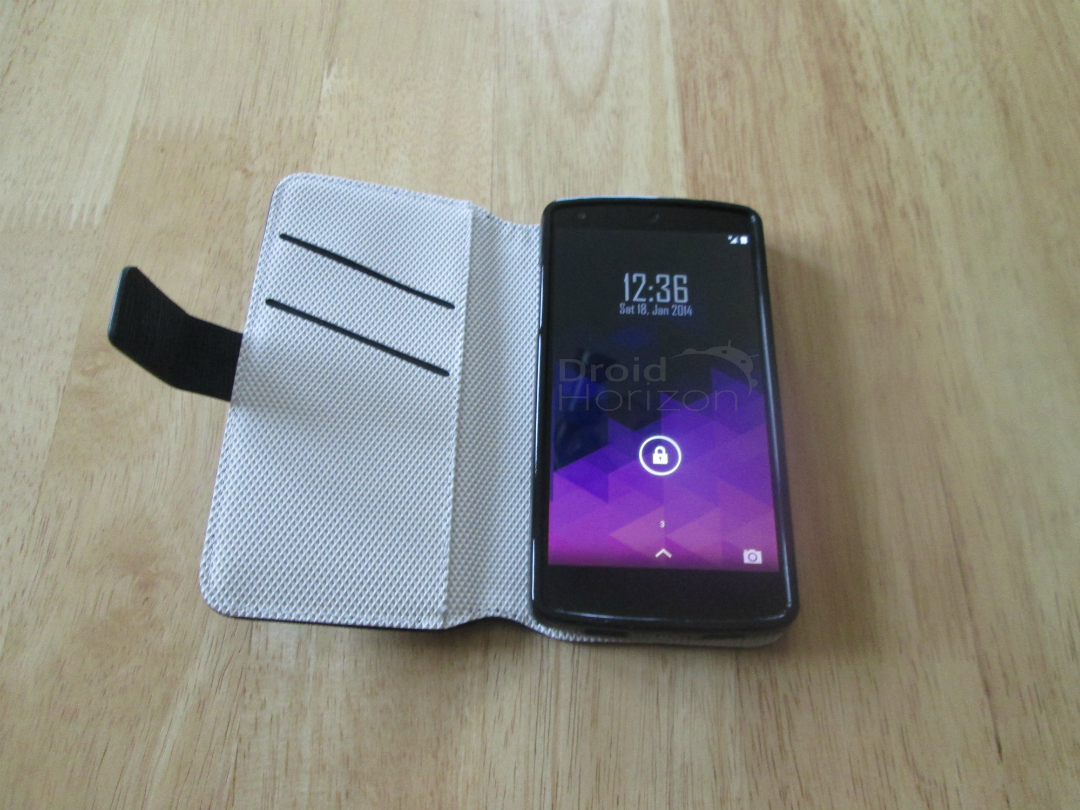 As with all of Cruzerlite's cases you can be certain of fantastic protection if the worst happens. We've all watched the drop tests and the protection scrutinised on the standard TPU cases. Well. This wallet has a TPU inside shell, plus, the synthetic leather around that. It'll be 100% fine if it falls out of your pocket or someone knocks it off a table. That's in no way a scientific test from me but I'd be extremely confident it'll provide the protection I need in day to day usage. A worthy mention here too… The case might seem a little bulky if you like to wear those skinny jeans because if you have the case packed with credit cards and cash you'll not forget it's in your pocket. A little bulky not much though.
You can purchase the Bugdroid Circuit Intelligent Wallet direct from the Cruzerlite website here. We are more than happy to recommend this particular model of case if you happen to be looking for great protection, attractive looking and very functional with all the added features that this wallet offers from a highly regarded company like themselves. Priced at $19.90 USD and available in different colours and styles you can be sure this case is worth the price paid and will offer protection of your Nexus 5 until it's time to upgrade your device.

Keep an eye for DroidHorizon and Cruzerlite teaming up to offer some discount codes off your next purchase.