I've had my HTC One for a few days now, but I've already ordered the usual gubbins that go with any phone you intend to keep for a while. You know the sort of thing: a few cases, a spare charger, docks…things like that. As soon as I unboxed the HTC One, I found it to be very slippery to hold due to the aluminium shell – so a nice case would give me just a little more grip while the One and I are still in our honeymoon period.
My first item arrived today from Clove Technology. It's a Case Mate "Barely There" snap-on cover.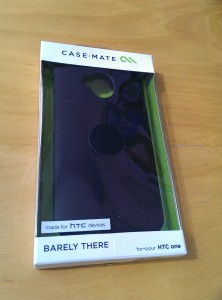 I'm not a big fan of huge cases, and I'm generally just after a nice slim cover than allows me to protect against scratches, and lay the phone on it's face without letting the screen get scratched. I've used the Barely There range quite a lot in the past, in fact I'd say it's one of the first cases I look for when I buy a new phone.
The Barely There has a very nice feel to it that's quite difficult to put your finger on. It's grippy, but not so much that you struggle to get it out of your pocket. It's quite flexible, but not like a wobbly silicone case that can work it's way off the device. It has a passing resemblance to Neoprene, but is obviously very firm to the touch. The case is very high quality for the £12.49 I paid. There's even a nice soft surface inside the cover to protect the phone's rear case from scratches caused by debris working it's way back there.
So, that's the case in isolation – what about how it performs?
Sadly, this is where I'm left feeling disappointed. Fitting the case is a breeze, and it wedges into place with a satisfying clunk. It's great to hold, and doesn't add  that much bulk to the HTC One at all. You can get to the Micro USB charging port easily, the headphone plug is wide enough for all manner of 'phones….so what's up?
HTC are (to my knowledge) the only manufacturer that has elected to place the power/wake/sleep button on the top LEFT of the handset. I'm not sure how you unlock your HTC One, but for me, I hold my phone in my right hand and curl my index finger around the top to reach the button. You'd be surprised how natural this is until you tried it for yourself. In my opinion, it allows more of my hand to be cupping the phone when I press the button – less likely to cause a rushed drop, and then tears. This little manoeuvre is a doddle without a case, OR with a case with a large enough cut-away for the power button. Sadly, the Case Mate Barely there is only cut out at the top of the device, leaving an annoying 'lip' for your finger to overcome before touching the button. Compare this with the gel case I was using previously:
Gel on the left, Case Mate on the right. Can you see the ridge on the Case Mate?
The cut-outs on this case actually extend slightly around the rear face of the device. This eliminates the 'lip' and gives a nice, comfortable feel to the button's operation. Let me be clear here: the Barely There is an excellent case, and if you wake your HTC One in a different way to me then you'll probably never have an issue. For me though, waking the phone is a very common process and far from this being something I would get used to, I feel it would annoy me more and more.
I'll probably review the gel case at a later date – it was only a cheap 'put-me-on'. I've also ordered the official HTC Double-Dip case from MobileFun, which I'm hoping will be impressive.
In the meantime, I'm going to send the Case Mate Barely There to a fellow HTC One-owning contributor at Droid Horizon. Maybe they will be able to add a slightly different perspective? Maybe they wake their device in a different way?
As Promised, you can see Luke's impressions of the case just here:
I have never used a barely there case before, but when you get this case out you can see where the name comes from. It doesn't weigh a thing, and when its on your phone doesn't really add any additional bulk or weight to it at all. You also don't lose the shape of your phone, the back is curved like the back of the phone so fits in your hand perfectly.
The finish on the case adds some texture to your phone and means you don't run the risk of it slipping out of your hands. I did find the volume keys hard to access, though this might be due to my fat thumbs. They are in the case, and open so you are just clicking on the keys themselves, instead of through the case. It has a lip on the top and bottom, I find this a little unnecessary as it really offers nothing to the case.
The lip offers a serious issue for me, it makes the unlock/power button very hard to access. Where as before I could just click it, I now have to wedge my finger under the lip to unlock my phone. Now I may be being a bit of moaner, but this is a serious design flaw in my opinion. I was under the impression this case was barely there, but I notice it when I try to unlock my phone or turn that Marillion song up.
The lip does offer one main advantage, when your phone is face down the screen is now off the table. This means the screen is safer and stops you from running the risk of scratches. All ports are accessible and aren't obstructed at all by the case. I had no issues with plugging in the charger and my free set of beats headphones.
This is a great case, its light, tough and keeps the phone safe. There are just some design flaws which make day to day usage a challenge sometimes. I am sure that over time you will get used to using it. if I was in the market for a small case then I would still pick it, why? Because the pro's outweigh the cons.