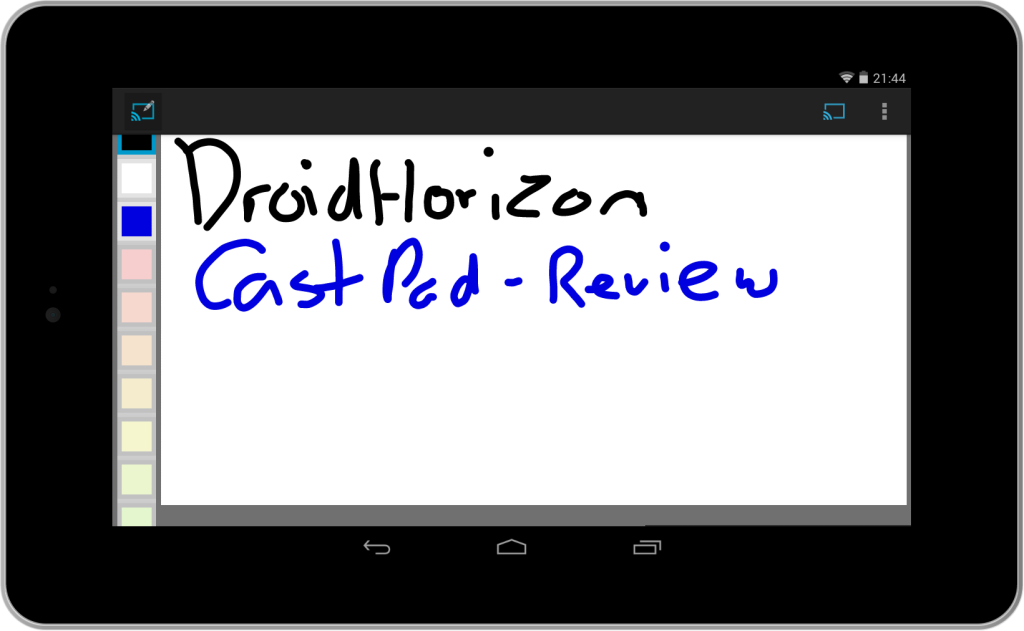 CastPad for Chromecast – Review
CastPad lets you draw on your phone and see it show up instantly on your TV and all other devices connected to the Chromecast. First off I'd like to excuse my poor handwriting, drawing or writing on a glass screen is awkward without a stylus. Well it is for me anyway. Now that's out of the way, I'd like to introduce to our readers CastPad for Chromecast. A fun application that lets you draw on your phone or tablet and displays nearly instantly on your TV. Hours of fun to be had here with the kids, drawing silly pictures or even use the app to teach spelling or alphabet. My kids are a bit too young so I like to write notes to my wife and leave it on the TV in the kitchen. Things like "Make me a sandwich" or a drawn picture of ladies breasts always seem to be well received.
CastPad free version (with ads) offers three choices of colours. Black, Blue and White. White acts as an eraser, which really is useful. A button on the top lets you clear the entire screen to start fresh. KitKat users can take full advantage of Immsersive Mode too.  The premium version offers a full palette of colours to choose from, priced at £1.20 GBP. Hey, it's another app with Chromecast support that you can get the kids involved with and spend an hour if it's raining outside. What it does, it does very well and sometimes that's great. We've linked to the free version first, to check out what the app is about.
Download CastPad below: