CAT have been about in the construction industry for years, becoming synonymous with all things hard and rugged. It is no surprise then, that a CAT phone is something a little out of the ordinary. Their latest offering, the S60, is a true Swiss Army Knife of mobile technology, designed to help in places other phones don't dare to tread. Both rugged and waterproof, the S60 is designed to last with a few special tricks up its sleeve.
DESIGN
CAT don't mess about with letting everyone know you have one of their products. From the start the box is coloured with the famous yellow that backdrops their logo, which is printed large and proud on the top. Take a peek inside, the branding continues at the top of the device, but what you see looks like no other handset out there. The S60 is anything but the flat black slab we are all accustomed to looking at.
First off, it's not squarish like most phones, it's kind of hexagonal, and CAT have decided that soft keys are maybe not the best idea on a tough phone, so have opted to use hardware buttons, and lots of them. On the front face there are your standard Android control buttons, back, home and recent, but you also have two immersion depth switches.
The left hand edge contains the two volume adjustment buttons rather than a standard rocker. It's obviously easier to differentiate between the up and down when you have thick gloves on as the buttons are entirely separate and in this case, CAT have a gap of around 6mm between them. The left edge has a ridged power button, a programmable button (for starting apps etc), a covered headphone socket, a covered usb port and a covered SOS button, which I will expand on later. The bottom is free of any controls or connections and the top right corner has an extra wedge sticking up to accommodate the thermal camera (yeah, we will get to that later as well).
The back face of the unit has another pretty big CAT Logo as well as a more subtle one for FLIR (the company whose technology is in the thermal sensor). Both camera lenses are at the top of the phone, one directly above the other with the flash seated just below. There is also a large flap at the top, which i opened with a thin orange lever to give access to the SIM tray and SD card slot. My guess is that the SIM and SD slot have been made easy to access so that swapping to a normal phone when the working day is done isn't such a chore.
Everything is black and silver with the odd accent of orange, and the colour choices only go to reinforce the industrial look.
Measuring 73.4mm x 147.9mm x 12.66mm and weighing 223 grams this is a big old unit, especially when you consider it only has a 4.7" screen. As I said previously, this phone is built to last, and CAT claim it will withstand a drop from 1.8M and carry on as before (as this is a review unit from a 3rd party supplier I was unable to test this claim myself although I did drop it 'accidentally' a few times from a slightly lower height). CAT have also added some military benchmark results that the phone is capable of including, MIL-SPEC 810G, Shock and Drop, Operating Temp: -25°C (-13°F) to 55°C (131°F), Category 4 vibration. All pretty impressive for a phone without a case, and in case you are wondering, yes you can buy one for it.
SOFTWARE
When I first powered the S60 up I was expecting to see a heavily skinned version of Android with an app drawer full of bloat. Happily I was so wide of the mark it could have passed for a Harry Kane free kick at Euro 2016. Once I was past the standard Android setup procedure I was faced with Google Now launcher with Google Photos, Google Camera, Dialler, Messaging etc all sitting in the app drawer. What was even more pleasing was that there was very little additional bloat thrown in just for the sake of it. The only exceptions are really an additional market for 'rugged' apps, a link to the CAT support page, Zello walkie talkie app and a mobile assistant that serves as a help manual. The S60 runs Android Marshmallow and during the time I used it I received the latest security update which also had a camera update included.
Setting functions for the programmable button is achieved via the phone's settings where you have options for a short and long press, I was a little disappointed that system functions were limited though.
There is also a hiking app which serves to supply temperature, latitude & longitude, altitude, a barometer reading, a compass reading, a record of your trip distance and will use the flash as an SOS beacon.
If you are out in the wilds and the worst happens the S60 has a location alert app which can also be activated by a long press of the SOS button. The alert automatically passes your  location and distress message to three preset contacts. Obviously the alert can only be passed along if there is a network signal at your location, but I am sure there are many possible scenarios where it could be useful.
Perhaps the most unusual app on the phone is the speaker drying one. This app allows you to select a timescale and then it plays a series of low and high frequency tones with a vibration pattern over and over to dry the speaker out after it has been immersed in water.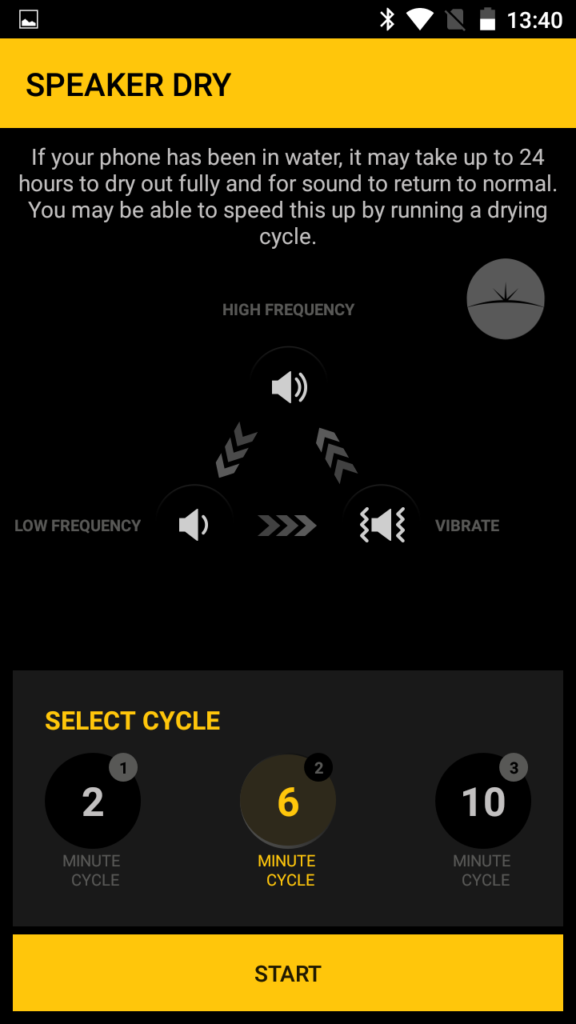 The other non standard app is the FLIR camera app, but I go into detail about that in the camera section.
DISPLAY
Despite the fact that the S60 is a big overall unit, the screen itself is only 4.7". On a rugged phone edge to edge is not the best design idea and in this case there is a raised plastic lip all the way round. The Gorilla Glass 4 that protects the screen seems to sit slightly above it as well, unlike most modern device screens where the glass tends to touch the screen below. This slight gap gives the screen a slightly hollow sound when tapped.
The screen is bright but the resolution of 1280 x 720 is noticeably low in comparison to most modern handsets. Of all the area's that CAT had to compromise this is the most noticeable.
CAMERA'S
The CAT S60 packs a 13MP sensor with autofocus. During my time with it I was able to take more than a few decent shots both inside and out. It is capable of HD video recording at 30fps and the results are reasonable if not spectacular. The camera app itself covers the basic functions you would expect but shy's away from anything more spectacular than a panorama shot. Overall my biggest gripe was the lag to take a picture with a wait of around a second most times. Surprisingly the front facing camera is 5mp, higher than I initially expected and once again the quality of shot was mostly OK.
[youtube id="kH7sPO2FcXE" align="center" mode="normal" autoplay="no"]
Now onto the camera you actually want to hear about, the FLIR thermal imaging sensor and app. Thermal imaging is probably something you either need, or your don't. I have tried to find an everyday practical use but come up blank. That said, I can understand some commercial uses and spoke to friends in one trade or other who could see real use cases within their trades.
The FLIR app is simple to use, but full of options. The viewfinder can be set to use a range of colour options to show temperature differences. Points can be placed to give the temperature of a given object or area and the low to high temperature range is displayed vertically on the right hand side. Sometimes 'focusing' or temperature reading can take a second or two so it's not ideal for quick opportune shots. There is also an option to record video using the FLIR sensor which I can imagine might be handy in the right circumstances. Images come in at lowly 640 x 640, but hi definition is probably not what you're after and certainly not expected when packaged in a smartphone costing normal flagship prices.
The FLIR app isn't just for taking pictures, but also the best way of viewing them. While 'static' images can be viewed with a normal gallery app you lose the additional functions the FLIR app gives you. Once an image has been captured you can take temperature readings from any area or point on it, you can also swipe down to see a normal camera view as well. The app has a calibration tool that lets you match up the two images and it is very simple to use.
PERFORMANCE
With 3G of RAM and a Snapdragon 617 under the hood we are not exactly at the pinnacle of smartphone specifications, but it should be a decent enough package to see you through any situation. In reality, I found the S60 to be a little underwhelming. It wasn't so much laggy, as just not 100% on point. Apps didn't actually stutter or anything drastic, but the OS as a whole is a little slower than I get on my normal Oneplus 2.
CONCLUSION
Any little negative points and concerns I have highlighted have to be taken in the context of what the CAT S60 is, a tool. This device doesn't pretend to be your average phone, from the minute you open the box and look at the angular design, to the FLIR sensor and military specifications. The S60 is designed to fit a lifestyle and/or work life that places excessive demands on any equipment you take along. Even the easy access SIM panel on the back tells you CAT don't expect you use the S60 as your personal phone for popping out and getting the shopping.
The only real question you might have (assuming the 5M water resistance & thermal imaging are not must have features) is if you could achieve the same but using an extreme case on your current phone.