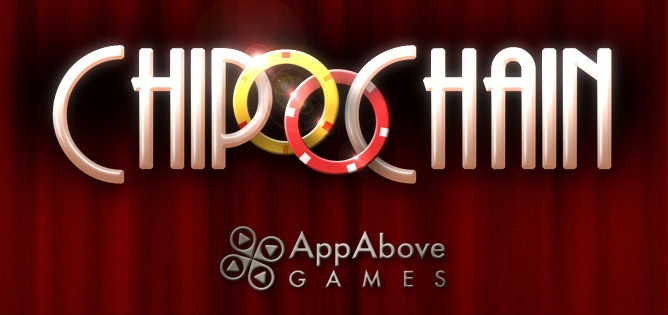 Chip Chain – Review
"Place and match 3 or more identical poker chips to earn a more valuable chip, then chain together matches for huge bonuses! Play power-up cards to make combos, extend chains, and maximize your score. The dealer tosses random chips to get in your way, but if you play smart and think ahead, you can turn the tables and use them to your advantage!" chip-chain.com   This game is fun. And addictive. And free. You get a short tutorial to get you used to the objectives, then you get to choose from two game modes. There are four modes in total, but only two are available on a daily random basis. You can unlock all of the game modes to play whenever you like, using the in-game currency of blue gems, but depending on how you play, it's probably going to take you a while to save up the required amount (40.000). You can also buy varying amount of gems through the game's IAP's, €7.59 will get you unlimited gems, €3.79 will get you 500,000 gems, and €1.54 will get you 100,000 gems. These gems can be used to unlock new cards or various upgrades, the most expensive purchase being 40,000 gems to unlock all modes. The IAP's are not at all invasive, but personally, I think buying shortcuts in any game, on any platform is just shortening the lifespan of a game and depriving yourself in the long run.
If there's no challenge, what's the point continuing..
As with most games that include in app purchasing, you can still enjoy it without spending a cent. Gems are awarded to you at  the end of each game, and depending on how frugal you've been with them as you play, they can build up at a reasonable pace. Unlocking and chaining higher value chips can be very rewarding. Smart use of the cards is the key to progress. Add or subtract 1 from the chip's number to make a chain, or pick up a chip and place it strategically elsewhere, or even remove one of the grey chips the dealer places to obstruct your progress. The pick up card is free, but not infinitely so, once you've used it a couple of times that's it for that particular game. The rest of the cards can be purchased in the round itself, using your accumulated gems, if you feel like spending them. You also gain XP with each game, and from what I've seen so far, the speed at which you level up seems just about right. The developers have included the option to mute the game's music, which is always a nice feature to see, sometimes these game soundtracks can get irritating, as they are usually just short samples continuously looped. Of the four game modes, I've played three, the "Daily" mode has been locked so far, but the three I've played help make this game ideal for both quick blasts and also sitting down for a good gaming session. "Timed", as the name implies, is a timed mode with unlimited chips but a duration of two minutes and brilliant for frantically trying to rack up a good score. "Short" has a limit of 40 chips, but can be played at your leisure with no time deadlines. "Long" is perfect for when you are in the mood to sit down and play at your own speed for extended periods, with neither time nor chips limited. This is where you'll earn the most XP and gems, the best way to unlock upgrades and cards. It supports Google Play Games, which means it has leaderboards and achievements, and you can also check your own stats in a seperate, detailed section of tabs. One mode I think might make an interesting if somewhat chaotic addition would be online PvP.   I'll leave you with a quick video of some of the game's features, as words alone can hardly do it justice.
Grab it here for free, just don't blame me if you get hooked 🙂