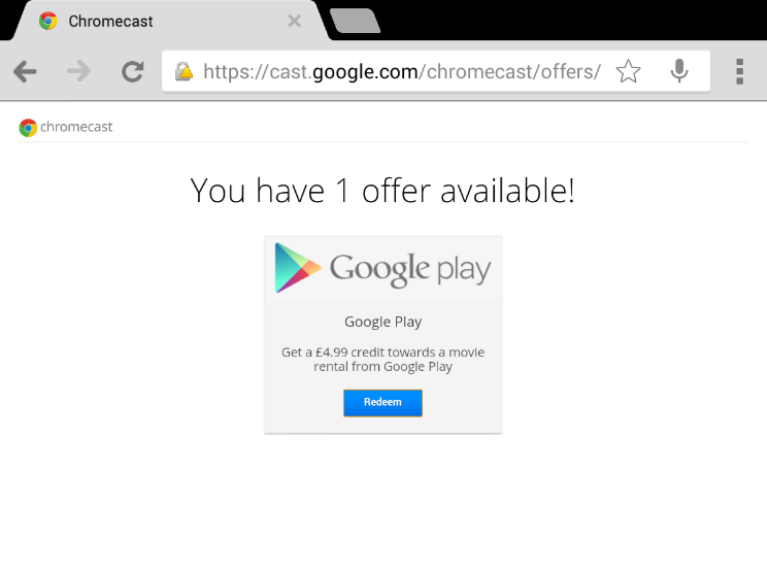 The Chromecast application got an update this afternoon, UK time. Under further investigation an eagle eyed friend Ashley told me he had received £5 Google Play Store credit to spend on rented movies. (See the main picture above.) The option should be available for everyone that has the latest software version of the Chromecast app. We'll give you the steps you'll need to take to see if you have any offers, we sure would like to hear if it's by region or some other factor.
Download the latest version which should be 1.5.5
Open the Chromecast application from your app drawer.
Tap devices
Select your device [Ready to Cast]
Hit the menu button. Depending on your device this can be the 3 dot menu or a dedicated hardware button
You'll see from the settings list you have a few options.
A pop up will appear with "enable serial number sending"
Allow
Select Check for offers
Profit?
Personally, I'm convinced this is a new feature that wasn't available before now and I'm nearly certain that myself or someone would have told me this feature was already there before we got the tip.
The DroidHorizon team have been using the Chromecast from the first week it launched in the United States. Our very good friends over at AndroidSPIN sent us over the little device when there weren't very many applications that supported it. The batch we received was purchased at BestBuy, if you remember they had the free Netflix for three months offer at the time. No offers show for our devices but we're really hopefully our readers might gain some little added extras, that are there for the taking.
I'd like to thank Ashley for the tip. I hope this setting hasn't been there since day one and our readers can get a little extra from the Chromecast now that things are getting going and end users are starting to see more apps, games and support.
Let us know what offers you receive and tell all your friends to check what offers are available for them.
Officially launched by Google UK this morning, here's what they said.
Chromecast: Bigger movies for a bigger Easter weekend

For a limited time, you can now get a £4.99 credit towards a movie rental from Google Play with every purchase of a #Chromecast. On Google Play you can rent new releases and award-winning films and play them on your big screen with the touch of a single button. goo.gl/iuJZhZ

To redeem your offer, you will first need to set up your Chromecast, then visit chromecast.com/offers

To be eligible you must have set up your Chromecast and visited chromecast.com/offers to claim the offer by 15 July 2014.

Find out more about the offer at google.com/chromecast. Terms apply goo.gl/o3RFzF.

Buy Chromecast now from Amazon, Currys, PC World or Google Play.

Happy Easter.