Hi guys i have a treat for you today, a fantastic game called Cliffy Jump from WeGo interactive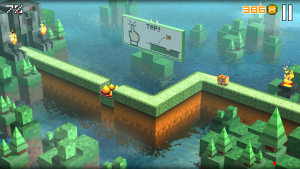 The concept of the game is simple tap to jump over the pits and spikes to reach 100% of each round, "yawn" i hear you say, well think again this game has bucket loads of levels to keep you going as well as a vast selection of playable characters which can be earned through the collection of coins or purchased for real money.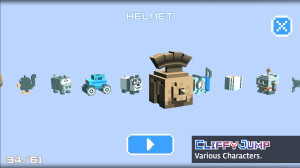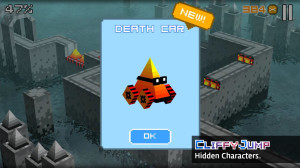 There are many aspects of the game I love and the mix of close to realistic water with 16 bit graphic platforms are a fantastic delight for the eyes as well as subtle lighting from lamps that you go through, and the odd little lizard crawling on the walls which i think where thrown in there as a distraction.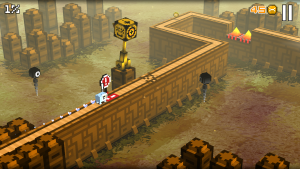 As you progress through each course you'll add 10% to that world until you reach 100% for that world so if you do your math, that's 10 zones to each world and 13 worlds to the game making a grand total of 130 levels of taptastic fun which get more and more difficult the further along you get, now I have only managed to get to world 3 and believe me that took a bit of work and has just started getting hard with hammers to have to worry about.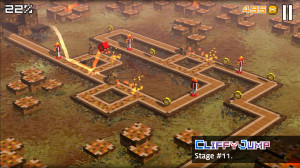 As with many games there is an in game currency as well as IAP's (in app purchases) and cliffy jump is no exception to this rule, every six hours you'll earn 150 coins to use on revives (which i used a lot) or spend 100 coins on a new character which is done as like a lucky dip you wont know what your getting until its opened.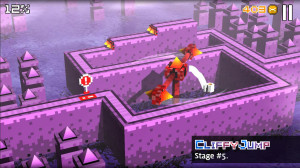 All in all this is a fantastic game and that its free, really seals the deal for many people, however, I couldn't call myself a reviewer without some negative feedback and with this gem its the music, if i was completely honest it was a little annoying for me but luckily you can mute it so it works out well for the user.
There are Google Play Game achievements also so if your an achievement chaser your in luck and like wise if your just looking to get your Play Games level up then this game will help.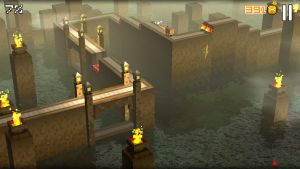 What i find with mobile games is if its something to fill those annoying gaps in the day then its a winner and well this is a winner it will entertain you for anything from minutes to hours depending on your competitive level and check your global position on the leader board either against your friends or the world.
Well that's my opinion on this game anyway so why not go check it out download it using the links below