Cyrus have just launched their winter promotion which this year comprises a 'Streaming Starter Kit' and they're giving one lucky entrant the chance to win a complete Cyrus streaming system including Wharfedale Diamond 11.1 speakers.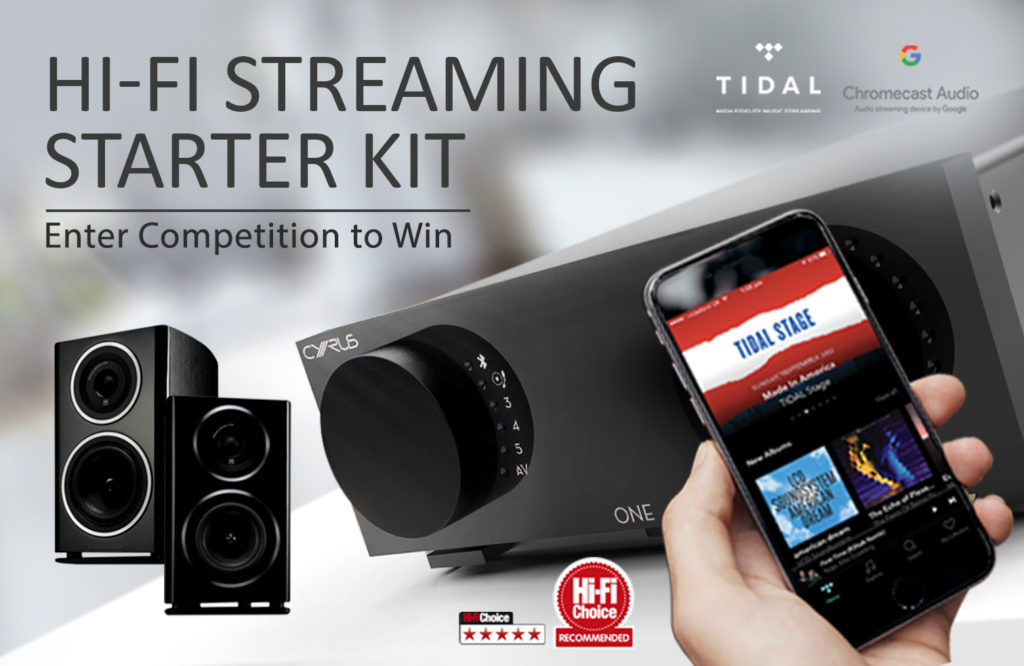 Most of us have used streaming services on our phones, but with TIDAL's HiFi service and Google Chromecast Audio, it's now simple to get completely uncompressed CD quality music through your home system – and the experience is astonishing.
How you ask? Well Google's Chromecast Audio means your phone becomes merely a system remote, leaving the Chromecast to go and fetch the lossless data directly from the internet. This means no need for Bluetooth or the compression that results. So what's the effect on the audio when used with a Cyrus ONE? We'd suggest you get down to your local retailer to find out, because words really can't do justice to how good this is.
Cyrus Hi-Fi Streaming Starter Kit
This phenomenal prize includes the award-winning;
 Cyrus ONE amplifier(worth £699),

a pair of Wharfedale's brilliant Diamond 11.1 loudspeakers (worth £279),

Google's amazing Chromecast Audio (worth £30)

and a three month subscription to TIDAL's Hi-Fi streaming service (worth £60).
If you'd like a chance to win one of these amazing systems, come over to HERE
About Cyrus
Cyrus a specialist audio company built around its Research and Development team, which encourages innovative ideas, feeding our obsession for ever higher quality reproduction. Our mission is simple – we want you to enjoy your music. Working to achieve this we allocate a great deal of time to our highest performing models. The exceptional engineering and technology used in these products forms the foundations of all our models allowing even entry level hi-fi components to benefit from years of research.
(Closing date is the 30th November. Terms and conditions can be found on the Cyrus website. We here at DroidHorizon are not responsible or tied to the competition we're just spreading the great prizes that can be won. Please read the rules before entering)