The professionally tuned Sound BlasterX H5 Valencia CF Edition Entertainment Headset proudly features the club's crest and also Includes An Advanced Gaming Software Suite. 
Creative Technology Ltd today announced a collaboration with Spanish soccer giants Valencia CF in a crowdfunding campaign on Indiegogo that offers a chance to Valencia CF fans to participate and own a special limited edition Valencia CF headset. The headset will feature the Valencia CF Crest laser-etched on its earcups. The headset is based on Creative's high-performance Sound BlasterX pro-gaming series and comes with a professionally tuned audio signature for music, movies and games, as well as a software suite for different gaming audio profiles.
"We are delighted to be able to offer Valencia CF and its fans our audio expertise and technologies in this crowdfunding project. Now with the Sound BlasterX H5 Valencia CF Edition, fans can have the chance to wear their club's crest proudly everywhere they go while enjoying their music, movies, and games. The headset is not only amazingly robust and comfortable, it also delivers top-notch audio,"

"And because this project is on Indiegogo, fans can expect to enjoy attractive savings on the price of the product, as well as the ability for Valencia CF and Creative to reach out to fans worldwide for them to get their hands on the headset."
said Low Long Chye, General Manager of Audio at Creative.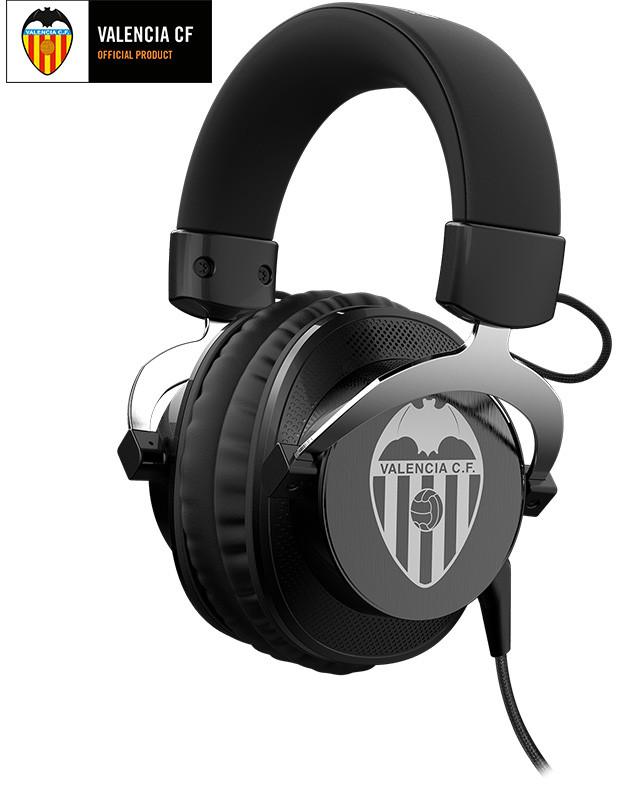 The Sound BlasterX H5 Valencia CF Edition combines comfort and durability with the best audio performance available. Every detail of the product design was scrutinized based on feedback from music enthusiasts and pro-gamers, as well as features that are in demand in the market. Two of the most important features for an entertainment headset are durability and comfort. At its core, the Sound BlasterX H5 Valencia CF Edition features a simplified design: less parts means less weight, and the highly flexible, single-piece reinforced steel band bends all the way around the head for a precise, comfortable fit. The earcups are lined with plush, replaceable protein leather/memory foam cushions to ensure lasting comfort and a good seal against unwanted ambient noise, and are connected to the headband with lightweight flexible aluminium brackets.
In addition to listening to gamer and music enthusiasts around the importance of comfort, Creative's headphone engineers have positioned the large 50mm FullSpectrum drivers in the earcups at an angle to create a mini-acoustic chamber over the ear, delivering high performance audio and extra comfort. And when it comes to gaming, the Sound BlasterX H5 Valencia CF Edition allows gamers to experience an amazing level of detail while being immersed in the gaming experience for extended hours without listening fatigue.
Also no headset is complete without the ability to communicate. The Sound BlasterX H5 Valencia CF Edition comes with a high-quality, detachable, noise cancelling microphone for crystal clear voice communication for games, Skype calls, or smartphone calls. As for connectivity, the headset features a replaceable tangle-free nylon braided analog OFC (oxygen-free copper) cable. This means you can connect across platforms, such as to PC/Mac or even mobile devices and consoles.
BlasterX Acoustic Engine Lite Software
The Sound BlasterX H5 Valencia CF Edition comes with the BlasterX Acoustic Engine Lite software for PC gaming. The BlasterX Acoustic Engine Lite software comes with pre-set profiles allowing gamers to customize their audio profile to the game genres that they are playing. For instance, 'First-Person Shooter' increases spatial reality and perception with virtual surround, 'Action & Adventure' enhances realism for a cinematic experience, 'Real Time Strategy' boosts clarity and reduces distractions so that gamers stay focused when pitched against time, and 'Driving Simulation' magnifies details such as tire noises as the car races along – enabling gamers to hear subtle differences while racing.
The headset also features a unique customized profile only available for this headset that is specially tuned for EA SPORTS™ FIFA 16 which captures a soccer stadium's soundscape. This special audio profile was created through a process of placing audio pick-up devices in actual La Liga soccer matches at the Mestalla Stadium, the home ground of Valencia CF. The data garnered was then used in fine-tuning the special audio profile that allows users to feel as if they were seated at an actual Valencia CF match at a soccer stadium when playing FIFA 16.
"When conceiving this project, we want the best audio technology available to our fans; and with our partners, Creative Technology, we have been able to do that. The Sound BlasterX H5 Valencia CF Edition personifies everything we set out to achieve," 

"We're also excited to be collaborating with Creative, which is in line with our current strategy of expanding our presence beyond Europe. We invite Valencia CF fans worldwide to join forces and make this headset a reality. AMUNT VALENCIA!"
said Peter Draper, Valencia CF Commercial and Marketing Director.
Specs
Flexible reinforced steel headband

Light durable aluminium earcup bracket
Lightweight, ergonomic design
50mm FullSpectrum drivers
Detachable noise cancelling microphone

Replaceabl

e tangle-free nylon braided

analog OFC (oxygen-free copper) cable

Inline remote with volume, mic and playback controls
Replaceable protein leather/memory foam ear cushions