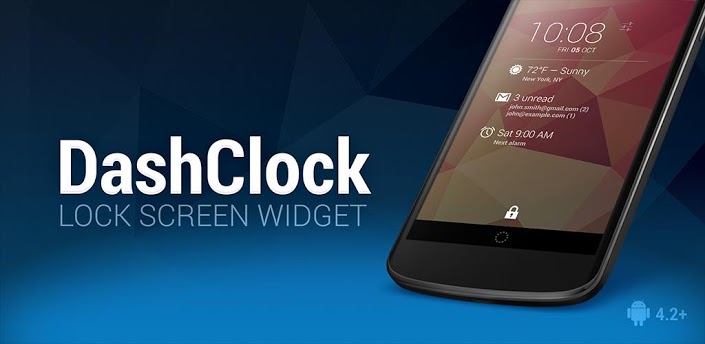 DashClock is a replacement lock screen clock widget for Android 4.2+. It also exposes additional status items called extensions. The widget comes bundled with extensions that give you instant access to:
• Your current local weather,
• Missed calls and unread text messages,
• Your next calendar appointment,
• Unread Gmail inbox or priority inbox conversations,
• Your next scheduled alarm,
Built for Android devices running 4.2 and over this is the must have widget and lock screen widget around. Built exactly to Google's recommended guidelines, this should honestly be the default clock app to be pre-installed on phones and tablets. It has the looks, functionality and excellent reviews around the various sites and blogs on the web. Add in zero negative feedback on Google Play, people know how good this is.
As always we have provided a link for you to download and enjoy below. Also worth a mention….. Other developers adding extensions because DashClock is open source.   Search for DashClock extensions on Google Play.
      Download the DashClock application from the widget below. (Free)