Decalgirl M8 Skin – Review
As a recent convert to skins I thought I would go out into the world and see what it has to offer. Decalgirl seems to be a very popular option. Apart from being a cool bunch of guys, they are also very happy to help. I stuck with the wood effect trend and decided to try out a dark oak effect.
I ordered the skin on 28th August and it took around a week and a half to arrive in my grubby hands. It was very well-packed in a stiff cardboard envelope to ensure it wouldn't bend during transport. The skin comes in three parts, one part of the skin covers the front of my M8, around the speaker grills, including cut-outs to avoid blocking the light sensors and front facing camera. The obvious back part, with holes for the two camera and flash. This one did cover up the HTC logo. The third part is digital, and involves a free code to grab a digital version of the skin to make the entire phone match.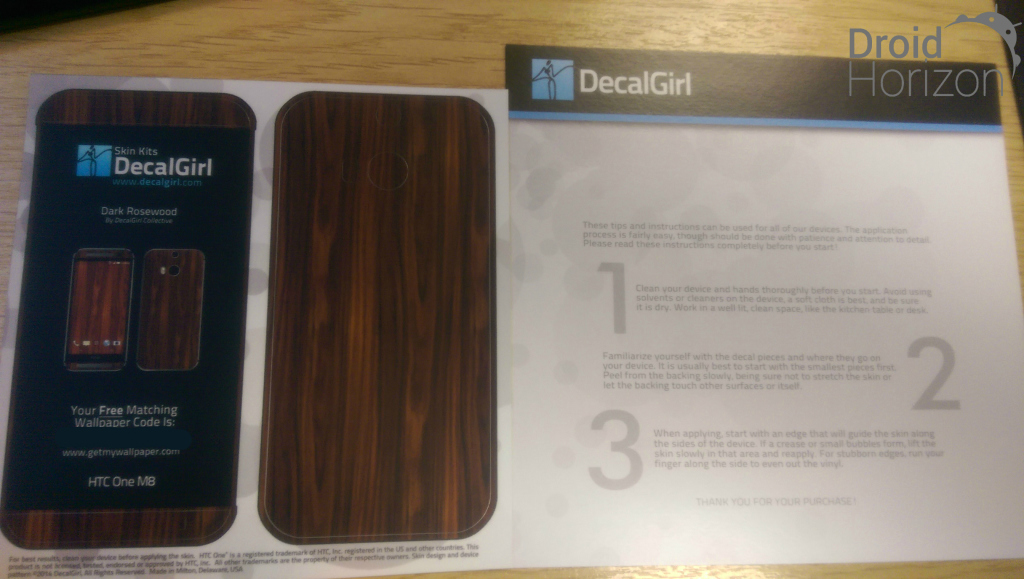 Applying the skin is quite easy and requires no liquid or special equipment, aside from cleaning the phone beforehand. I just used a microfiber cloth to clean mine, and a can of compressed air I had laying around to remove any dust. Lining it up properly wasn't too hard, when you have a point of reference, such as using the camera lens hole as a guide, or the speaker grill on the front.
There were a few bubbles to start off with, particularly at the edges where the phone curves, but I was able to work them out with my fingers. I was able to apply, take off and then re-apply again without any issues. I then pressed it down with my fingers and stuck down with no bubbles or loose bits.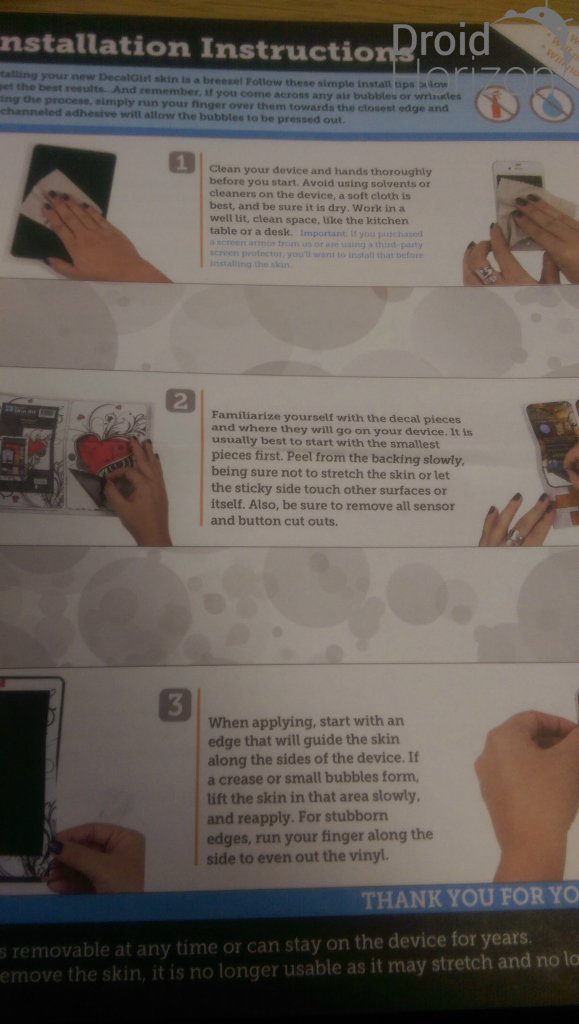 The skin covers the back of the M8 and leaving the metal bezel free, this keeps the M8 look while looking classy in wood. Any buttons aren't protected either. The dark oak blends in well with silver elements of the phone.
DecalGirl's site states that this skin is made of premium-grade vinyl with a high-gloss clear protective coating, promising to be re-positionable and easily-removable without leaving any residue. Its thickness isnt mentioned, but it's not substantial enough to be annoying in any way – I had no issues with docks, or plugs or putting it into my pocket.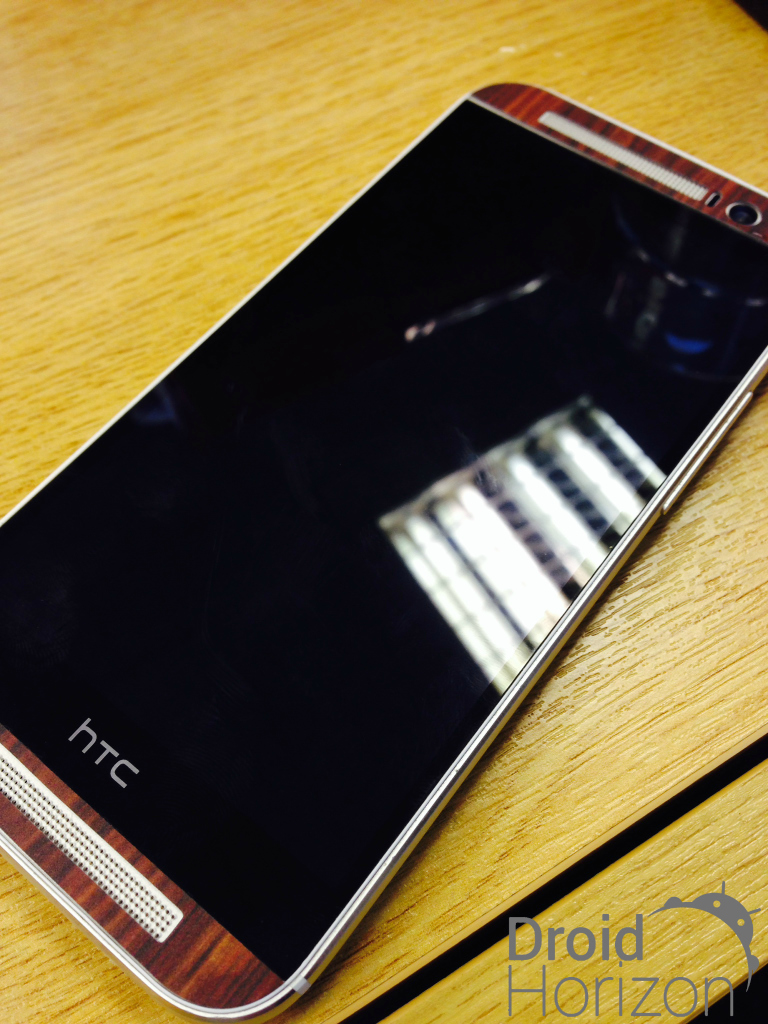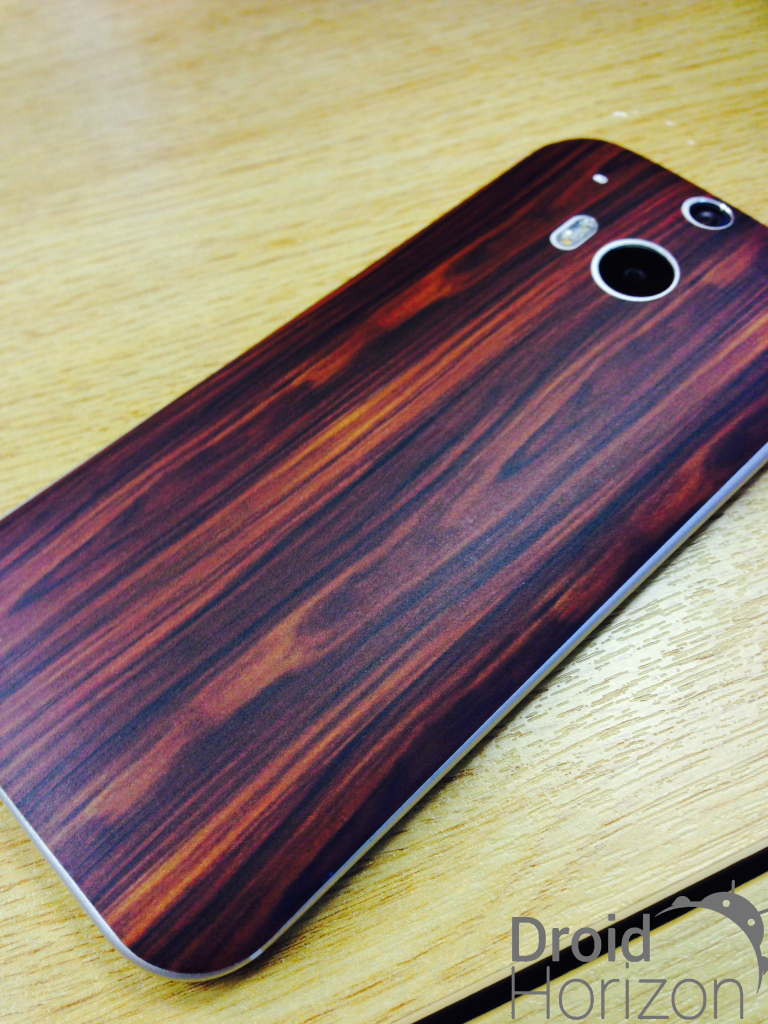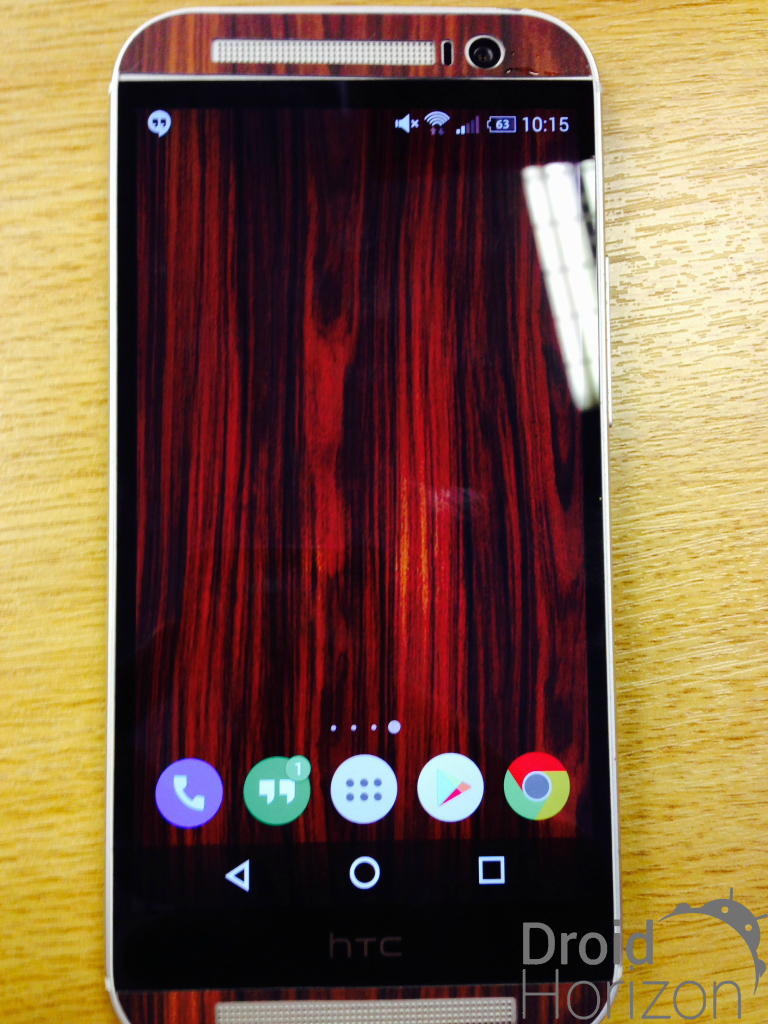 In the week I've been using the skin, it has protected the back of my phone from scratches and damage. I have set my M8 down everywhere without worrying that it will get scratched. Some parts of the phone still arent protected, such as the bezel, camera lense etc, but combine this skin with a wallet case, then you have the makings of a great team!
The skin hasn't given up and still feels securely attached to the phone and not showing any wear and tear.
I like the DecalGirl skin a lot – it's done exactly what it's supposed to, I really like this particular design, and my only issue is that it doesn't offer more coverage, but I knew that going in. I'm not going to debate over skin or case, but when you want to have something nice on the phone when its out of a case then Decalgirl is a great vendor.
Check out decalgirl.com
Also checkout the Dark Rosewood skin from my review decalgirl.com/skins/227669/HTC-One-M8-Skin-Dark-Rosewood