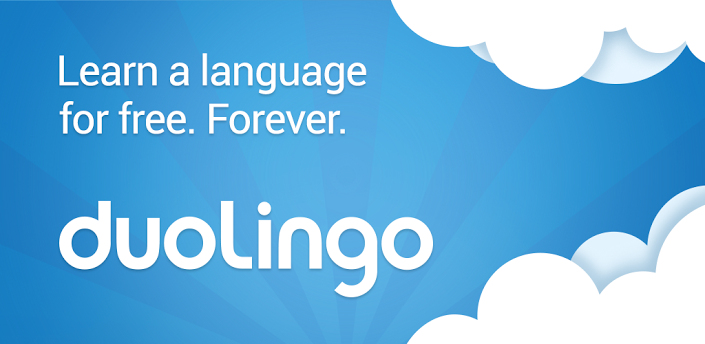 Google Play Store description…
Learn Spanish, French, German, Portuguese, Italian, and English. Totally fun. Totally free."Among apps for learning or practicing a language, you can't beat Duolingo." —PC Magazine.
Awarded Editors' Choice for Language Learning"Far and away the best free language-learning app." —The Wall Street Journal
"We've also tried a few other methods such as book learning and Rosetta Stone, both of which bombed. That's why I jumped at the chance to try Duolingo. And believe me, it's addictive." —FluentIn3Months.com
Duolingo is changing the way people learn languages.• It's free, for real. No fees, no ads, no gimmicks. A college-quality education without the price tag.• It's fun. Lose hearts for answering incorrectly, advance by completing bite-sized lessons, and track your progress with shiny achievements.• It's constantly improving. We bust out the lab coats regularly and measure how well you learn on Duolingo. Your learning experience only gets better over time.If you want to learn Spanish, French, German, Portuguese, Italian, or English, the fast, fun, and free way, there's no better choice than Duolingo.
Simple, ingenious, and fun….and free!
It's not hard to see why this app has so many fans and such high ratings. I have a feeling it's going to be on my phone for some time to come. Within minutes of opting for Spanish, the first lesson has me translating, and writing short sentences. Very short sentences. But correctly. I get my share of stuff wrong, but to be honest, I'm amazed by how much I get right. I have two books and a CD for the last 8 years that I glance at now and again but this app has taught me more Spanish in  a few minutes than either of them.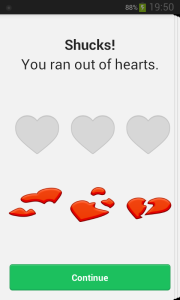 The way the questions, or exercises are presented vary, you will be asked to listen to a short Spanish (or whichever language you chose) sentence, then you have to type it out in the same language. You will also have to translate Spanish to English and vice versa (again, insert the language you opted for). Sometimes you don't type but construct a translation by selecting particular words in the correct order from a group presented at the bottom of the screen. There are also multiple choice translations, where you simply tick a box from three possible translations, and another where you have a picture and you have to pick one of two words and then type in another.
There are people claiming to have become fluent after three months, whether that's possible or not depends I guess on how in-depth the lessons get as you move through the app, and how easy you find it to learn new languages. I've always believed that the best way to learn a language is to spend time on a daily basis with native speakers, time will tell how good this app really is, but first impressions are that at the very least, it will give you a good grounding in the language you opt for. And you won't even notice it happening because you'll be too busy having fun with this addictive app.
Six languages to choose from, Spanish, French, German, Portuguese, Italian, or English, it's fun, addictive, you can grab a quick lesson anytime you've got a few minutes to yourself, and it's free. I'm hoping they will add Japanese at some stage. Tablet support is apparently in the works What more do you want? Go grab it now from the link below!