Do you want to edit some of your videos and improve them but are put off by how complicated video editing appears to be? Because of how notoriously complicated video editing is many people feel the same, but there are some editors that can help you get around that problem.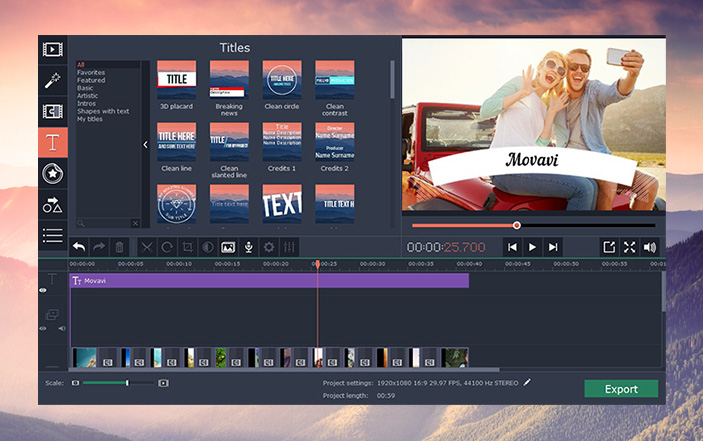 In contrast to what you may expect, Movavi Video Editor will provide you with an easy way to edit videos and make them look great. It is designed to be so intuitive that it will only take you a couple of minutes to figure out how to use any of its features – and about 20 minutes tops to master the software.
Due to the fact that it has such a short learning curve, you will be able to start editing your videos almost immediately and simply learn as you go along. The simple and clean interface of Movavi Video Editor will help facilitate that, as will the relatively basic actions that its features rely on.
Make no mistake despite being designed to be user-friendly, Movavi Video Editor does pack a punch in terms of features too. In fact it is a full-fledged movie editor that you can use to:
Split videos into segments to trim out any unwanted parts and merge clips together in any sequence that you require.

Improve the video quality by manually or automatically adjusting the color settings.

Apply a variety of different filters and special effects to give your videos a unique style.

Insert text frames that can be customized to create titles, subtitles, captions, and so on.

Add audio tracks containing background music or voiceovers.

Place animated transitions between video segments to link them together with style.

Record video footage on the spot using a webcam or capture audio from a microphone.

Edit the audio tracks in your videos to normalize quiet audio, remove background noise or apply effects to it.

Fix common problems such as blurry, pixelated or interlaced video segments.
In some cases you don't even have to compile the footage for yourself. Assuming you have a ton of video footage and don't want to sift through it manually you can use Movavi Video Editor's 'Montage Wizard' that will automatically select the best scenes and edit them then let you select music to accompany it.
By now you should be starting to see not only how easy it will be to edit videos with Movavi Video Editor – but also just how extensive its features truly are. If you've wanted to edit videos in the past but been put off, this is your chance to remedy the situation – and all you need to do is try it out.