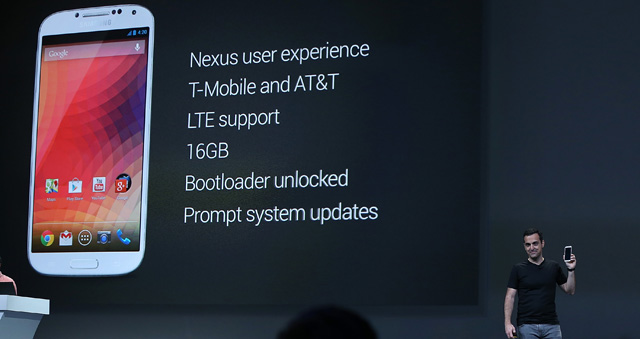 As usual there were a lot of rumours around what might be announced at this year's Google I/O, and as usual most of them where wrong. Since we've yet to see any impact of Google's acquisition of Motorola Mobility, there was a strong rumour that we might see some confirmation of the fabled Motorola X phone. There was even some talk of a Nexus 5. However it wasn't until the day before the big event that out of the blue rumours circulated about a Samsung Galaxy S4 Google Edition.
I'm sure I don't need to explain to any DroidHorizon readers the popularity of Samsung's Galaxy range, and that many Android devotees consider that (along with the HTC One) the Galaxy S4 is the crème de la crème of smartphones. However the dizzying array of software features which occupy almost half of the S4's 16GB of memory left a lot of Android purists cold. Stock Android has all the functionality many people need from a Smartphone along with the latest OS updates direct from Google. They don't need or even want their videos to pause without undivided attention or have their favourite Google apps replaced by Samsung inferior S-Versions. Some people are also finding the S4 a little laggy in places compared to the HTC One despite comparable hardware, and this is no doubt due to the additional work these extra software features are carrying out in the background.
Many people balked when the price of this Nexus S4 was announced to be $649, especially as the last Nexus (the Nexus 4) was priced at $300. However considering that Google was selling the Nexus 4 at close to cost price and that the non-Google S4 can cost anywhere up to $800, is it such a bad deal?
The answer will depend on what you want from your phone. Don't need expandable storage? Never want to swap batteries? Prefer IPS to AMOLED screens? Not a camera buff? Prefer touching glass to plastic? Answer yes to some or all of these questions and chances are the Nexus 4 will do everything you could want. However if smartphone photography is important to you, then the S4 has a significantly better camera. I haven't had the chance to use a S4 yet, but it's camera hardware is the same as the Sony Xperia Z which I have tried and was blown away by the photos. The larger (5″) 1080p screen fitted into a similar form factor is also a bonus. If you're a heavy smartphone user you'll likely also appreciate the extra performance and battery life of the S4 (which I expect will be even better on the non-bloated Nexus version). Depending on your personal use case and whether you're the type who always like to own the latest and greatest, it may or may not be worth paying over twice the money for a S4.
An obvious question is to ask why Google chose Samsung to get the Nexus treatment again. HTC for one (no pun intended) has been struggling to compete with Samsung, and could have used this boost from Google. Many people would love a Senseless, Blinkfeedless HTC One. However (like it or not) for the general public, Samsung's Galaxy brand is synonymous with Android, and the S4's undoubted popularity along with this cheaper software option will mean more people getting hooked on the stock android experience. The Nexus S4 probably won't have Samsung's marketing behind it, but if sales are comparable or better than the non-Nexus version, Samsung and other handset makers will be forced to take a long look at whether the cost of adding their personal touches to Android is really worthwhile. I for one would welcome the option of more stock versions of popular handsets to the Google Play Store.