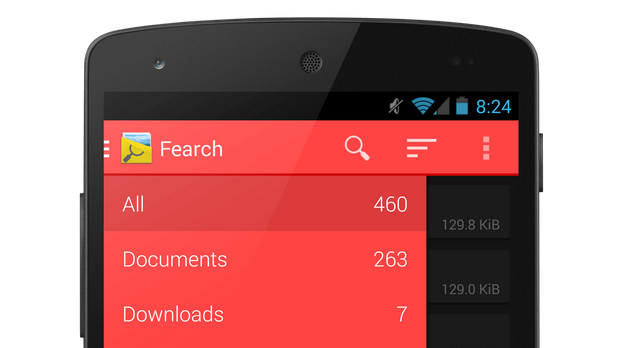 Features:
No file system overhead
Quick access to files
Search instantly
Add custom tags
Change colours of theme (Pro version)
Open files with other programs
Rename files
Bulk delete
Trash bin
A file manager that finally adds something a little different….
There are far too many different file managers/ explorers available already on Google Play plus the in-built apps you get on most phones already. Fearch has taken a unique approach to find and view content on your device through a very pleasing user interface and helps you search for your locally stored files quickly.  What really makes Fearch stand out are the ability to add your own tags (this makes searching so much faster) and the absolutely gorgeous design. As far as I can tell, the developer has taken his design choices straight from Google's recommended guidelines and made something useful. Staying away from all those other Holo file managers which are a dime a dozen now, all the same folder views that each offer something a little different than the rest. That being said you"ll still want to hang on to your Root Explorer and Solid Explorer for copy and pasting, and root features, but, if you don't need a lot of bells and whistles and want to view your documents in a clean and user friendly manner, I implore you to give Fearch a test.
Still in heavy active development, with fixes and added features in the pipeline, you can grab the pro version from the widget below the application screenshots. (Screenshots are taken from the free version which has adverts, these can be removed and you can support the developer by purchasing the pro version for £0.91)
Download Fearch; below