FLASHOUT 2 – Review
Do you like the idea of a Wipeout ripoff, with annoying dubstep in the background? Then Flashout 2 is the game for you.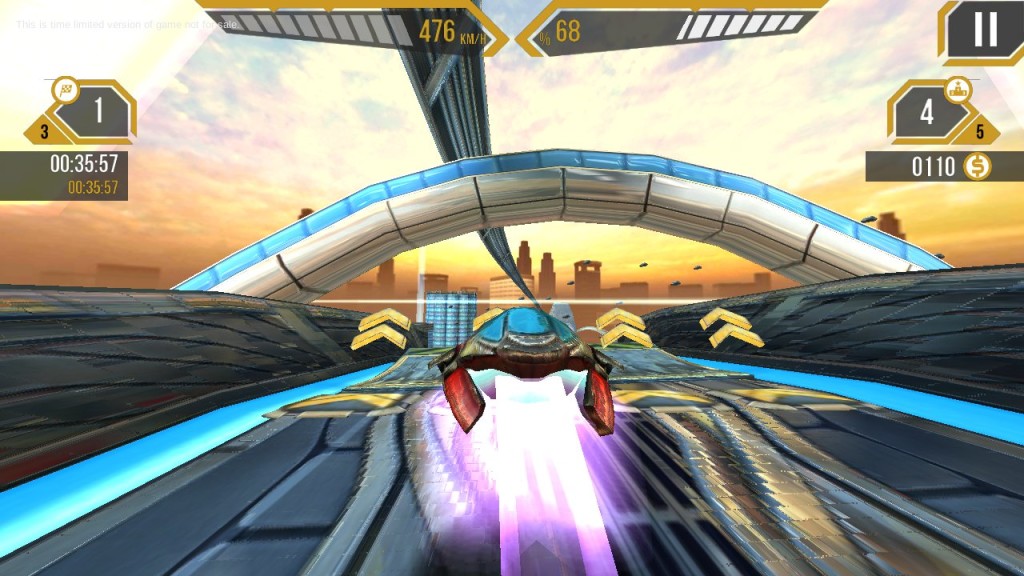 Races take place race tracks that circle high above futuristic cities. Where with Wipeout and similar games, power ups appear in the same place each each, Flashout 2 tracks are littered with boosts, weapons, and jumps, they have no sense of place, and at times of playing even merged into each other. I'd also like to point out that playing through the game, with the bright lights and power ups, the tracks feel planned and one dimensional.
The controls involve you steering you craft by tilting your device, with weapons and boosts activated with a tap of the screen. But tilting a race craft going at full speed doesn't always work, as there is no way to balance the weight, so you find yourself bumping into tight corners.
To try an increase the difficulty of the game, your opponents on day 1 are already levels ahead of you. You need to get used to seeing the back of your race attendees, this is also a way to make you upgrade sooner, and this would involve some purchases of IAP's in order to get ahead early on. But if you stick to it, you can get buy without having to spend anymore money.
You can upgrade your craft, but I found that no amount of fine tuning will ever really help you catch up to your enemies. This is another "incentive" to purchase some IAP's, as you will need to upgrade your entire craft in order to make those other guys eat your plasma exhaust.
The creators of the game promise console-quality graphics…..Seriously. I feel like charging for the game, and then throwing in IAPs is a bit cheeky, as the game doesn't look that good. It makes me think that the devs are just hiding in the shadows of Wipeout, Mario Kart, Riptide. Creating a mediocre game, and then charging people for the privilege.
Download FLASHOUT 2 Below: