Today I'll be reviewing Fugu, the Japanese dish made from potentially lethal pufferfish. Wait, no – I need to focus. Fugoo, yes this isn't a killer fish, it's a killer Bluetooth speaker. Read on or check out this unboxing/quick review video to find out why…
Build Quality & Design
Designed in California, the Fugoo consists of a fully functional core inside a choice of three different interchangeable jackets – the Style, the Sport and the Tough (the main focus of this review). There's something to suit most peoples taste and durability needs.
The black aluminum core has shock absorbers and co-molded air-tight seals making it durable even when it's naked. Water, snow and dust aren't a problem for this speaker.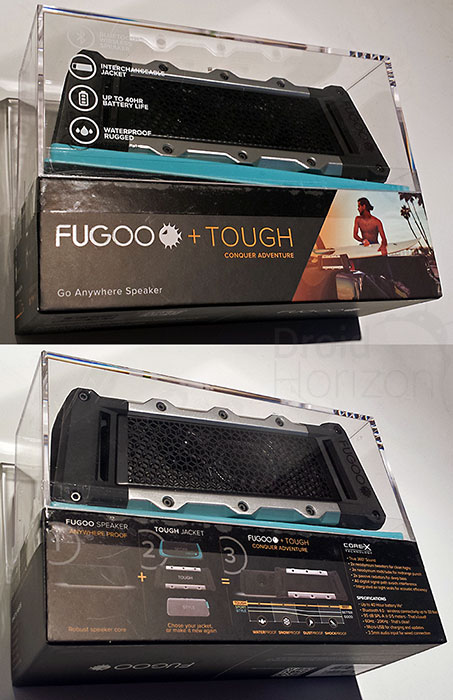 Adding the jacket brings this durability to the next level, especially this Tough version. Fugoo have understandably avoided using the term indestructible in their marketing to pacify the nutters with blow-torches, but for normal use you'll have a hard time breaking this thing. It's not just splashproof – music continues to play underwater (as far as Bluetooth signals can penetrate water). Check out the dunking and dropping videos on YouTube and even this video from Fugoo of the Tough case being driven over by a car – impressive stuff…
With it's subtle branding, in my opinion the fiber-reinforced resin and solid aluminum of the Tough jacket looks and feels fantastic.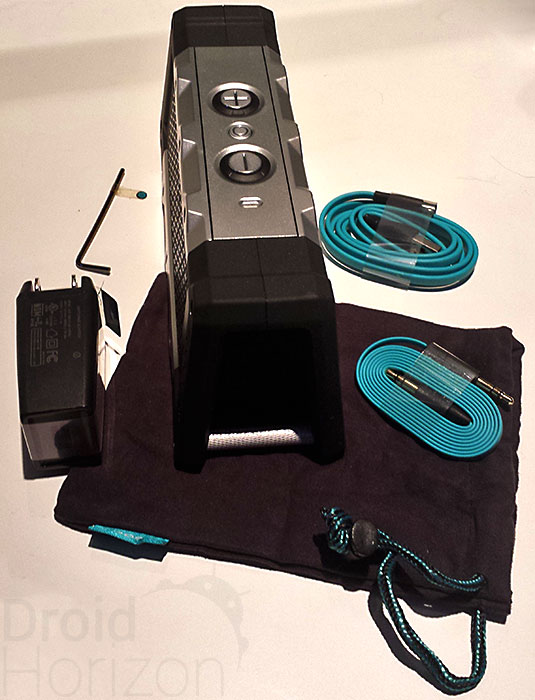 Performance
Working for Droid Horizon I've heard a few Bluetooth speakers in my time. These have been typically mono or stereo devices and on the whole have sounded pretty decent to me.
With a total of six speakers, Fugoo's audio performance beats them all hands down. For a speaker this size the bass is strong and rich while maintaining crystal clear mids and highs. It has a couple of neodymium tweeters, a couple of neodymium mid-range drivers and two passive radiators for bass. These are laid out on the front, back and sides so that the sound radiates out covering the full 360° (no need to think about whether the speaker is facing in the right direction). The speaker can be cranked up loud without any hint of distortion.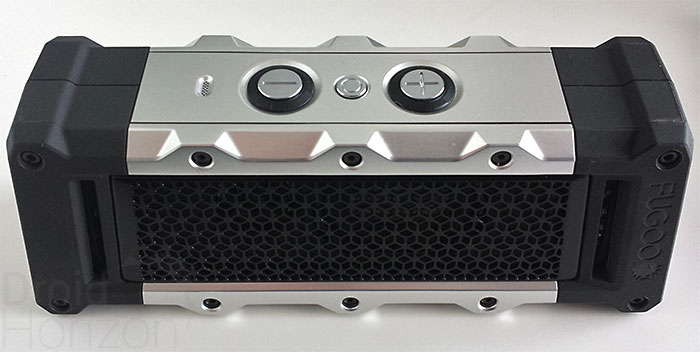 The Fugoo was able to maintain a strong Bluetooth connection with very few drop-outs during use. It can keep playing from up to 33 feet away and obstructions where no big deal so the tunes kept playing no matter where I was in my house.
When evaluating speakers I usually like to test if it lives up to the manufacturer's rated battery life. I haven't been able to do this properly with the Fugoo due to it's crazy 40 hour rated battery life. I removed it from the packaging and haven't charged it since – this thing just keeps playing and playing. When the battery does finally die it's just a 3.5 hour charge from the included 2A USB charger / Micro USB cable and you're good to go again.

Features
For features, some Bluetooth speakers have a mic/speakerphone capability, some are splashproof/rugged, some have a 3.5mm line-in socket and some use a standard micro USB for charging. I've found that usually there's something missing or a flaw which could be improved. Apart from NFC (which would be far down my feature wish list), Fugoo have taken all the best features and included them in a single speaker. Kudos.
Fugoo also have a number of optional accessories available. If you fancy a change you can get a spare Style or Sport jacket for $39.99 or the Tough for $49.99. There are also three mounts available allowing you to attach the speaker where you need it. The bike mount is priced at $39.99 while you can get the strap or multi-mounts for $29.99. Finally you can even get a waterproof remote control/bottle opener which is capable of activating Google now – this can be worn around your neck or strapped to your wrist and costs $49.99.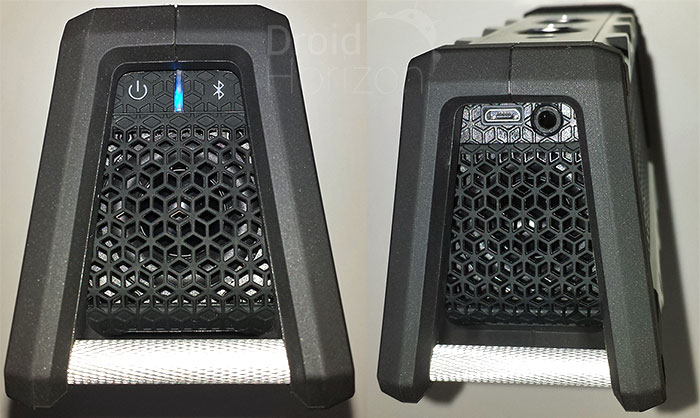 In Use
Pairing was quick and simple by holding down the Bluetooth button to enter pairing mode. If you have the speaker paired to a couple of different devices you can also press this button to switch between them
The buttons for play/pause and volume are easily accessible on top, with track skipping available by using button combinations. You can also give the power button a quick tap to hear the battery status. There is just a single power light on the unit, but voice prompts such as "Speaker is on" or "Battery is about half" leave you in no doubt about what's happening.
The soft touch feet of the Fugoo's Tough jacket stops it from sliding around and it's wedge shape is very stable so you won't be able to knock it over easily (though there's no need to worry even if you do). However this jacket does add a bit of weight to the speaker. At 1.4lbs you'd definitely notice it in your bag or if someone whacked you over the head with it (told you it was killer). The beauty here is that if the weight is dragging you down you can always buy one of the lighter jackets for use when traveling.
The Fugoo also had no problems acting as a speakerphone. I was able to initiate and answer calls using the omni-directional noise reducing microphone and call quality was clear on both ends of the line.

Price
Okay, fantastic speaker but "how much?" I hear you ask. Unfortunately price may be a barrier for some people.
In the States, the Fugoo is priced at $199.99 for the speaker including the "Style" or "Sport" jacket, or $229.99 included the "Tough" jacket.  In Europe you can currently pick them up from Amazon.de for €199.99 or €219.95 for the Tough.
When you can pick up some perfectly respectable Bluetooth speakers for around $40, at 5 times the price the Fugoo looks expensive. However this device really is in a different league which I feel totally justifies the asking price.
Instead of one or two speakers you are getting six with the considerable upgrade in sound quality and distribution that comes with it. You are typically getting six times the battery life. You are getting unparalleled build quality, durability and waterproofing. At this price point Fugoo is competing with the likes of the Bose SoundLink mini or the UE Boom, and in my opinion it comes out ahead.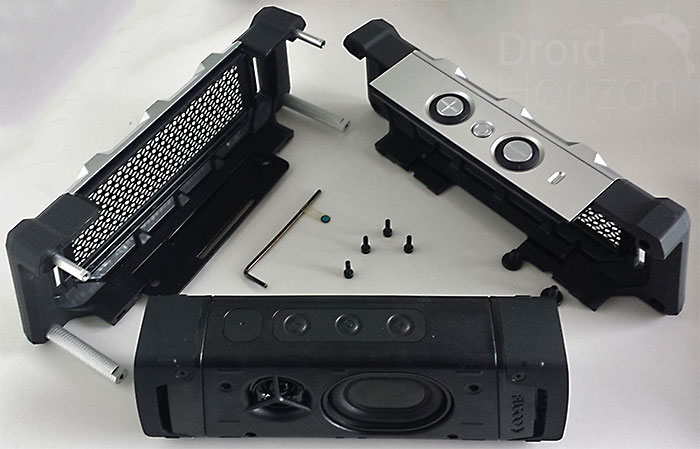 Overall
You can probably tell by now that I'm a massive fan of the Fugoo – so much so that I have no hesitation giving it my second ever 5-star rating. It ticks all the boxes in terms of performance in a compact durable solution without any of the usual compromises. It would make an excellent gift for/from someone you love, so check out the link below for all the details from the Fugoo website…