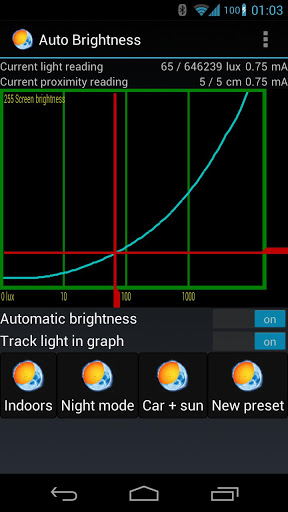 Full Auto Brightness Control with Velis Auto Brightness App – There are various ways to change the auto brightness on your Android device, these normally involve flashing patches or mods onto a rooted device. This is common practice for lowering the auto brightness brightness levels to conserve battery or increasing the brightness to enjoy your display more. But now from XDA developer velis74 there is a app which allows full control of your brightness without the need to flash a mod.
The app in question is called Velis Auto Brightness and its arsenal of features allow even the basic user to change every aspect of their devices brightness, these include:
Custom auto brightness.
Covers the entire backlight range for even the darkest of nights.
Brightness presets for every taste and screen
Profiles (save the brightness graph under your own selected name)
You have complete power over choosing which sensors will be used to determine environment
Jitter control to prevent excessive brightness updates
Brightness smoothing to make the transitions smoother
Special settings for brightness when device is charging
Fully customizable brightness graph to fit your needs or cover your sensor's faults
Only uses sensors when screen is on conserving battery
No ads or other nuisances
What makes this app interesting is the sensor control which allows you to turn off the sensors when the phone is off to further help preserve battery and choose how the sensors react to changes in the environment around the phone. This gives users a much wider range for controlling the brightness on their devices.
As always Play Store link included, Link.